These days, the demand for screen recording tools has reached a new high. With the rise in eLearning and gaming, so many people would like to record informative videos, gameplays, and more. To help you pick a reliable screen recorder for PC, I have come up with a detailed review of Wondershare DemoCreator v5.0. Without much ado, let's get to know if this screen recording and video editing tool is worth the hype.
The Growing Need of Screen Recording Tools
You might already know how the last few years have changed the way we consume content. It doesn't matter which domain you belong to – a screen recording tool can certainly improve your productivity.
Educators: By recording your screen, you can easily come up with informative lectures and prepare online courses for your students.
Schools: These tools are a must for educational institutes as they can help teachers improve their skills and come up with interactive study material.
Students: You can easily prepare your video assignments, presentations, or can simply save a video lesson by recording it.
Marketers: From creating demo videos of your products to helping in customers support and providing technical onboarding to making training videos, you can do it all with a screen recorder.
Gamers: Want to record the highlights of your games or create a full gameplay video? You can do it all with a screen recorder for PC.
How to Use Wondershare DemoCreator to Record your Screen?
A while back, Wondershare has released a brand-new version of its screen recorder for PC – DemoCreator version 5.0. It is an AI-powered application that can help you record your screen (with webcam/microphone) and edit your videos, all in one place.
To start our review of DemoCreator v5.0, let's see the major features it offers for screen recording.
3 Recording Modes
As you would launch Wondershare DemoCreator, you can pick between three readily available recording modes that would make things easier for you.
New Recording: This is a complete recording mode that would let you record your system's screen, audio, and webcam at the same time.
Record Screen: This is the go-to mode to record your system's screen and audio (without webcam input).
Record Game: This is an advanced mode for gamers that would let you record your gameplay with audio and camera input. Users can select their game from its existing list or load any other game of their choice.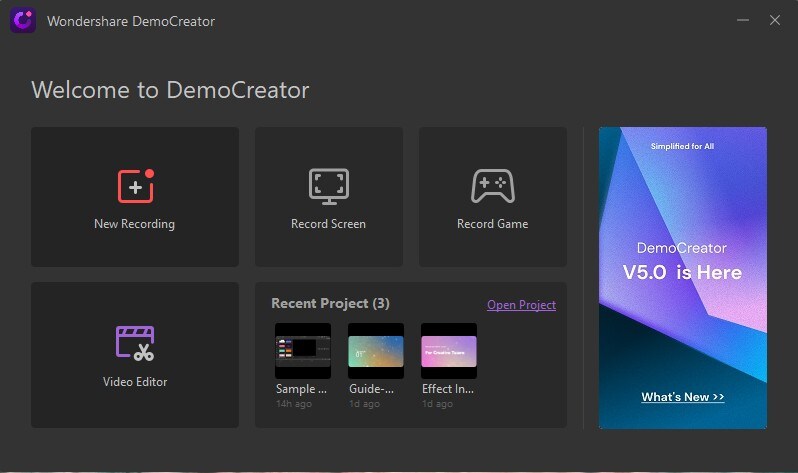 Afterwards, you can choose to record the entire screen or crop any area of your choice. You can also disable/enable the webcam, system sound, or microphone input, as per your requirements.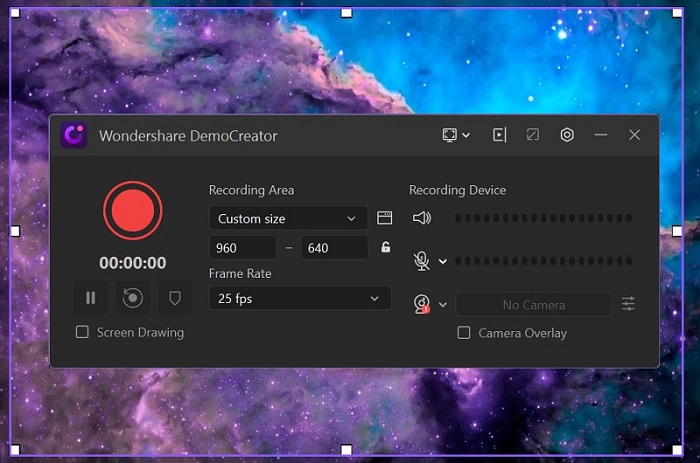 Real-time Screen Drawing Features
While recording your screen, you might need to focus on an area or draw something. This is where this screen recorder for PC can help you. DemoCreator offers a dedicated Drawing Toolbar that you can use to draw anything on the screen while recording. There are different pen tools to draw things in all sorts of sizes and colors. You can also focus on any particular area or highlight mouse clicks from here.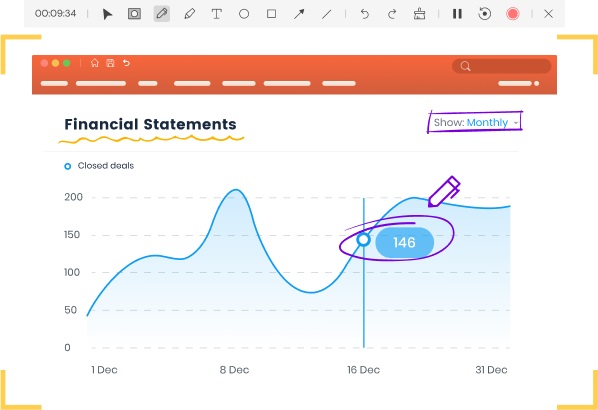 Face Recognition Camera Effects
Wondershare DemoCreator is one of the most advanced screen recorders out there that has integrated Artificial Intelligent features. While recording, you can use its Facial Recognition mode that would automatically detect your face and would highlight it by melting it into the background to make your recordings lively. There are also Mirror and Image Masking features to customize your look while recording.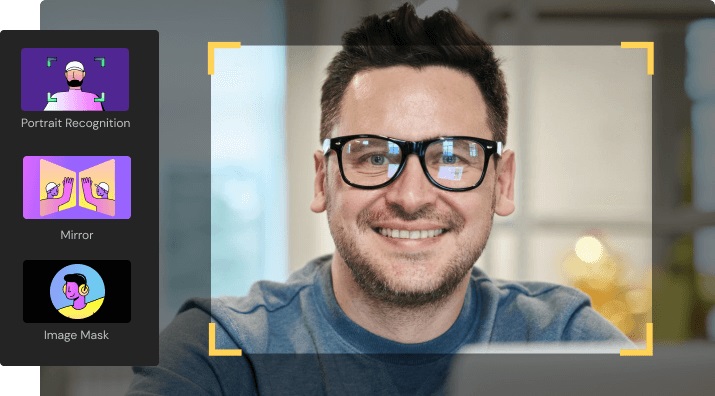 Part 3: How to Edit your Videos with DemoCreator v5.0?
Apart from recording your screen, you can also use the tons of video editing features that DemoCreator offers to come up with visually appealing videos.
DemoCreator has a timeline-based video editing interface that would let you load any existing video to it. That means you can load a screen recording or any other video from your system.
Tons of Video Editing Options
Once the video has been added to the timeline, you can access a wide range of editing features. For instance, you can crop, trim, split, rotate, or flip your videos. There are also options to alter the speed of your videos.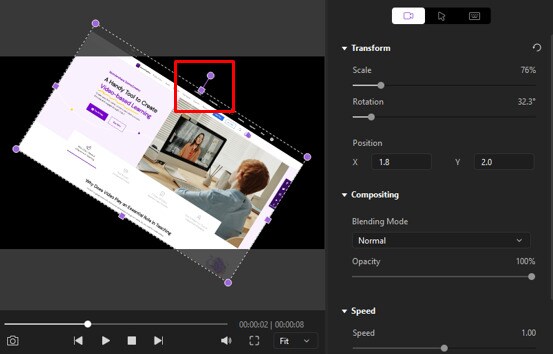 Several Video Editing Effects
Another prominent feature that I found promising in DemoCreator is its wide range of video effects. For instance, there are readily available effects like Pan-and-Zoom, Cinema, Mirror, Mosaic, etc. that you can drag and drop to your videos.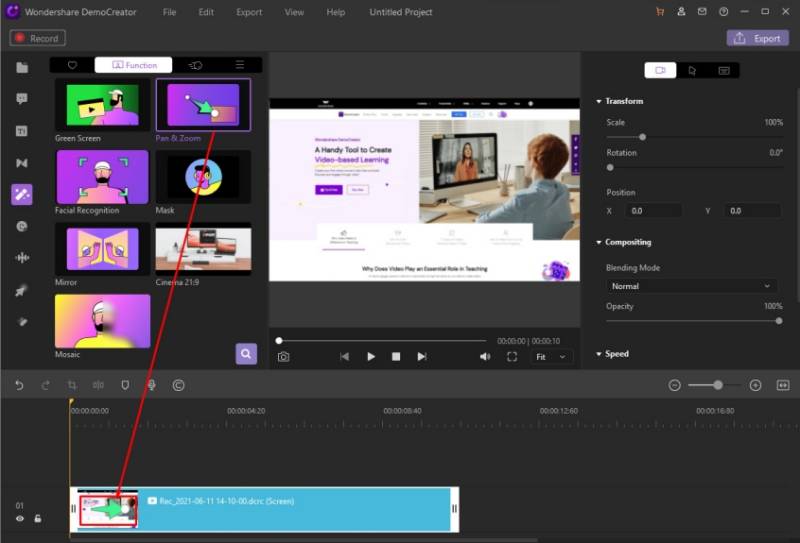 Besides that, you can also find tons of transitions, captions, annotations, stickers, texts, sound, and cursor effects in DemoCreator. You can include them in your videos however you like to improve their visual appeal.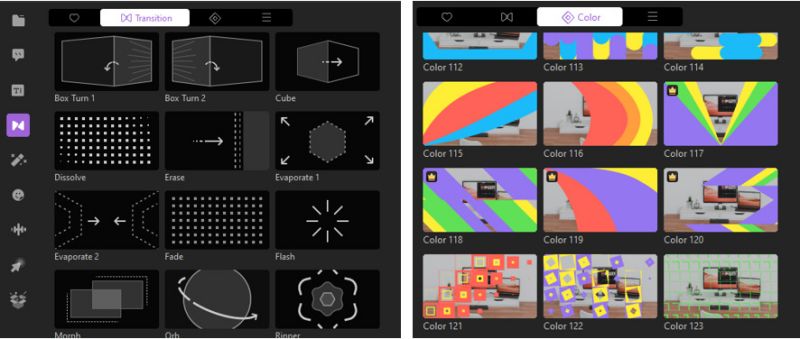 Effects Store for Templates/Assets
In case you want to further improve the overall look of your videos, then you can go to the "Effects Store" in DemoCreator. Here, you can look for hundreds of templates and digital assets over the cloud by entering keywords on the search bar. Later, you can save any template on your system and use it on DemoCreator however you like.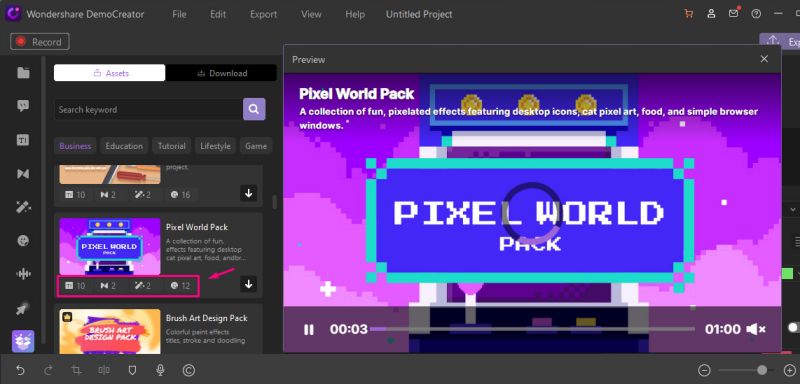 Add Custom Watermarks
If you are working on professional videos, then you might wish to include a watermark of your company. You can do that by visiting the Caption Effects tab in DemoCreator. Here, you can create a customized watermark that you can overlay on your videos.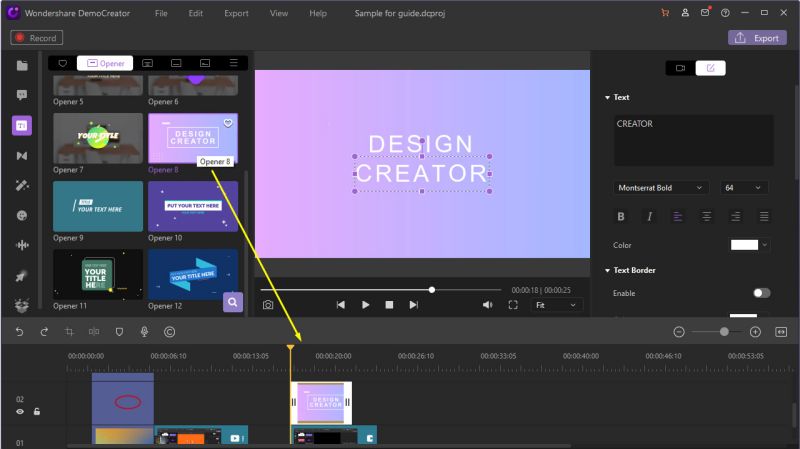 Part 4: Smart Tips for Video Editing and Recording
Furthermore, if you want to get better results with a screen recorder for PC like Wondershare DemoCreator, then consider these tips:
Before you start working on your video, make sure you have a storyboard with specific details about each segment of the video and its flow. This will help you streamline things and get better results with video recording and editing.
Since DemoCreator has 50+ inbuilt transition effects, you can take their assistance to move from one scene to another seamlessly. Just make sure that the transition effects are consistent and won't overlap with any scene.
You might already know that videos with background music or sound effects are just a whole lot interesting. If you want, you can explore 20+ different audio effects in DemoCreator to meet your requirements.
Lastly, you can include text effects in different places (like opening/ending credits or subtitles) to make your videos more engaging. DemoCreator offers 6 animation effects for texts that you can include in your videos and make them look unique.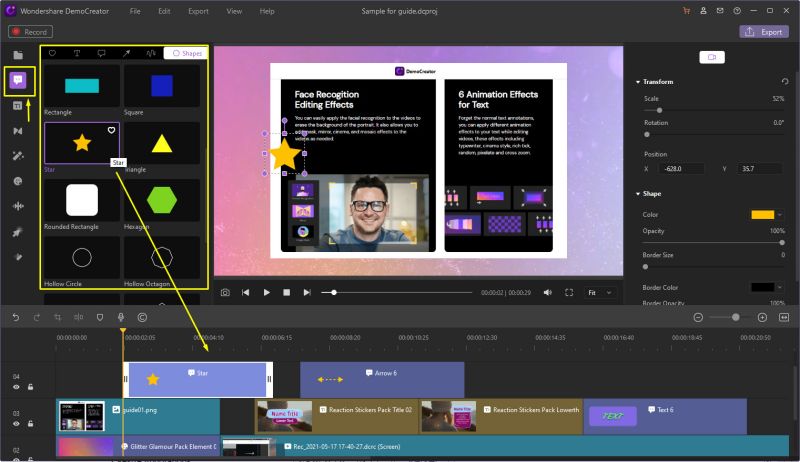 That's a wrap! I'm sure that after getting to know about all these features of DemoCreator, you must be willing to give it a try. Ideally, with a reliable screen recorder and video editor, you can easily come up with engaging, informative, and visually appealing videos. Finding the right screen recorder for PC can bring a major difference in your work and can speed up the overall process. If you want, you can give DemoCreator a try for free and be a judge of its resourceful and advanced features on your own!