We have been using video converters for years. This category of software was primarily required to run videos on devices like smartphones and PDAs. But with time our mobile devices have become powerful than ever, and the advent of audio and video streaming services have further diminished the need for a video converter.
Still, many people like to spend more time dealing with files locally stored on their computer or archived in their external hard drive. A dedicated video converter like Wonderfox HD Video Converter Factory Pro is mostly their cup of tea. You can purchase it here.
Also, even if one has a smartphone capable of playing 4K UHD videos, there is no need to load space gobbling files on devices with small screens. The video files can be reduced in size, and still, it won't degrade the video quality and viewing experience.
In this post, I'd like to give you a brief walkthrough of the software called HD Video Converter Factory Pro for Windows.
HD Video Converter Factory Pro Review
Look & Feel
After the quick install process, the video converter was all set to load video files. In the first look, it seems to be an app designed for Windows 7 or XP and never received any major visual upgrades.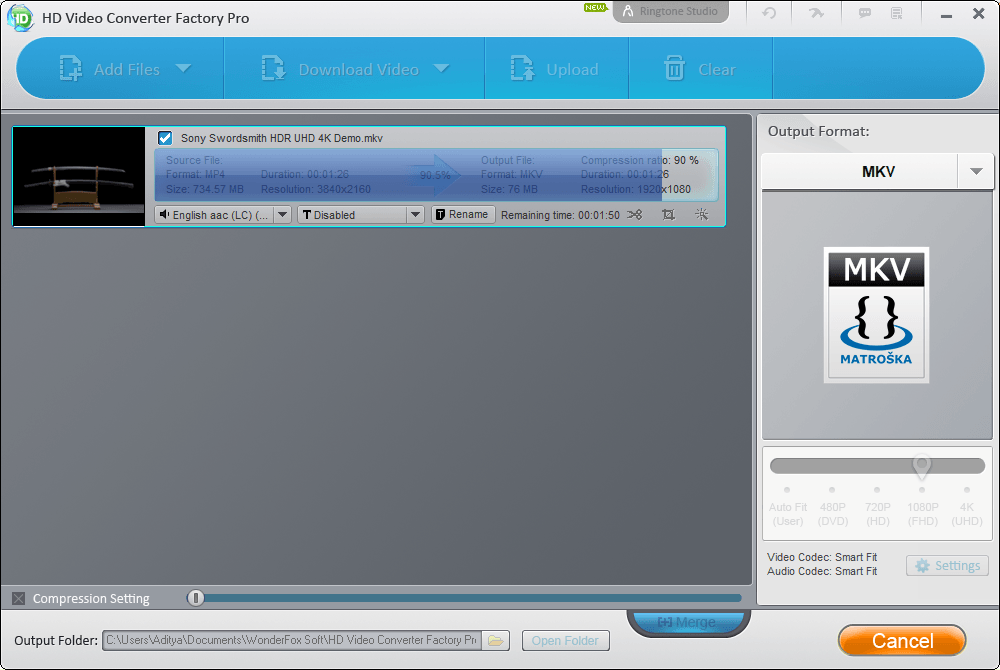 Although the appearance of software matters a lot in the age of modern software, a video converter should be judged for its conversion capabilities first instead of the way it looks.
With its average looks, HD Video Converter Factory Pro provides an easy way to add audio and video files for conversion. There isn't offered much in terms of effects and animation but what it provides seems to work without any lag.
Features
Just like many apps out there, HD Video Converter Factory Pro also comes with a specs sheet promising faster SD to HD video conversion and tons of features.
The software offers support for many popular video formats including MP4, MKV, FLV, VP9, WEBM, DIVX, WMV, etc. It also supports encoders such as HEVC and VP9. What's more is it offers specially optimized conversion presets for around 300 devices from leading brands like Apple, Google, Motorola, LG, Sony, Xbox, etc.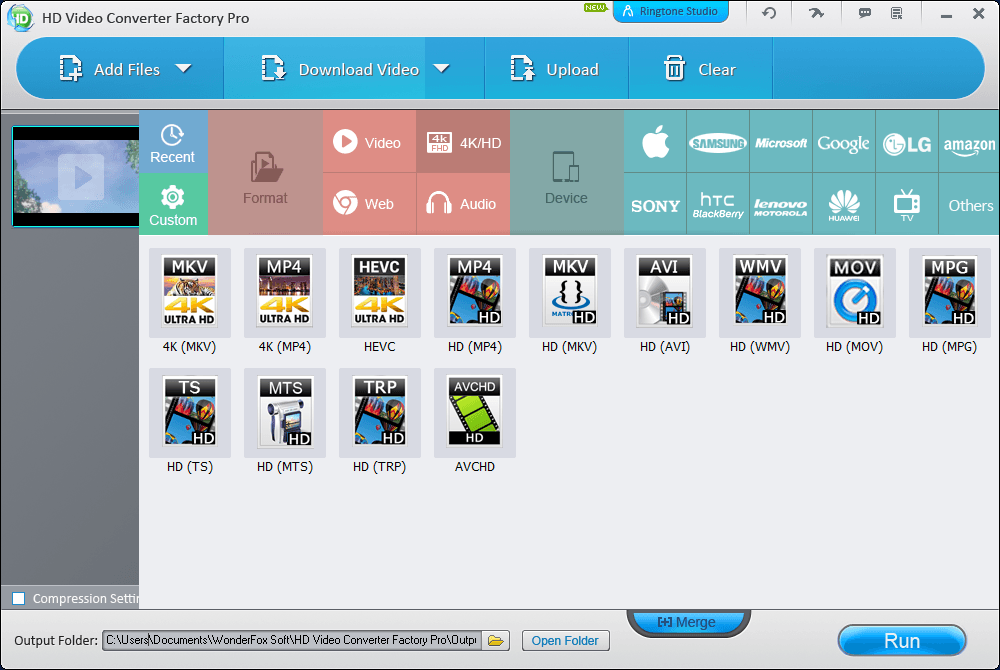 The dashboard of the video converter also allows you to crop and trim video files, clip out video snippets, add special effects, and more. The video converter software also allows you to add or remove subtitles before the conversion starts. Its feature set also includes GPU acceleration on compatible devices, batch downloads, lossless audio output, etc.
To load files for conversion, you can click the Add Files button and choose the required ones. Next, you need to click the blue arrow (under Output format) to pick a video format or device preset from the list. Once you have selected the format, you can go with the default Smart Fit setting or click Settings to make any changes to the output file.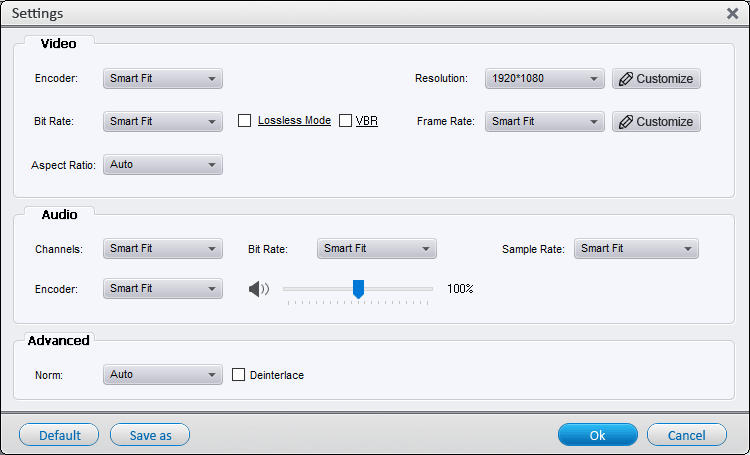 Apart from the being a video converter tool, it also doubles up as an audio converter. This means you can turn your favorite songs into whatever format you like. And it also supports advanced technologies like Dolby 5.1 Surround Sound and DTS audio.
HD Video Converter Factory Pro offers a video downloader component that the fetch videos from leading internet sites including YouTube, Vimeo, Facebook, etc.
If you have a working FTP server of your own, you upload converted files to that servers without leaving the video converter. Further, the software comes with a built-in tool to turn your favorite audio files into a pleasant ringtone for your smartphone.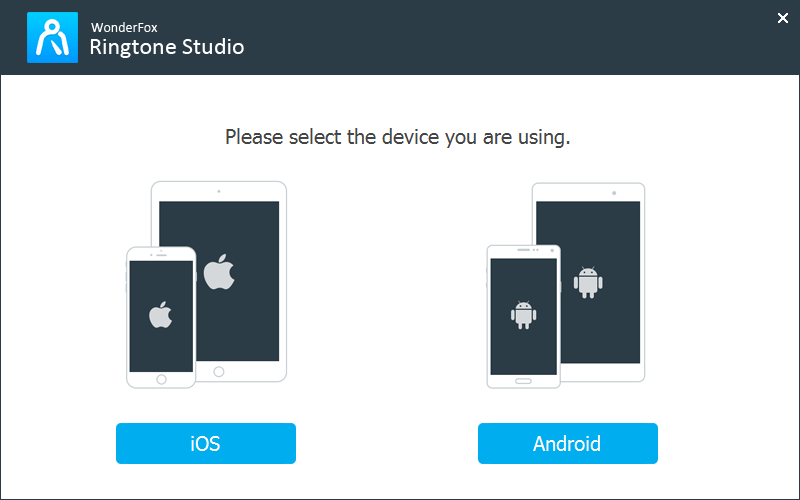 The offering doesn't end here, you can also split a video into clips, as well as, merge multiple video footage into one. To do that, first you need to add multiple files to the converter. Then, click the blue-colored Merge button.
During testing, I'd loaded a 4K MP4 video clip and tried to convert it into a 1080p MKV file. While the software somewhat failed to keep up its speed promise, there wasn't any noticeable degradation in the video quality of the output file. The difference would be visible when one compares the two side by side. However, it includes something called Force Mode which delivers better quality than the default mode.
Pricing
Wonderfox HD Factory Converter Pro is available for purchase with multiple license options as per your liking. You can get its one year license for $29.95 and a 3 PC Lifetime Family Pack for $59.95.
Also, they're running a special spring offer for their single PC lifetime license which can be purchased for $34.95 (50% discount).
Get HD Video Converter Factory Pro
Final Words
HD Video Converter Factory Pro is a great piece of software that people can use for day to day video conversion. Advanced features like GPU acceleration and Dolby surround sound complement its extensive list of supported formats and codecs.
What makes it a more compelling purchase is the inclusion of a capable video downloader to download videos from YouTube, Vimeo, and hundreds of other sites on the internet. The software can also convert YouTube videos into MP3 and other audio files.
You can also download WonderFox's kids movies software from here and convert WLMP to MP4, AVI, MOV, and other formats using this software. To fix YouTube lagging problems, you can also use this tool.
Disclaimer: This post has been sponsored by Wonderfox