The technologies we use in our daily lives are changing at a very fast pace. Gone are the days when we used to buy physical media like DVD or Blu-Ray and enjoyed movies in the comfort of our home. It's not like people are choosing the theater experience more prominently–the streaming services like Netflix, Amazon Prime, Hulu, etc., are making the kill.
So, what to do with your personal movie collection that's stacked somewhere in your basement? How to enjoy those home videos and movies again without having to pay for the same again? In such cases, a worthy DVD ripper software might help you. To do that, here, I'm going to tell you about WonderFox DVD Ripper Pro.
Copying lots of data from an optical drive takes lots of time. That's why it's important that the software you're using knows how to perform the process with optimum time and speed. This tool claims to do so by ripping the video and audio file in the highest-possible quality.
What's special about WonderFox DVD Ripper Pro?
This tool claims to convert your physical video with a fast speed. Thanks to the support for hardware acceleration, it takes only 20 minutes to rip a 150 minutes DVD video to different formats like AVI, MP4, MKV, MOV, WMV, etc., with no quality loss. WonderFox has also prepared a couple of guides to help you convert disc to digital file and ISO to mkv file in an easy manner. In case of conversion to MPG format, the conversion takes just 5-10 minutes.
While making a physical copy of the DVD, which can be as big as 7.5GB, you get the advantage of compression technology that results in a 1-1.5GB digital video without any difference in quality. This feature looks impressive as, very often, while ripping physical media, the result isn't pleasant.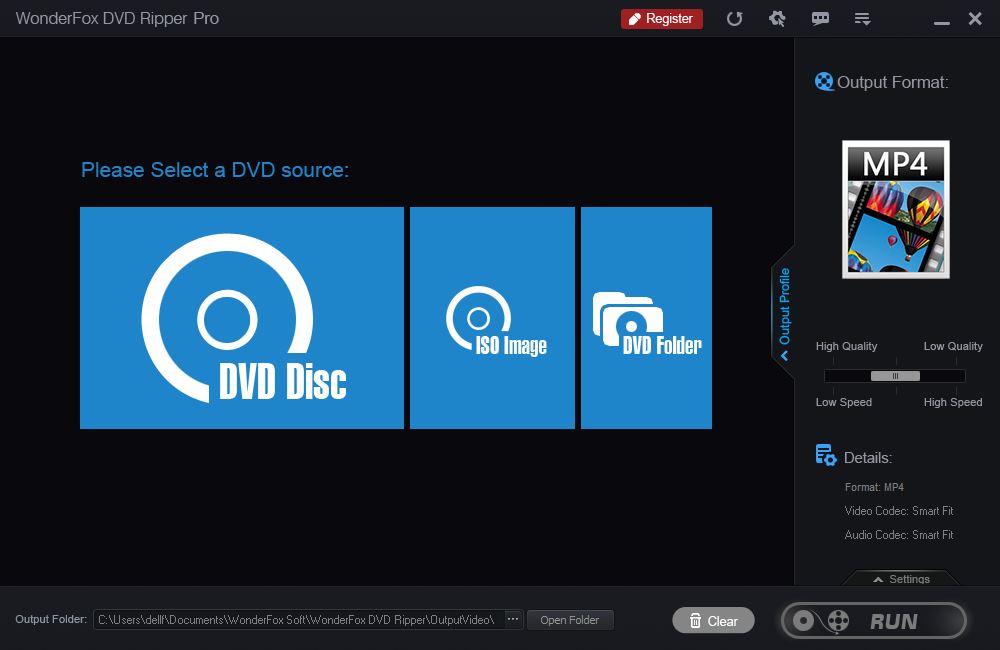 WonderFox DVD Ripper Pro also has the power to bypass the copy-protected media that you've bought for your personal use. Moreover, this tool also allows you to extract the audio/songs from a video and perform selective ripping.
Created with the latest technology, this tool rips DVD to standard video formats like AVI, MP4, MKV, MPG, WMV, MOV, MTS, M4V, ASF, DVC, MTS, WEBM, FLV, VOB, 3GP, etc. It also lets you directly convert the DVD videos to the formats suitable for devices like iPad, iPhone, Android smartphones, Amazon devices, Xbox, Projectors, etc.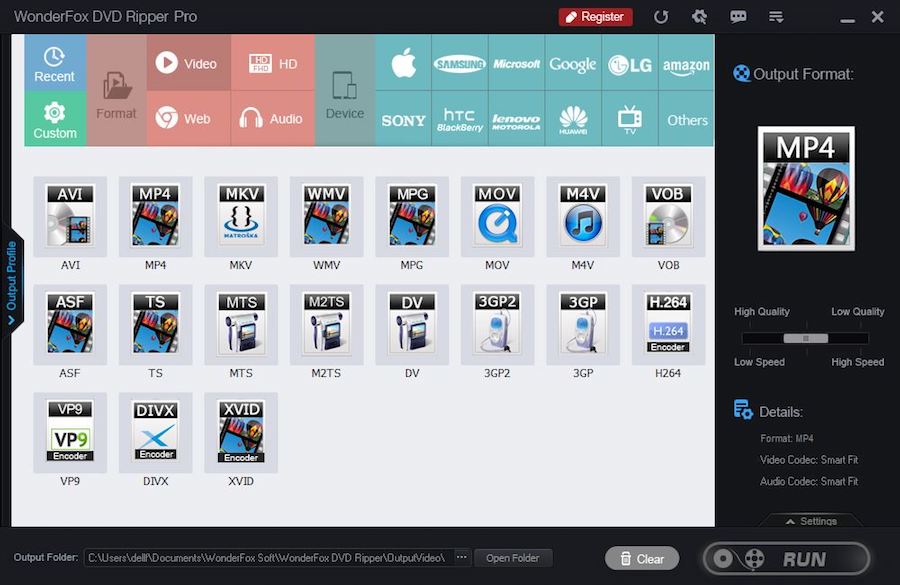 Using this ripping software isn't rocket-science. This makes it a suitable solution for users of all experience levels and technology literacy. All you need to have is a DVD with video in your laptop's optical drive tray. After the DVD is loaded, you need to open the program and select the source. After doing so, the video title is instantly detected. The DVDs are loaded in the main window with their thumbnail, size, duration, resolution, etc.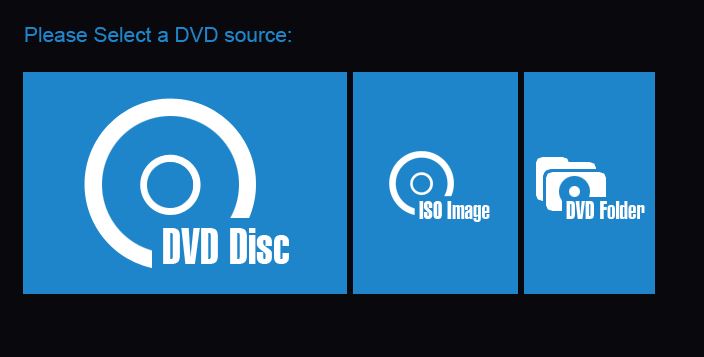 After that, you can select the desired output format to make sure that the resultant file works perfectly after conversion. There are chances that you might get overwhelmed to see tons of options. In that case, it's safe to choose MP4 format as it's supported by all devices. You can also tweak other options like darkness, sharpness, blur, noise, etc.
The next and final step involves the conversion of the file. To do so, just click on the Run button in the bottom right corner and wait for few minutes.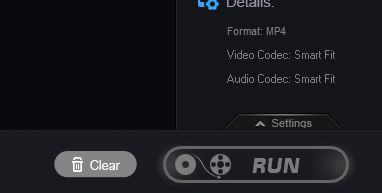 The program also supports batch conversion to make your DVD ripping task easier. It supports maximum 10 conversion tasks at one time. However, for H264 and AVC1 formats, only 2 tasks are supported. For conversion setting option, you can select the number of CPU cores and GPU acceleration option. You can set the CPU priority to complete the task at even faster pace.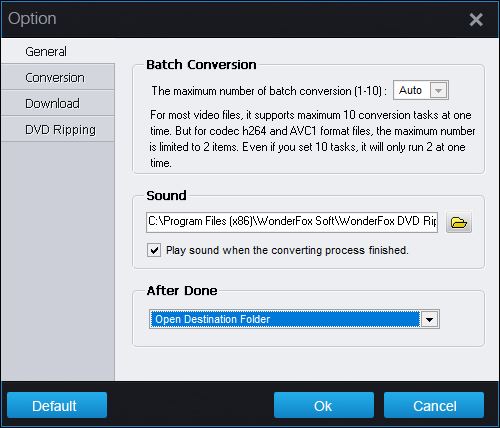 In the top bar, there's help menu which has links to the popular help topics and support. From there, you can explore more features and use the tool in a better manner.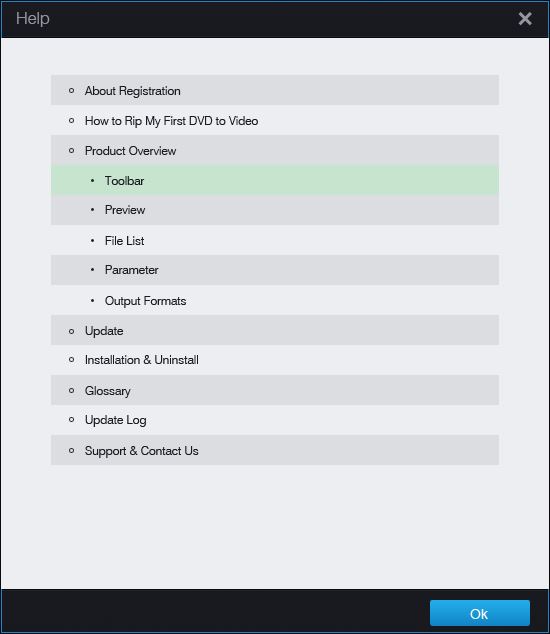 WonderFox's ripping utility is a professional-looking solution that doesn't try to do anything extra and sticks to what needs to be done. It supports tons of input formats to ensure that your investment doesn't go down the drain.
Compatible with Windows 10, 8, 7, Vista, and XP, WonderFox DVD Ripper Pro's lifetime license for 1 PC costs $29.95. Feel free to check it out and share your experiences.
2017 Back to School Season Giveaway
WonderFox is also running a special giveaway for the users. The giveaway covers acclaimed software, including Ashampoo, WinSysClean, Watermark, Wise Cleaner and more. The giveaway consists of different surprises in each round.
Visit this link to know more and take part in the giveaway.
Brought to you by WonderFox