There are so many video formats that it's common for people to get confused over which video format is better. One of those video formats is HEVC, High-Efficiency Video Coding. Today, more and more videos are encoded in HEVC codec, a video format that comes with a lot of issues.
The best thing a person can do is convert an HEVC format video to other formats like H.264 or AVI. And that is where WinX Video Converter comes in, which in my opinion, is the best free video converter. There is a premium version of this tool as well, which is called WinX HD Video Converter Deluxe.
What is HEVC Codec And What Are Its Issues?
HEVC is a video compression standard to give you improved video quality and higher coding efficiency. However, videos encoded in HEVC codec comes with a bunch of problems. For instance, you cannot import and edit HEVC codec in video editing software like Hitfilm, Sony Vegas, Adobe DaVinci Resolve, GoPro Studio, and Windows Movie Maker.
Also, the "Video Code is not supported" error message is universal when someone tries to play HEVC on Netflix, Movies and TV app, and VLC. And finally, not to mention that playing videos in HEVC format overheats your computer.
WinX Video Converter Is The Best Option To Encode/Decode HEVC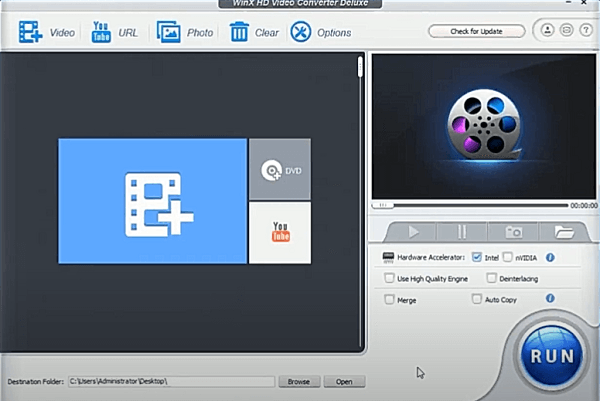 Being a YouTuber, having trouble with HEVC format videos was a daily thing for me. However, I got the opportunity to try out the WinX video converter, and it's safe to say that my experience with the video converter was perfect. Also, the software is supported by Windows 10 and the lower versions. So, if you're one of the Microsoft Windows users, then go ahead to know all about WinX Free Video Converter.
Features of Win Video Converter
More Than Enough Video Formats
The best thing about the WinX Video converter is that it supports more than 370 formats/codecs input and 420+ outputs, including MOV, MP4, MKV, AVI, HEVC/H.264, smartphone, tablets, action cam, drone, DSLR, etc.
Save 4K Videos From Online Video-Sharing Sites
If you like a trailer on YouTube and want to save and convert that trailer in the desired format, you can do that using the WinX Video converter. Besides YouTube, you can save videos from other online sharing platforms as well.
Superfast Conversion
The worst thing about other video converters is that they take a frustrating amount of time to convert the video. However, that isn't the case with WinX Video Converter. By utilizing Super Transcoding Engine and Multi-core CPU, this video converter delivers 20 times faster conversion speed.
Edit Videos
If you're a content creator, then the best video converter you can have is the one that offers you essential editing tools. With features for trimming, merging, and cropping videos, this video converter is a boon for YouTubers. What's more, is that you can include subtitles in your video without worrying about any watermark.
Customize Your Videos
Along with basic editing, the free video converter also lets you customize resolution, FPS, Video Codec, and aspect ratio of videos. So, what more could you want from a video converter?
Compress Videos
If you are frustrated with the massive 4k videos' size, its time for you to stop worrying. This is because WinX Video Converter can reduce the size of your 4K videos by 90 percent, without compromising the video quality.
Steps To Convert HEVC Videos to MP4 With WinX Video Converter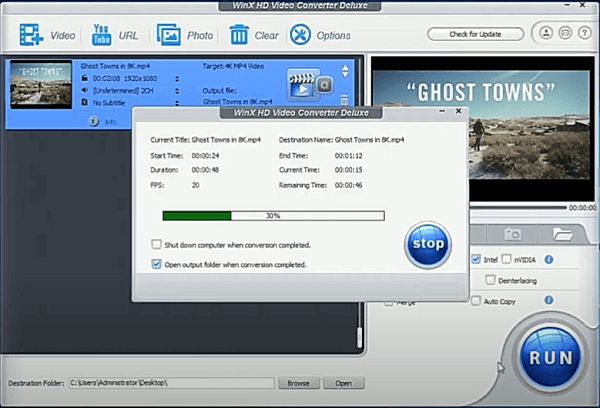 If you want to convert a video with HEVC format to MP4, then you follow these steps. However, you can follow a similar process to convert the videos to other formats as well.
 Click the Video button to load-in HEVC video.

 Select 'MP4', or any other format in the output profiles.

 Click on the "RUN" button to start the video conversion.
WinX Video Converter vs WinX HD Video Converter Deluxe
One of the best things about WinX Video Converter is that despite giving us so many useful features, it is free. You can download this fantastic video converter without paying any penny. However, to access all the features, you have to buy the Deluxe version of WinX Video Converter.
In the free version, you get all the necessary features like converting videos from HEVC Codec to other formats. However, the input and output resolution is restricted to HD only. On the other hand, by unlocking the Deluxe version, you can move the video resolution to 4K.
Also, features like editing videos and putting in subtitles, and saving YouTube 4K/HD videos offline are also available in the WinX HD Video Converter Deluxe. So, if you're one of those who can't let off these premium features, then it's best to go for the Deluxe edition.
Nevertheless, the software offers a lot of useful features in the free version. You can test the video converter for a few days and then go ahead to unlock the Deluxe version.