While Windows Updates are meant to make your PC better, there is strong evidence that they do otherwise. The situation gets worse when an update contains more bugs than fixes.
One out of many updates that Microsoft releases for Windows 10 is unofficially named 'Patch Tuesday' or 'Update Tuesday' that is rolled out on the second Tuesday of every month.
As the name suggests, it bundles a collection of security patches and fixes for various components of Windows that are plagued with bugs and vulnerabilities. Patch Tuesday has been in existence even before Windows 10 for more than a decade since the time of Windows XP.
One question that pops up in our minds is why is it called Patch Tuesday? Of course, it's released on a Tuesday, but why not a Monday or a Wednesday or a Saturday? Thankfully, Microsoft does have an explanation for this.
Why did Microsoft create Patch Tuesday?
Believe me, if things like Patch Tuesday didn't exist in our lives, Windows updates would have been more painful than today. Back in the day, Microsoft followed the policy of "ship-when-ready" to deliver security patches. That means a Windows Update could come knocking on your door anytime.
The situation seemed to be manageable for everyday users. One advantage it provided was that systems could be patched as soon as a fix was developed.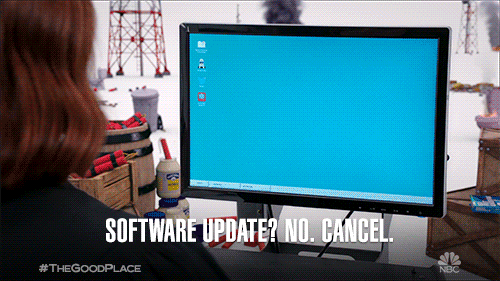 However, system administrators, people responsible for a network of Windows PCs, weren't happy. When you are managing 50 or 100+ machines simultaneously, an unexpected system update isn't a thing you'd fancy, especially on a Monday.
So, in October 2003, Microsoft came up with the concept for Patch Tuesday, where it would release a cumulative update on the second Tuesday of every month.
However, 'out-of-band' security updates are released when required to patch severe threats that could be critical or affect a large user base.
Microsoft also refers to these security updates as a "B" release and labels them as very important. The company releases these updates for a specified number of years after mainstream support for a particular Windows version ends.
For regular users, Patch Tuesday is rolled out via the Windows Update service running on Windows 10, Windows 8/8.1, and Windows 7 (not anymore). For enterprise users, the Windows Server Update Service (WSUS) is used to deploy Patch Tuesday and other updates.
But why Tuesday?
The answer to this question is what anyone would expect: Nobody would want to install an update on a Monday when they're already trying to get past the hangover.
In Microsoft's own words, the company picked Tuesday as an attempt "to provide you with a day (Monday) to deal with any other issues you need to work through from the previous week."
While many of us hate Mondays, it's essential as most of the weekly plans are made on this day. Moreover, the predictable nature of updates helps the IT admins to prepare their systems.
We are not saying that Patch Tuesday won't break your PC, history tells us that it might, but undoubtedly the update experience has improved over time.
Patch Tuesday also allows users to discover and report bugs that may show up in the coming days of the week. That's why another tech jargon that has gained popularity is 'Exploit Wednesday,' as curious security researchers are likely to spot bugs the very next day.
So this is how Windows Patch Tuesday update came into being and why you shouldn't expect it on a Monday while sipping your morning coffee.