A Windows Core OS virtual machine has been spotted by Windows Latest on the popular benchmark site Geekbench. The benchmark results date to March 17, where the Windows Core System (64-bit) can be seen running on an Intel Core i5-L15G7 clocked at 1.38GHz with 6280MB RAM.
What adds to the surprise is that L15G7 in an unreleased Intel Lakefield chip with 5 Cores and 5 threads. It's a low-power chip in development to compete with the likes of Qualcomm Snapdragon SoCs. Qualcomm already rules the smartphone market, and in recent years, it has started to challenge Intel's PC market as well with its Always-Connected PCs.
Anyway, as we already know, Microsoft doesn't say much when it comes to Windows Core OS. However, it's almost a known secret that the upcoming Windows 10X is based on this modular platform. Also, this is not the first time WCOS benchmarks have appeared on Geekbench.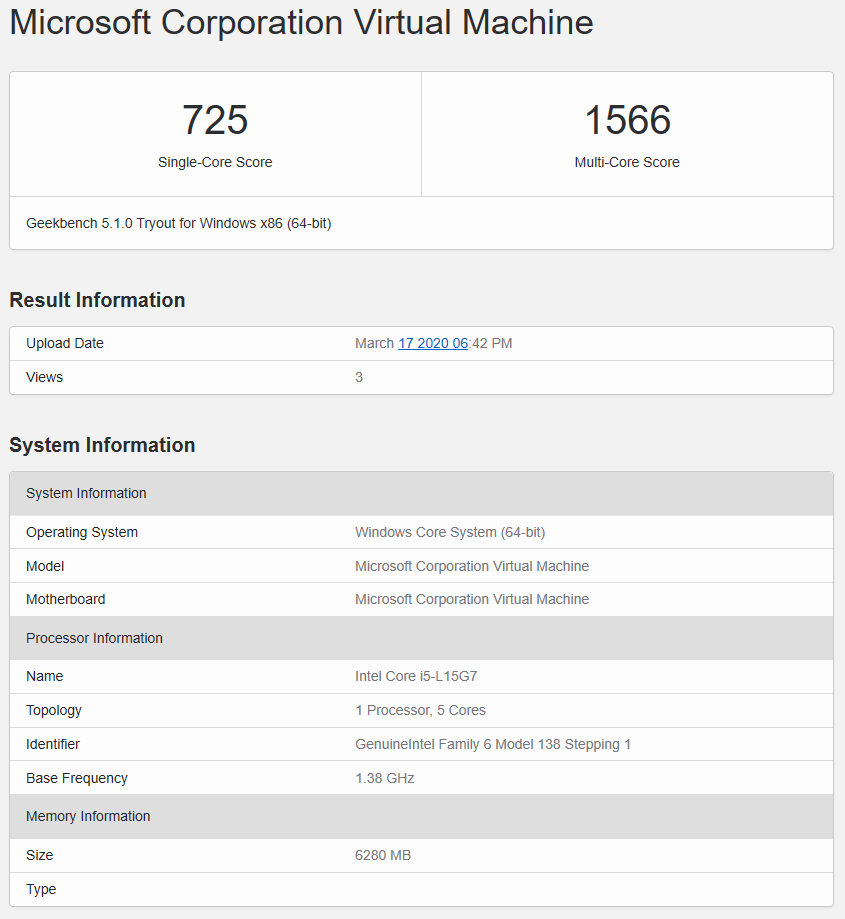 WCOS acts as the base for various Microsoft operating systems designed for different types of devices. The Windows Core OS machine was able to crunch a single-core score of 725 and a multi-core score of 1566 in Geekbench 5.
Previous leaks have suggested that Windows Core OS would include open source components, and will power future Xbox consoles, and have a redesigned notification system.
Reports suggest that Microsoft will lift the curtain off the modular OS platform this year at the BUILD 2020 developer conference. The unveiling won't include much pomp as the Coronavirus pandemic has forced Redmond to host BUILD as an online-only event.
Furthermore, the company has also halted all future stable releases for the Edge Chromium web browser. However, it will continue to deliver security and stability updates.