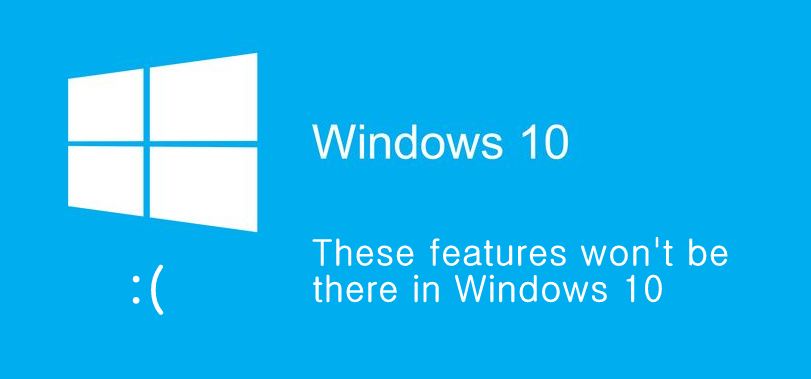 As the July 29 release of Windows 10 comes closer, new features and functions are making their appearance each day. But there are some features from your Windows 7 and Windows 8 PC that will no longer work when you'll upgrade your PC to Windows 10.
I
n this article, we try to mention some of the worst sacrifices that you'll be making with Windows 10.
Take a quick look at them:
There is a huge possibility that you won't be able to choose the timings and parts of the updates you want to install in Windows 10. Microsoft wants to be in-charge of this department and you may not like it.
If you are going to upgrade your PC to Windows 10, you won't be able to use Windows Media Center anymore. Currently Windows Media Center is available in Windows 7 Home Premium, Windows 7 Professional, Windows 7 Ultimate, and Windows 8 Pro and Windows 8.1 Pro with Media Center.
Windows 10 won't be having Solitaire, Minesweeper and Hearts Game that are pre-installed on Windows 7.
If you use floppy drive, it won't be supported out of the box by Windows 10. You will have to download the latest drivers using the manufacturer's website or Windows update.
To run DVDs, you will need a third-party software in Windows 10.
If your current PC has Windows Live Essentials installed, the OneDrive version will be removes and replaced with inbox version of OneDrive.
Windows 7 desktop gadgets won't be a part of Windows 10.
Even though some of these changes might affect you, upgrading to Windows 10 isn't a bad choice given the fact that it is available free of cost if upgraded within one year.
To the features that won't be continued in Windows 10, there are many free and efficient alternatives available.
Recommended: NO Yearly Fee for Windows 10 Support After Upgrade Within One Year, Microsoft Clarifies
For more updates and interesting stories from fossBytes, subscribe to our newsletter. [newsletter_signup_form id=1]