The Windows 11 release was an exciting one for most people. Still, Microsoft upsets many Windows users by limiting Windows 11 to Intel 7th gen or above and Ryzen 1000 series and above processors. Despite that, users did manage to install the OS using unofficial methods.
Limiting the hardware requirements proved to be a significant setback for Microsoft. It was tackled by releasing an "unofficial" way of installing Windows 11, but what if I told you that the Pentium 4 661 from 2006 shows up as 'Supported' hardware on Microsoft's PC Health Check?
Windows 11 Is Supported On Pentium 4: Wait… What?
Things seem to have taken another vast turn as Microsoft's official PC Health Check tool recognized Pentium 4 661, a processor released in 2006, as a supported processor. This means that the giant has lifted the hardware barrier, which is excellent news, right?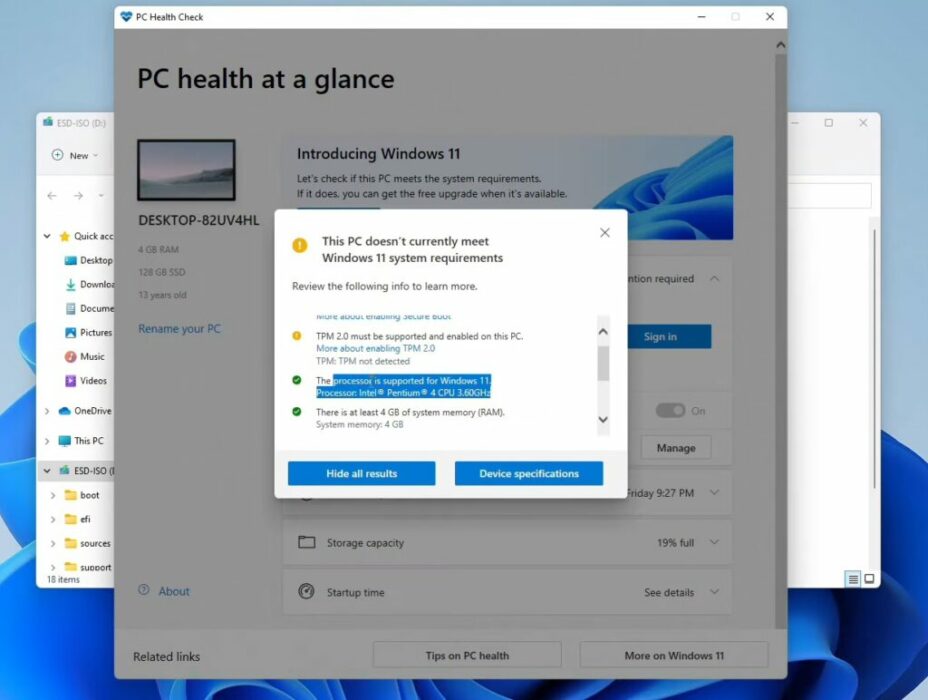 No. Microsoft forgot to update the strings responsible for the "Unsupported hardware" message for this particular family of Intel processors. And since Pentium 4 is not included in the list of unsupported processors, people could officially update their PCs to Windows 11.
For starters, Pentium 4 661 is a single-core processor clocked at 3.6 GHz. It is based on a 65nm process and was very popular during its release.
Windows Latest reports that users that installed Windows 11 are also getting cumulative updates. Either way, it won't be too long before Microsoft updates the Health Check app to fix this issue.
What are your thoughts about this? Let us know in the comments section below.