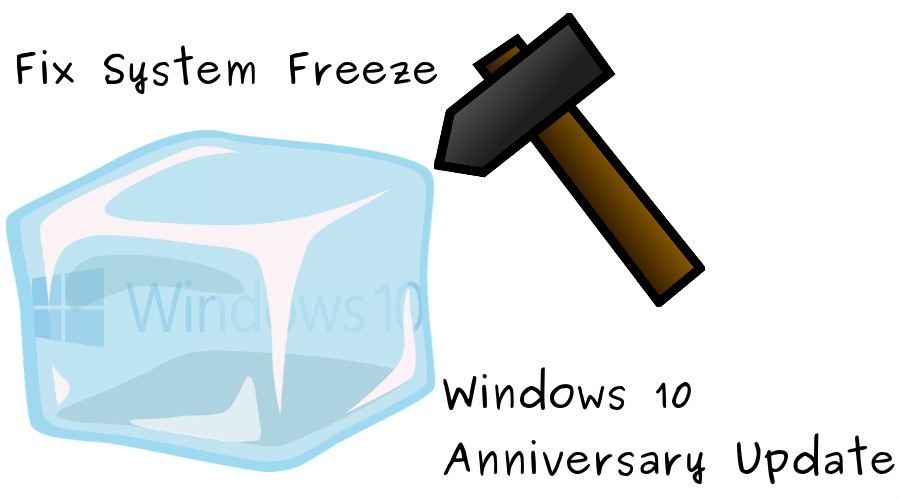 Short Bytes: Windows 10 Anniversary party is not going well for the early adopters of the much talked about the mega update. Users are facing system freeze and frequent crash issues after they finish installing the Anniversary Update. A Redditor has suggested a fix for this problem.
M
icrosoft released the
Windows 10 Anniversary Update
with all the proud and glory. But a new problem seems to put Redmond's Anniversary party in the dark. Many users are facing system freeze issues as soon as their PC boots after finishing the update process.
There are frequent system crashes within a few seconds of turning on the computer. This problem is not experienced by a handful of users but by many of them and the number is increasing.
The main reason behind the issue is supposed to be the internal Windows update. Users who have updated using the automatic update system in Windows 10 are facing system freeze issues.
A Redditor named KuruQan says that if the bootable drive is used to install the Windows 10 Anniversary Update then no frequent system freeze and crashes are observed.
"I'm running the windows 10 1607 with no freeze after 20 seconds after startup (I did multiple restarts to test it)"
You need to download the ISO using the media creation tool and make a bootable disk or flash drive using the Windows 7 USB/DVD Tool.
KuruQan writes,
HOW I FIXED THIS ISSUE:

Short version: use dvd/flash disk and official .iso of the build 1607

long version: So I had the same issue, I rolled back to previous build, removed $WINDOWS.~BT, $WINDOWS.~WS (contain some stuff from previous upgrade attempt)

After that, I downloaded new .iso file of the build 1607 using MediaCreationTool https://go.microsoft.com/fwlink/?LinkId=691209 (run it and choose download iso to install on different computer)

Using windows 7 USB/Dvd tool (https://www.microsoft.com/en-us/download/windows-usb-dvd-download-tool) I created bootable USB flash disk. After that I disabled all "on startup" programs (ctrl+shift+esc, after startup tab, disable all enabled programs)

After that I inserted the USB flash disk into USB 2.0 port (3.0 have problems on some motherboards when booting from them), went to the USB flash folder, run setup.exe, chose "don't look for updates", unchecked "help microsoft with blabla" and clicked trough the install app. I chose keep all my settings and personal documents, let it proceed, pc restarted and after installation I'm running the windows 10 1607 with no freeze after 20 seconds after startup (I did multiple restarts to test it)

EDIT: I don't say you HAVE TO follow every step I did, I think installing the update from .iso instead of windows update will do the job well…

EDIT2: It's also good Idea to run "Disk Cleanup" (press start and type "Disk Cleanup") chose drive C: select "clean system files", let it load again, select all checkboxes and let it clean (it will remove the windows update files from previous attempt)
If you have something to add, tell us in the comments below.
Also Read: Microsoft Is Blocking "Assistive Tech" Trick To Get Free Windows 10 Upgrade