I
t's not that we never saw it coming. Although not as quick
as predicted last year
, Windows 10's worldwide market share has surpassed that of the 8-year-old Windows 7 for the first time, according to StatCounter's
data released
for January 2017 and January 2018.
Windows 10 now runs on 42.78% PCs which is slightly higher than the 41.86% market share of Windows 7. Statcounter's CEO Aodhan Cullen has called it a breakthrough for Microsoft.
The company released its OS as a service back in 2015 with an aim to make it running on 1 billion active devices by 2018 including desktops, laptops, tablets, Xbox, etc. Almost two years later Microsoft only managed to bring Windows 10 to 600 million active devices.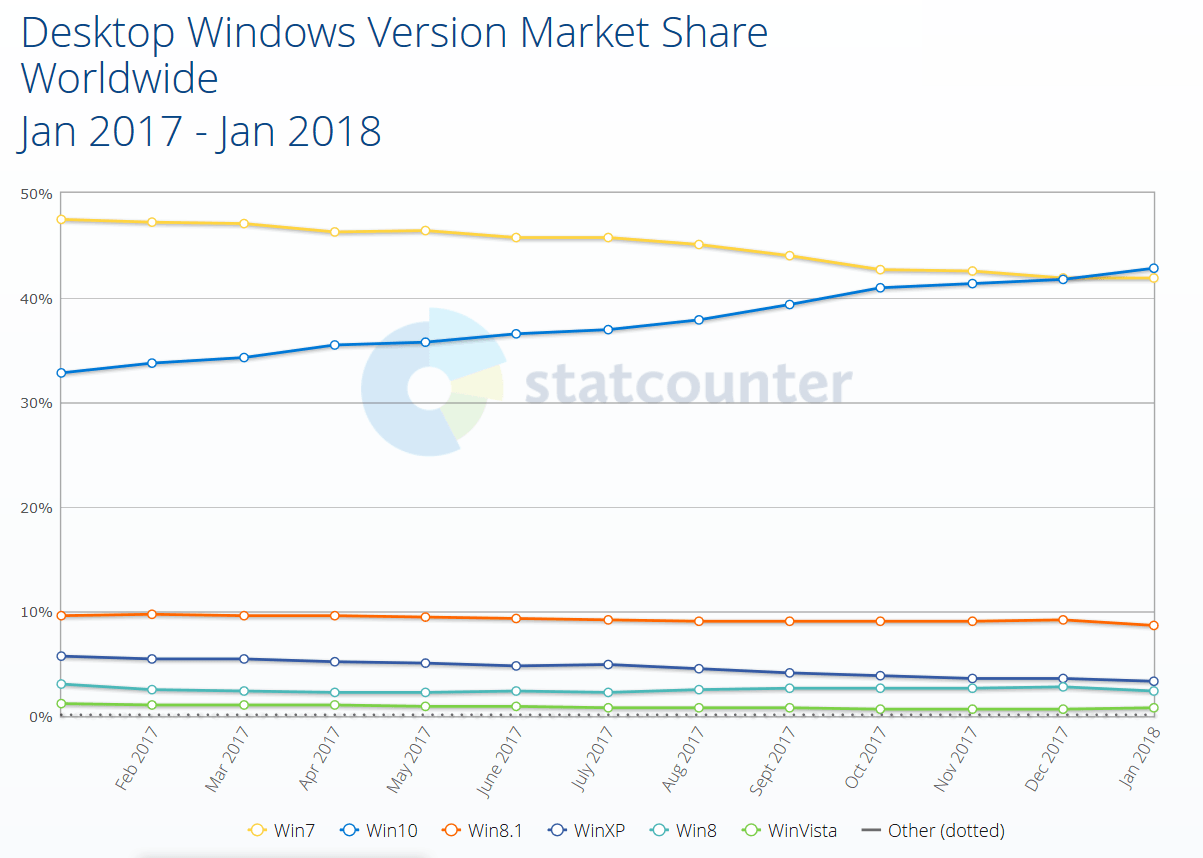 As time passes, the difference in the market share would only escalate because Windows 7 has become old and Microsoft also pulled mainstream support for the operating system depriving users of any new features since January 2015. But security updates will be there until 2020.
It's up to the users whether to make the switch or not. Windows has gone farther than versions older than Windows 10 could catch up. Microsoft Store is slowly populating with more and more modern UWP apps, a no-show in Windows 7. The app platform would be an integral part of the future Microsoft has dreamt: various devices running the same Windows Core OS and UWP apps but with a different flexible Windows Shell such as Andromeda or Polaris.
Also, taking inspiration from its flop predecessor Windows 8, Windows 10 offers built-in compatibility for more and more hardware. For instance, Windows 10 can work with the fingerprint sensor using Windows Hello.
It's no doubt that people have a soft corner for old things. Taking a dose of nostalgia every now and then is a good thing. But it's also true that we should leave the things of the past in the past, sometimes.
The fact that Windows 7 still runs on that many PCs shows many people didn't fell for Microsoft's free upgrade gimmick to put Windows 10 everywhere they could.
Additionally, the failure of Windows 8 made Windows 7 a popular choice among business users who usually aren't the early birds when trying new software.
So, if software compatibility is not an issue, making the upgrade won't be a decision many would regret.