If what we are hearing turns out to be true, Microsoft might tweak Cortana's wake word setting in the upcoming Windows 10 update.
HTNovo spotted a surprising change: shouting a trigger word like "Hey Cortana" doesn't bother the virtual assistant at all.
Instead, Cortana displays a message in return, saying that the activation word isn't available at the moment and will come back in future updates (translated from Italian). The site points out that Microsoft has removed the setting that allows users to set a wake word to trigger the assistant.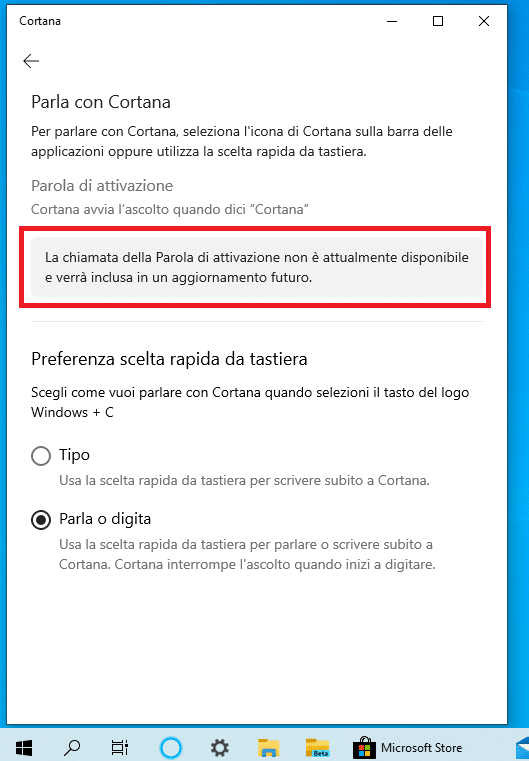 The change is visible in the Cortana beta app version 2.2004.22762.0 running on Windows 10 2004 final build, currently available in the Release Preview Ring.
Of course, it's not a bug, but it seems to be building on top of the changes that Redmond has been experimenting with lately.
It's a known thing that Cortana couldn't even make the smallest dent in the success of Alexa and Google Assistant. With Windows 10 1903, Cortana was decoupled from Windows Search in the taskbar.
While it appeared that Microsoft might say goodbye to the virtual assistant, the company is trying to give it one more chance. Late last year, Microsoft redesigned the Cortana beta app and added a chat-based UI for the users.
In addition to improved skills, the new Cortana app can be moved around like any other Windows 10 app rather than being glued to the taskbar all the time.
So, this time, maybe Microsoft is experimenting with an improved wake word setting for Cortana. Probably, it's optimizing the setting to work seamlessly with the chat-based interface. Or worse, maybe Redmond is planning to remove the feature altogether which by the way wouldn't be a futuristic move. Let's wait for what's about to come.
via MSPowerUser