Windows 10 May 2019 update version 1903 is available for download for Windows 10 users. The new Windows 10 update is rolling out slowly to consumers because of quality concerns. Earlier, the Windows 10 October update, version 1809 had a lot of problems, including the folder redirection bug, which deleted files instead of moving them to One Drive.
So far, Microsoft is leaving no stone unturned to keep the new update free of issues. The new Windows 10 version 1903 has gone through a month-long preview phase to make sure it is completely ready when it rolls out in May 2019.
How To Install Windows 10 May Update 1903 On Your PC?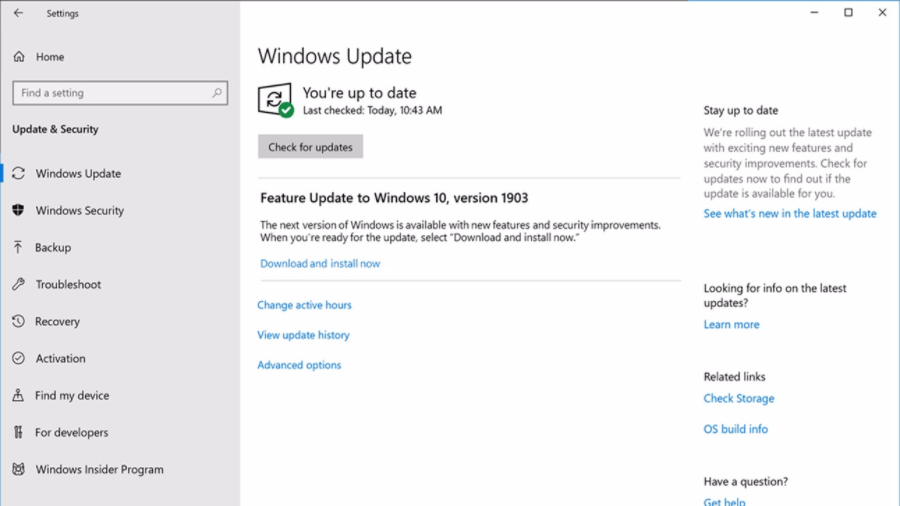 The new update is available to all users and not just members of the Insider program. People can download the official Microsoft update using the following steps:
Open Settings
Select "Update and Security"
Click on "Windows Update"
When an update is available, Select "Download & Install"
Once the update is downloaded and ready to Install, another notification will pop up asking you to specify the time for Windows 10 1903 update installation.
The extra steps being taken by Microsoft are visible through each step of the Windows Update Installation process here. It seems like Microsoft wants you to use their update but only if you please to do so.
Windows 10 Version 1903 Update New Features
Windows 10 has a whole list of new consumer-oriented updates. Most of them aren't groundbreaking but the user is sure to notice a difference when they use them. Main features of the new Windows 10 update include:
Light Theme
Kaomoji Support ¯\_(ツ)_/¯
Microsoft Windows Sandbox
Separation box for Cortana and Windows Search
No forced Windows Update
Furthermore, the new Windows version 1903 features a Windows release health dashboard. It monitors the current status of known issues and resolved issues in the Windows version 1903. Older Windows versions also have their list of Known Issues and Resolved Issues available on the official website.
Users can monitor the current status of a bug in their Windows Operating system by pressing ctrl+F (command + F on Mac) and searching for the query.
The following versions of Windows are included in the Windows Health Dashboard:
Windows Version Available In Health Release Database
1903
1809 and Windows Server 2019
1803
1709
1703
1607 and Windows Server 2016
Version 1507
Windows 8.1 and Windows Server 2012 R2
Windows Server 2012
Windows 7 and Windows Server 2008 R2
Windows Server 2008 SP2
Windows Update Notification Not Being Pushed
According to Microsoft, the new Windows 10 update won't be automatically installed. However, starting in June, the company will start pushing updates for Windows 10.
Until then users will have to manually install the update by following the steps mentioned above. You can, however, wait until June to be extra sure about the efficiency of the new Windows 10 version 1903.
In the end, the extra steps being taken by Microsoft are duly appreciated and it's always the customers who benefit when companies decide to tighten their quality control. If the efforts from the Windows team are genuine then Microsoft has no way to go but higher.