Short Bytes: Riding on the success of its free Windows 10 upgrade program, Microsoft has managed to get Windows 10 running on millions of PCs. According to the latest data, the latest version of Windows OS is the second most used desktop OS in the world with a share of 12.46 percent. These numbers are a result of aggressive Windows 10 promotion strategies that are facing a strong backlash from the users.
M
icrosoft launched its
latest Windows iteration Windows 10
just six months ago. Hailed as Redmond's most complete operating system till date, the OS was offered as a free upgrade to the Windows 7 and Windows 8.1 users. As a result, more than 200 million people are running Windows 10 on their PCs.
To promote the Windows 10 free upgrade offer, Microsoft even employed some fishy tactics that were received with multiple forms of criticism. However, the recent statistics have revealed that the tech company's strategies are paying off.
According to the data provided by StatCounter, Windows 10 now powers 12.46 percent computers, followed by Windows 8.1 with 10.33 percent share. Talking about the #1 position, Windows 7 still beats them all with 43.76 percent installations.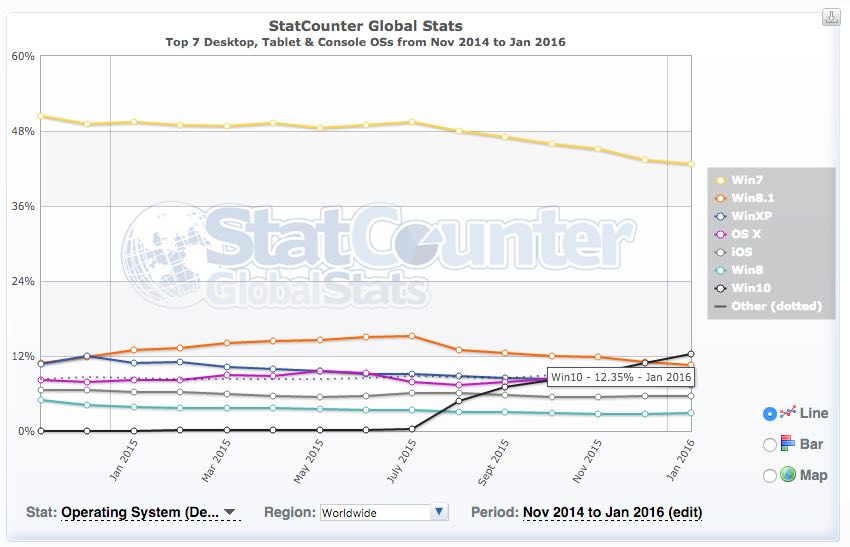 Microsoft's aggressive Windows 10 upgrade program has paid off
Microsoft has repeatedly restated its aim to achieve 1 billion Windows 10 installations on different platforms — desktops, laptops, tablets, PCs, Windows Phones, Xbox One, HoloLens, and other IoT devices — in the next 2-3 years. It isn't some kind of hidden fact that Windows 10 was launched as a free upgrade to lure the users.
Microsoft has been showing the 'Get Windows 10′ pop-up on Windows 7 and 8.1 PCs for a long time. With time, these pop-ups became bigger and didn't feature any option to reject the upgrade. If you are currently running Windows 7 or 8.1, there is a good probability that you might have encountered this sight.
Microsoft is soon going to make Windows 10 a recommended download in Windows Update
This upgrade strategy is going to become more aggressive later this year as Microsoft is going to make Windows 10 a recommended download in your Windows Update section. This means, every time you'll be using the Windows Update feature, Windows 10 will be shown as a recommended to download.
So, here's a piece of advice if don't plan to give up your Windows 7 or 8.1 operating system — don't install Windows Updates on your PCs before looking at the entire contents.
What are your views regarding the latest Windows 10 promotion strategy of Microsoft? Share your views in the comments below.
Also read: Upcoming Intel And AMD CPUs Will ONLY Support Windows 10 — Here How Things Will Work