Update (August 11, 2020): Microsoft announced that select Samsung devices that have the Link To Windows feature can support the new Android app streaming via Your Phone. The list includes Galaxy Note 9, Note 10, S10, S20, Fold, Z Flip, XCover Pro, etc. If you have one of these devices and receive Windows Insider build, you'll be able to try the Apps feature soon.
If you have struggled with emulators to run Android apps on Windows 10, then rejoice because Microsoft's Your Phone app can do that for you now. The company has announced that Your Phone app can now run Android apps on Windows 10 PCs giving a much-needed boost to cross-device multi-tasking.
Most of the time, we keep juggling between our smartphone and PC in an attempt to keep up with the latest social media updates while also doing our work. Yes, web versions of various apps exist, but it's a different story altogether.
In addition to social media apps, the new Your Phone feature will let you access other Android apps on your Windows 10 PC. For example, the Clock, File Manager, food ordering apps, and maybe even Google Play in its standard mobile-style UI.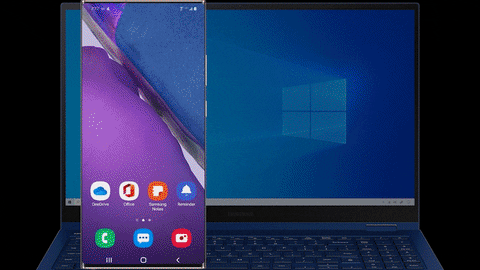 The Android apps will open in a separate window on the PC, and you will be able to pin them to the Taskbar and the Start Menu. Also, the new feature is different from the already existing Phone Screen feature that lets you mirror your Android's entire screen on Windows 10.
Your Phone app will display a list of all the apps installed on your device so you can launch them without even touching your smartphone. For now, Your Phone will only run just one Android app at a time. The support for multiple apps will be added later this year in November.
It's Galaxy Note 20 Exclusive
However, one big twist is the Android app support for Windows 10 is currently offered with the recently released Galaxy Note 20 devices via the Link to Windows integration. As we know, Microsoft and Samsung joined hands for an exclusive long-term partnership, so most of the new Your Phone features first arrive on Samsung devices.
In other words, you will have to shell out at least a thousand bucks if you want to try the feature right away. Hopefully, more Galaxy devices will follow suit, and the feature might arrive for other Android devices as well.