A new extension called Night Eye brings dark theme support to the web pages in Microsoft Edge. This extension has been developed by Razor and is available for Windows 10 users to download from the Microsoft Store.
Night Eyes brings dark mode to all websites like Google, Facebook, Quora, etc. Instead of inverting, this extension analyses the colors and images on the web pages and converts them to enhance your browsing experience.
It is a useful tool that protects your eyes from the rays that emit continuously from display screens. The extension automatically changes the contrast and the saturation to healthy levels and is highly recommended for those who work in a low-light environment.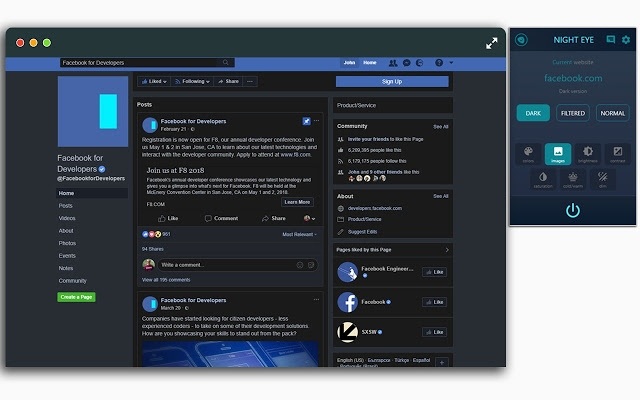 Night Eye offers three different modes:
Dark – The complete dark theme where all colors, small images as well as icons will be converted to provide the smoothest dark experience possible.
Filtered – The color on the website remains same, but brightness, contrast, warmth are tweaked.
Normal – It takes you back to the normal browsing mode.
It comes with other interesting features such as Color Changer (for changing website color), Brightness/Contrast/Saturation, Dimming, Image Conversion, and Blue Light Filter.
The Night Eye extension is available for free on the Microsoft Store. For those using Google Chrome, Mozilla Firefox, Opera, Vivaldi, or Yandex can download it on a free trial basis for three months.