As per the latest data released by NetMarketShare, Windows 10 has lost some of its loyal users to macOS and Linux distros.
Continuing the legacy, Microsoft's Windows 10 OS monopolized the market since its launch back in 2015. Recently, it reached the 1 billion active devices milestone – a dream that got delayed by over two years.
But it seems that the sweet success for Windows in the OS market now comes with a pinch of sourness. Speaking of the numbers, the desktop market share for Windows OS (all versions) has dropped by 2% between March 2020 and April 2020.
| OS | March '20 | April '20 | Difference |
| --- | --- | --- | --- |
| Windows | 89.21 | 86.92 | -2.29% |
| macOS | 8.94 | 9.75 | +0.81% |
| Linux Distros | 1.36 | 2.87 | +1.51% |
| Chrome OS | 0.40 | 0.40 | 0% |
That void has been filled by Apple's macOS, which saw a 0.8% boost in market share during the same period. However, what's surprising is that the desktop market share of Linux distros has increased by 1.5%, which is almost double than that of macOS.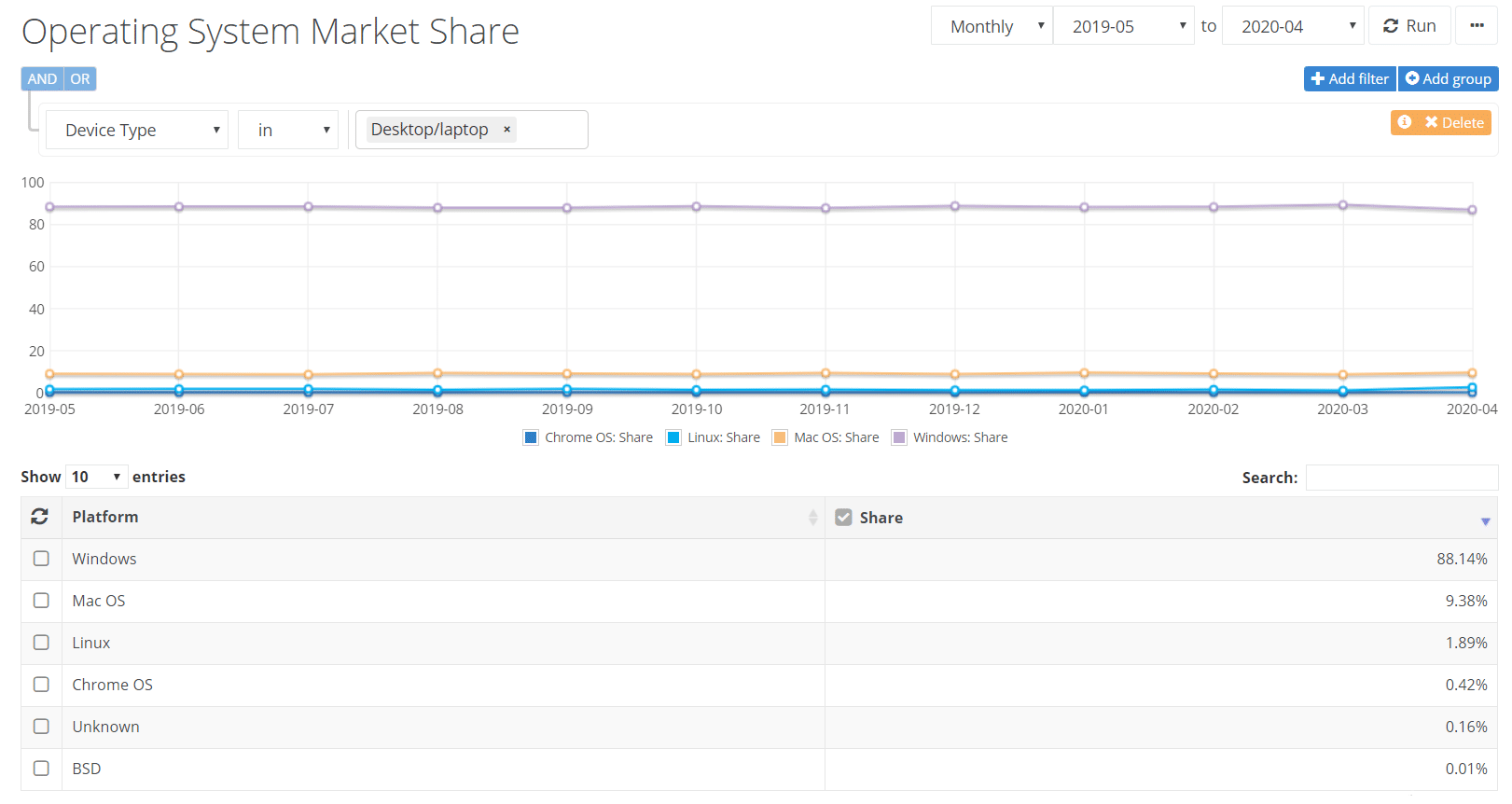 Furthermore, if we compare the data from April '19 (Windows share: 88.22%) and April '20 (Windows share: 86.92%), there is a decrease of 1.3% in the last twelve months. That means some Windows users want to look elsewhere.
Still, Microsoft's beloved operating system finds a home in over 88% of all desktops and laptops. Meanwhile, speaking of Windows 10, its individual market share has dropped from 57.34% in March to 56.03% in April 2020.
One important thing to note here is that the data released by NetMarketShare doesn't account for all the desktop computers across the globe.
Here, the numbers released by StatCounter can be used to support the conclusion that Windows users are switching to macOS and Linux systems.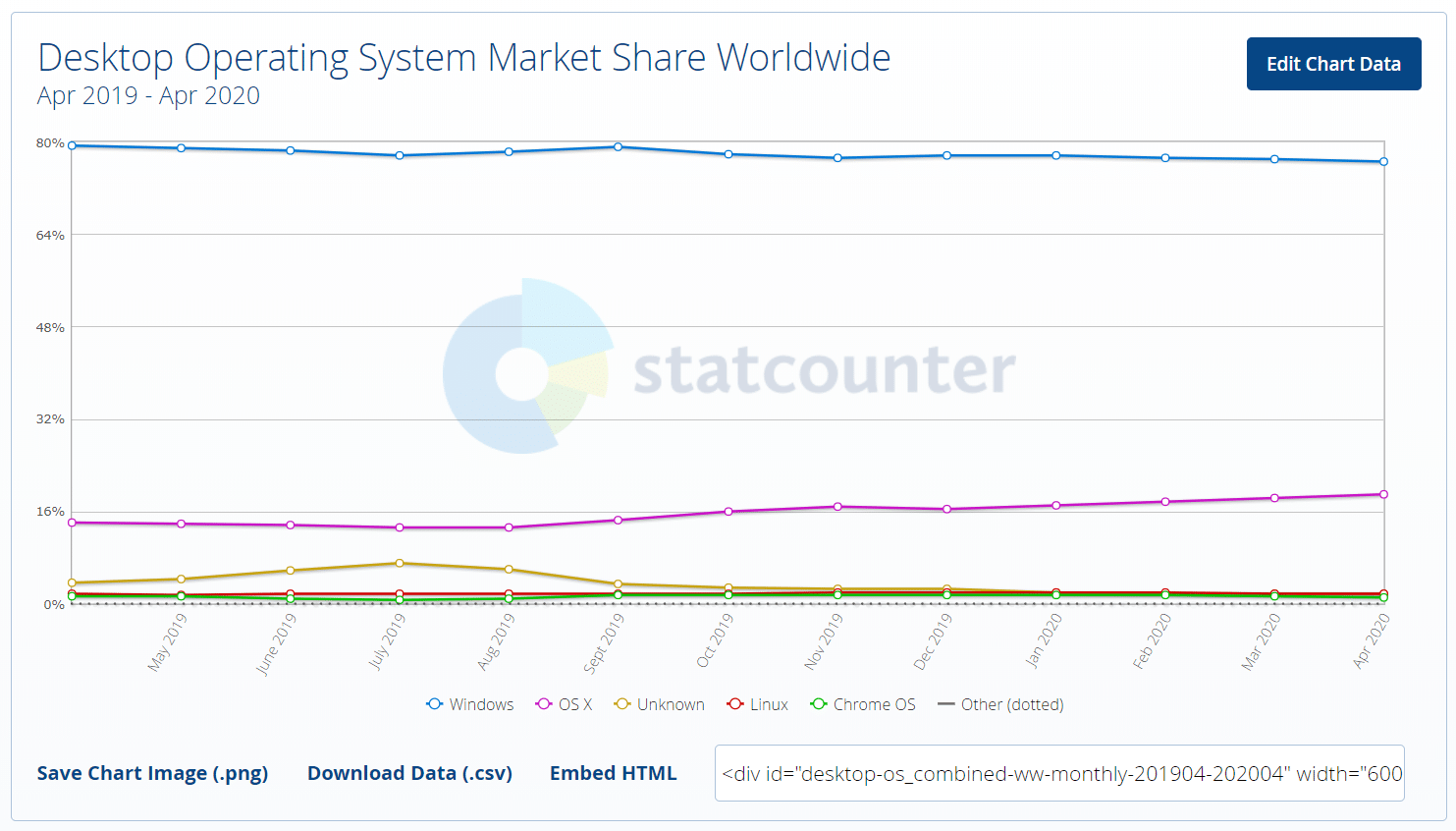 According to it, between March and April '20, Windows saw a decrease in its market share, whereas the numbers soared for macOS. However, Linux also saw a decrease in usage as per StatCounter.
So, the information could be used to get a rough estimate of the popularity of various operating systems right now.
Why is Windows losing its popularity?
When it comes to market share numbers, up and downs in graphs are a common thing. However, if you want to list down the reasons behind this considerable drop, then there could be a few.
Firstly, the Windows 7 OS reached its end-of-life in January this year. That means the users who can't get security updates anymore might be looking for some good Windows 7 alternatives. Possibly, they found Linux and macOS as better choices over Windows 10.
Another reason could be buggy software updates. It has been long since Windows 10 users have installed an update without running into some nasty error or sacrificing their system to BSODs.
While Microsoft is putting sincere efforts in testing Windows 10 2004, it remains to be seen whether it could prevent more people from abandoning the ship in the coming months.
Other than that, it could simply be the case that users want to try something new. Apple's macOS is quite feature-rich, and there are some pretty amazing Linux distros out there.