Users resort to refreshing Windows when faced with performance or technical issues, or a corrupted OS.
In Windows 10's next major update, Microsoft will introduce a Cloud Download feature, which will enable users to repair a corrupted Windows 10 from the cloud.
The Problem
At present, Windows 10 uses the standard imageless recovery feature, which essentially constructs a new copy of Windows from the existing installation.
The problem with this approach is that it can take more than 45 minutes, and there is no guarantee that the approach will repair Windows if the existing OS files are in terrible shape.
To overcome these drawbacks, Microsoft will offer fresh Windows 10 installation files from the cloud.
How to use Windows 10 20H1 Cloud Download?
In the next Windows 10 update, scheduled for Spring 2020, users will find the Cloud Download feature under the Reset Your PC settings.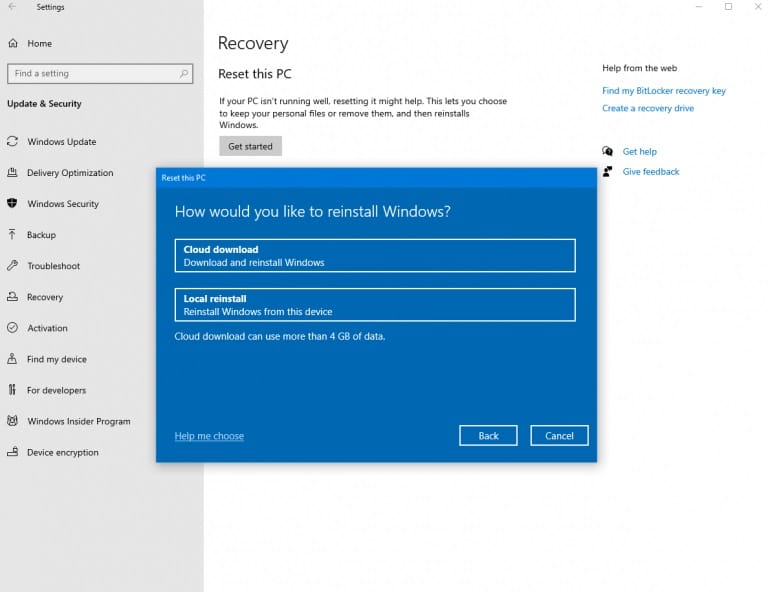 While reinstalling Windows, users will be asked to either use locally stored files or use Windows 10 installation files from the cloud.
The best part about Cloud Download is that Microsoft will install the latest version of Windows 10, including all the up-to-date cumulative update fixes.
Explaining the reset process, Microsoft says that Windows will download the latest installation files and reboot into the Windows Recovery Environment. It will also gather drivers from the current Windows system to ensure a smooth transition, mitigating any hardware failure.
Cloud Download will also be available in the Windows Recovery environment if users can't boot into the system. However, the feature will only work if the PC enables users to download files right from the recovery settings.
It is essential to know that Cloud download will apply OEM customizations, i.e. it will not remove bloatware from the PC.