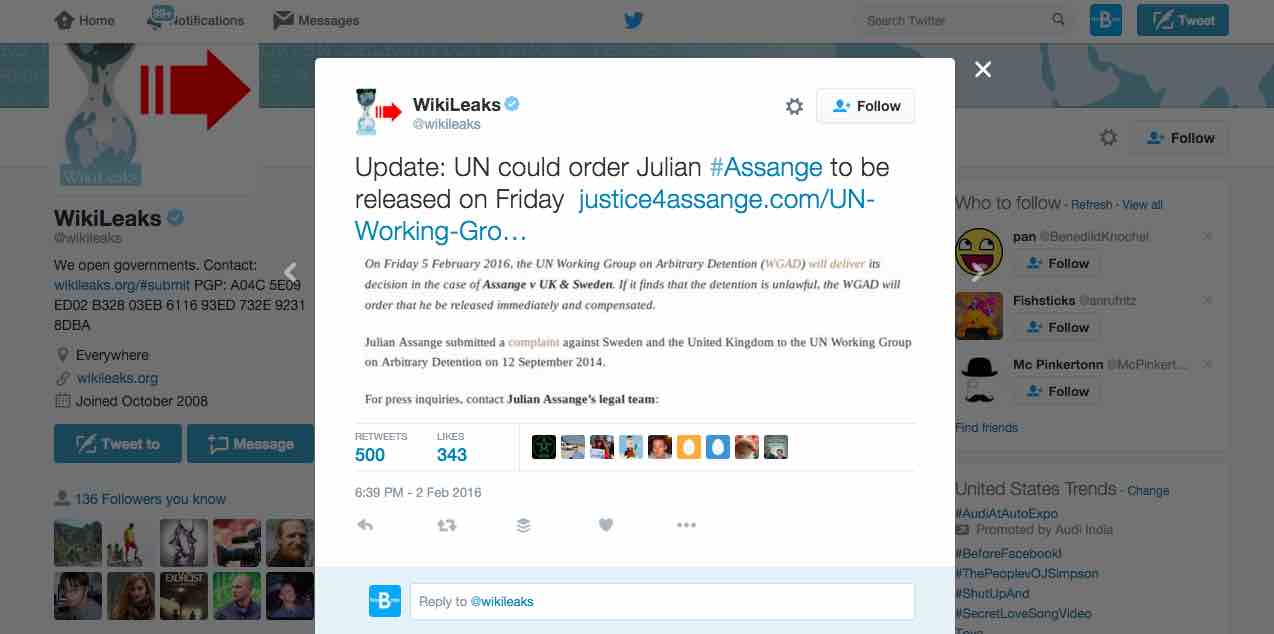 Short Bytes: The UN is expected to announce its decision on WikiLeaks founder Julian Assange's release on Friday. The whistleblower website has tweeted that the UN's WGAD body will announce the immediate release of Mr. Assange. It should be noted that the WikiLeaks founder is currently living in the Ecuadorian embassy in London.
The United Nations is set to announce the result of its investigation into the WikiLeaks founder Julian Assange's case. "BREAKING: UN set to announce decision on #Assange's release on Friday," the official Twitter handle of WikiLeaks tweeted.
On February 5, 2016, the UN Working Group on Arbitrary Detention (WGAD) will deliver its decision. If WGAD finds the detention unlawful, Assange could be a free man. The WikiLeaks founder is also expected to be "released immediately and compensated."
After receiving a political asylum from Ecuador in August 2012, for the last 3 years, Assange has been forced to stay in the South American country's embassy in London. He took this step after receiving threats from the federal agencies and calls for assassinations from politicians.
It should be noted that in the States, he fears heavy cyber espionage charges for publishing classified US military and diplomat documents in 2010, the largest data leak in the American history. The information pertained to the secret Trans-Pacific Partnership pact, US military conduct in Iraq and Afghanistan, and documents the CIA director.
In the past, Assange was accused of unlawful coercion and sexual assault in Sweden. From Sweden, Assange fears that he would be extradited to the US.
In September 2014, Assange filed a complaint in the UN against Sweden and the UK, that is currently under consideration. He submitted an immediate request for relief to the United Nations WGAD regarding the arbitrary nature of the detention. The decision of this case will be announced on Friday.
If WGAD announces the decision in his favor, the UK and Sweden will be immediately called on to release him.
Add your views about this story in the comments below.

Also read: Why WikiLeaks Wants a Video of US Bombing on a Hospital for $50K?