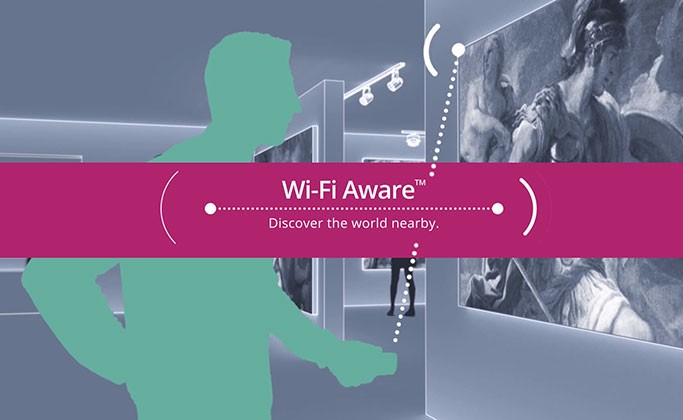 Getting a proximity alert was never this easy. The Wi-Fi Alliance have devised a technology that would render your Wi-Fi, full awareness of the nearby devices.
T
he application named as
Wi-Fi Aware
detects other Wi-Fi devices in the vicinity without the need to generate any hotspot or requiring any data.
The smartphones when installed with Wi-Fi aware, start working as a Wi-Fi transceiver that continuously emits and picks up the signals from other Wi-Fi devices. The phones once connected, can now start communication sans any requirement for a cellular network.
The technology is pretty interesting as you will get useful notifications like never before. Think, how cool it would be that while strolling at an unknown place, you get pinged about your friend having lunch across the street, or Wi-Fi Aware notifying a sale as you are walking by a store.
By the way, Wi-Fi Alliance is a non-profit organization that promotes and certifies Wi-Fi products and works with over 550 companies including Apple Inc, Sony, Motorola, Texas Instruments, Microsoft, and many more.
The Wi-Fi of the smartphones ought to be ON all the time, or the time when you think you require the services. The technology is developed as such that it is more efficient than the conventional Wi-Fi. The reason being that Wi-Fi Aware enabled phone does not emit continuous signals, but it constantly turns ON (for 16 milliseconds) and OFF (for half second) till it finds the nearby device, thereby saving a lot of energy in the discovery process.
The Wi-Fi Aware app has the potential to replace the Bluetooth- citing its range as well as transmission speed, and can also function perfectly in crowded places. You might be seeing social media networks like Facebook bring out applications with Wi-Fi Aware soon.
Recommended: Your Wi-Fi Router Has Superpowers You Didn't Know
Did we miss something? Let us know in comments below.