Two weeks ago, India banned 59 Chinese apps, citing that they "pose a threat to sovereignty and security of our country." The list includes some of the most downloaded Android and iOS apps such as TikTok, UC Browser, ShareIT, and the app that concerns Xiaomi users — Clean Master by Cheetah Mobile.
The Indian government said Clean Master and other Chinese apps have been "stealing and surreptitiously transmitting users' data in an unauthorized manner to servers which have locations outside India."
Clean Master, as the name suggests, is a cleaner app that promises to clear the junk files on the device and boost performance. Although Android cleaners ironically work against the device (more on this below), the bigger problem with Clean Master is that it is owned by Cheetah Mobile. Cheetah Mobile has been under the radar of privacy experts long before India noticed suspicious activity around its apps. The Chinese company has previously been caught in ad fraud and user data theft.
While CleanMaster has been removed from the Google Play Store and App Store in India, it is still being pushed as a default cleaner app in Xiaomi, one of the biggest smartphone manufacturers in India.
How to remove Xiaomi's MIUI Cleaner app?
All Xiaomi and Redmi devices come with a cleaner app pre-installed known as MIUI Cleaner app. If you go into the app settings, you will notice that the app uses the Clean Master definition. Apart from that, the app brings up "Cheetah Mobile" a number of times in its privacy policy.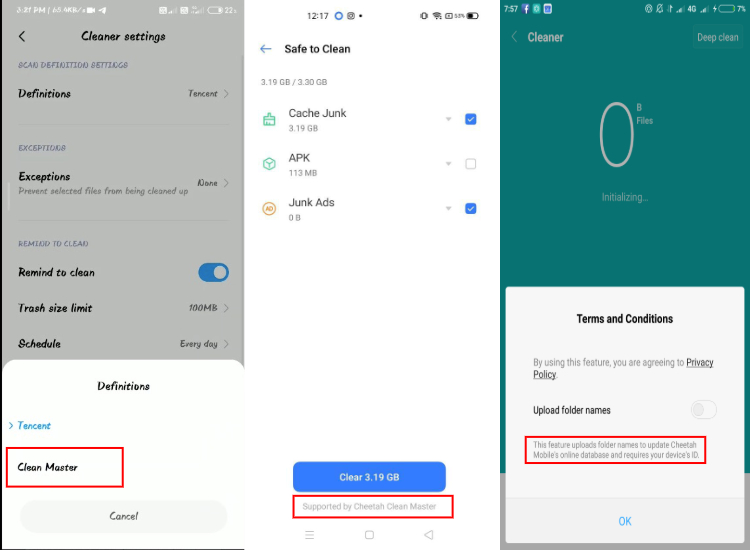 Unfortunately, Xiaomi doesn't allow users to uninstall or even disable several default apps (also known as Bloatware), and one of them is MIUI Cleaner app. But here is a workaround to remove MIUI Cleaner app —
Prerequisite:
A Windows PC
USB cable to connect the device to the PC
USB debugging turned on the Xiaomi device
Connect your Xiaomi device to PC using the USB cable
Allow the USB debugging prompt on your device

Download and extract ADB tools
Go to the extracted folder. Right-Click and choose "Open PowerShell Window here"

Type in the command "adb devices" and hit Enter

You will now see a number and "device" under the list of devices attached
Type in the command "adb shell," press enter, then type, "pm uninstall –k —user 0 com.miui.cleanmaster" and hit Enter.
Remove the USB cable and restart your Xiaomi device
And that's it, this process will remove MIUI Cleaner app. It is a universal process to remove pre-installed apps on any Android device. In other words, you can follow the same method if you have a Realme, Oppo, or any other Chinese smartphone.
Also Read: How To Remove Bloatware From Your Xiaomi Device (No Root Required)?
Previously, Mi browser was accused of collecting data from users. You can use this method to remove the Mi browser or any default apps. What you need is the app's package name and insert it in the "pm uninstall –k —user 0 <app package>" command. Use App Inspector to find out the exact name of the app.
Alternatives to Xiaomi MIUI Clearer
Over the years, Android has become extremely efficient in handling apps and background services. It intelligently allocates resources to apps and pauses apps that are not being used frequently. Most cleaner apps offer a performance boost which is simply force-quitting all background apps. While it may give a performance jump, it can create problems with Android's way of doing things.
The only useful feature of a cleaner app is allowing users to delete unwanted apps and data under one roof. However, in return, it may collect user data. That being said, if you still want a cleaner app, you can start with SDMaid which does a pretty good job and keeps your data secure. Alternatively, you can also choose from our best cleaner apps list.