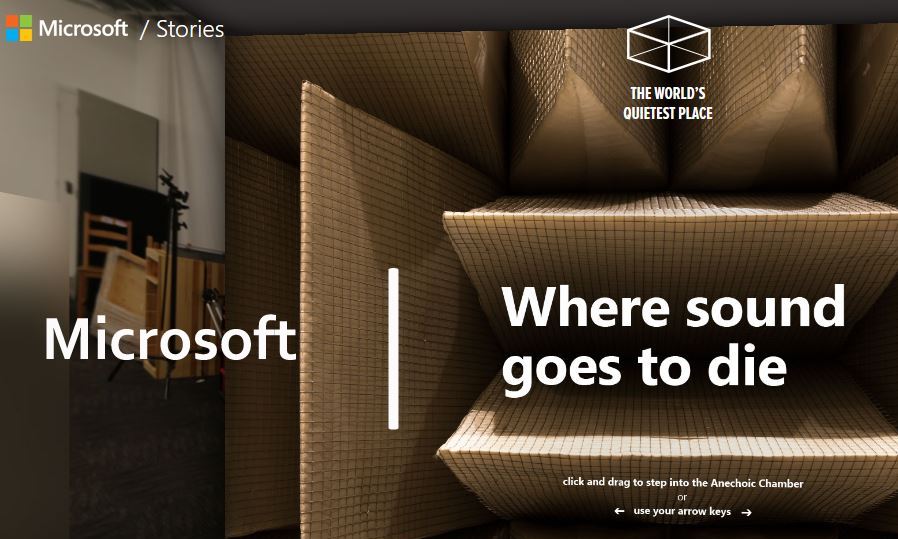 Short Bytes: A new chamber in the Building 87 in Redmond, is the new quietest place on Earth. But why did Microsoft build this? Read more to know the whole story.
C
ome to Microsoft's Building 87 in Redmond if you are tired of all the hustle-bustle around you, coupled with the constant complaining voices of people around you. You can also consider planning a visit if you wish to listen your heartbeats and breathing without a stethoscope.
A new chamber in the Building 87 in Redmond, is world's new quietest place. This is an anechoic chamber, i.e. a room that doesn't allow echoes.
The company has also released a video to provide a sneak peek inside the room. This chamber is created by the team that works inside Microsoft's Audio Lab and has done work on the Surface tab's sound systems and the Cortana personal digital assistant.
This anechoic chamber currently holds the record of achieving a -20.6 dbA sound level, which is a lot more than the previous record of -13dbA.
Also read: Microsoft Explains: "We Are Not Spying On You With Windows 10"
"We are the edge of what is the limit of physics in that sense. We have exercised attention to every detail as much as we can. These labs are about creating a rock solid acoustically-controlled environment," Microsoft researchers explain.
The sound level of -20.6dbA is much closer to the complete emptiness of sound as per the Brownian motion that records a level of -23dbA.
Why did Microsoft create this quietest place on Earth?
Many of you would be wondering that Microsoft is a multi-billion dollar company and they created something cool, just for the heck of it. But, this isn't the case.
The software giant tests the noise generated by its devices like the Surface tablet and use the precise sound measurements in the future.
The chamber was built by the Eckel Industries for Microsoft. Know more about the quietest place on Earth in this amazing presentation.
Can't wait to get your hands on the upcoming Surface Pro 4 and test its noiseless performance? Tell your comments in the comments below.
Also read: Microsoft Has Developed Its Own Linux-based OS Called Azure Cloud Switch