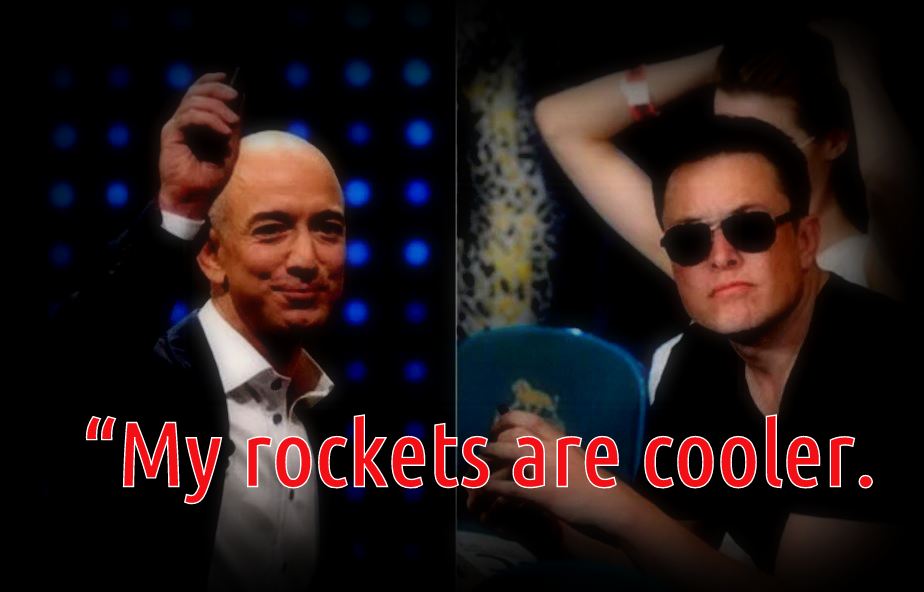 Short Bytes: On Tuesday, SpaceX founder Elon Musk called out Blue Origin and Amazon founder Jeff Bezos on Twitter. While Jeff was feeling proud and sharing the news about his successful rocket launch, Musk took the opportunity to mention the prior achievements of SpaceX.
B
oth are billionaires, both are enthusiastic about new technologies, and both just had a fight over their rockets on Twitter.
Yesterday, we witnessed this tiny Twitter spat between SpaceX founder Elon Musk and Blue Origin founder Jeff Bezos. This happened as Blue Origin hit a major milestone on Tuesday by successfully launching and landing its New Shepard rocket for the first time.
As expected, Amazon founder and CEO Jeff Bezos was very proud and he showed his happiness via his first-ever Tweet.
Retaliating soon, Elon Musk was quick to defend his SpaceX rockets and mentioned that his rocket had already done this in the past.
@JeffBezos Not quite "rarest". SpaceX Grasshopper rocket did 6 suborbital flights 3 years ago & is still around. pic.twitter.com/6j9ERKCNZl

— Elon Musk (@elonmusk) November 24, 2015
Musk didn't stop there.
While this flight is actually a suborbital spaceflight i.e. a rocket not powerful enough to reach the orbit or launch another space vehicle, Musk took the opportunity to call out Bezos by talking about SpaceX's orbital flight and water landing in 2013 and 2014.
Jeff maybe unaware SpaceX suborbital VTOL flight began 2013. Orbital water landing 2014. Orbital land landing next. https://t.co/S6WMRnEFY5 — Elon Musk (@elonmusk) November 24, 2015
It should be noted that it isn't a perfect comparison as both are trying to achieve different goals at the moment. While Musk aims to send rockets to ISS and Mars in near future, Bezos is looking to take passengers on a space flight and give them a feel of zero-gravity and space.
Okay, calm down you two.
Add your views in the comments below.