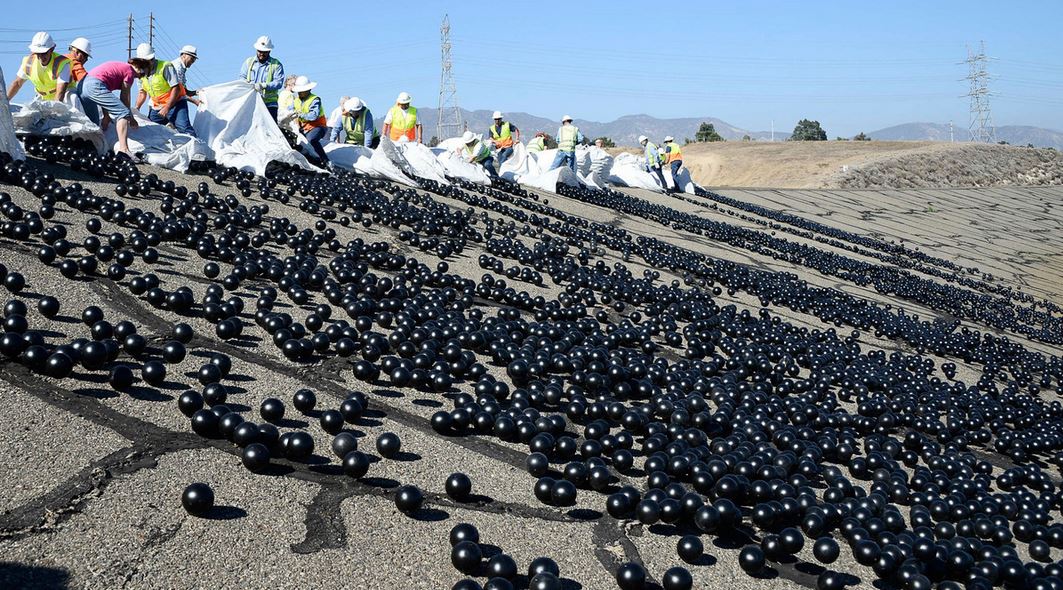 Short Bytes: Amidst California's water crisis, the 'Shade Balls' have become an unlikely hero that are expected to save 300 million gallons of water from evaporation at the L.A. Reservoir. The Shade Balls which also protect the water quality, are used in various other reservoirs in the California state as well.
T
he human brain works best when faced with drearing challenges. The California biologists and engineers just gave an amazing example of that. Faced with one of its most severe droughts, the municipality of the region worked with full endeavors on saving whatever's left off in the state's reservoirs.
'Shade Balls', created by biologist Brian White is a bit unusual but a very effective way to do so. Simply put, millions of small dark plastic balls are dumped onto the reservoirs which keep the water in the shade, thus, cooling it and reducing evaporation. Pretty cool idea, isn't it.
While most of the normal people will come up with the ideas of covering the lake, the state came up with a brilliant idea to reduce the water loss due to evaporation. The Environmental Protection Agency, in fact, mandated that all the reservoirs be covered. Covering the L.A. Reservoir which contains over 3 billion gallons of water and spans across 175 acres alone estimated about $300 million, whereas, covering up the reservoirs with the 'Shade Balls' cost only $34.5 million. And it took only 96 million balls to do so.
Moreover, the shade balls don't just ensure the water to remain liquid but also protects the reservoirs from a suspected carcinogen, bromate. The reservoirs have naturally occurring bromite in the groundwater which reacts with the added disinfectant (chlorine) in the presence of sunlight. Also, the chances of Shade balls being a threat themselves are minimal.
Also read: US and Indian Students 'Hacking Space' to Sustain Life on Earth
In a report from the LA Times, the Los Angeles Mayor Eric Garcetti along with the DWP officials monitored the release of the last 20,000 Shade Balls into the Los Angeles Reservoir in Sylmar on Monday.
The 'Shade Balls' is a peculiar idea to protect water. Nevertheless, it saves about 300 million gallons of water every year. In comparison, Los Angeles consumed 13.6 billion gallons of water in a single month June this year.
With the climate issues raising and the water levels dipping, each and every effort counts. However, for now, judicious use of our resources is required rather than to stall it for the future. As they say, "An Ounce of Prevention Is Worth A Pound Of Cure".
Did you like this story? Tell us in comments below.
Check out our homegrown product viralnews.fossbytes.com for hottest tech news on the web. For more updates and interesting stories, subscribe to Fossbytes newsletter. [newsletter_signup_form id=1]