Dell's Alienware enthusiasts are seemingly out of luck as the company struggles to ship its prebuilt gaming PCs. The bottleneck developed after the new regulations adopted by some states in the US.
Momentarily, Dell can no longer ship its Alienware Aurora R10 and R12 gaming PCs, failing to meet the newly adopted energy efficiency requirements. The Aurora R10 and R12 feature the latest generation of processors from Intel and AMD, the Ryzen 5000 series chip based on Zen 3 and 11th gen Rocket Lake CPUs.
When attempted to order the Alienware Aurora R10 and R12 gaming PCs, a warning message appears that reads, "This product cannot be shipped to the states of California, Colorado, Hawaii, Oregon, Vermont, Washington due to power consumption regulations adopted by those states. Any orders placed that are bound for those states will be canceled."
The Aurora R12 SEC compliant version
While the new regulations restrict Dell from selling and buyers from buying the Alienware Aurora energy-hungry PCs, there are exceptions. On the Alienware Aurora R12 page, the website suggests the SEC compliant Aurora edition that costs $1,179.99.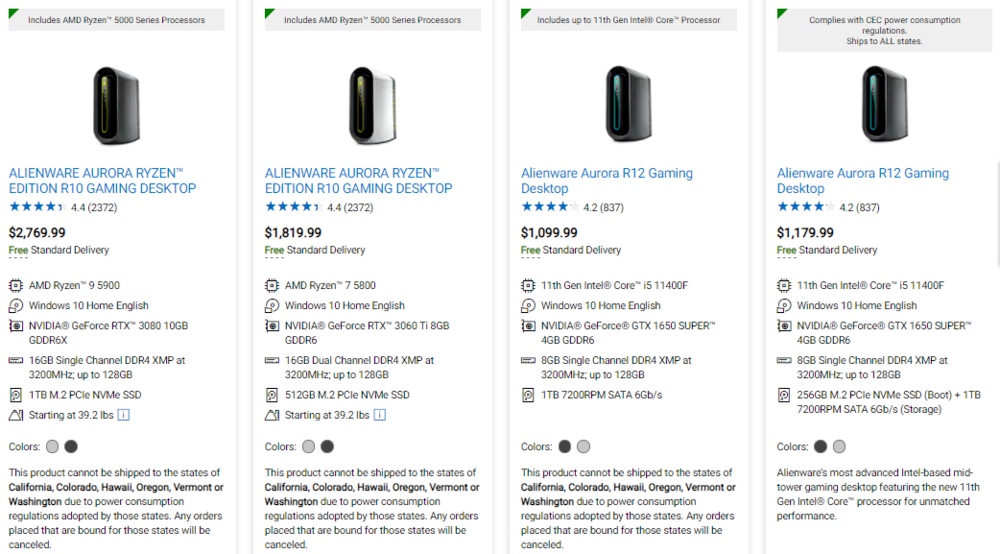 The SEC-compliant Aurora R12 comes equipped with a Core i5 11400F (6-Core, 12MB Cache, 2.6Ghz to 4.4GHz), NVIDIA Geforce RTX 1650 Super 4GB, 8GB of single-channel DDR4 at 3200MHz RAM, 256GB NVMe SSD + 1TB HDD; moreover, it ships to all the states.
In addition, in a statement to The Register, this is what Dell said, "Yes, this was driven by the California Energy Commission (CEC) Tier 2 implementation that defined a mandatory energy efficiency standard for PCs – including desktops, AIOs, and mobile gaming systems. This was put into effect on July 1, 2021. Select configurations of the Alienware Aurora R10 and R12 were the only impacted systems across Dell and Alienware."
These developments seem to be the tip of the iceberg as more regulations are also coming. Later this year, on December 9, Tier 2 requirements will extend to further limit how these machines will be made. In case you're interested in knowing, you can read about it here. In the coming months, the manufacturers would have to make the PCs around these calculations. However, additions like power-hungry GPU are sure to make these calculations puzzling.