Audi e-tron GT has been all over the internet ever since its maker unveiled it recently. If you are an Audi fanboy, you would know that it looks very similar to the concept e-tron automaker showcased a few years ago.
Audi e-tron GT is the first production electric sedan built by the German automaker and it will be released in two variants: e-tron GT and Audi RS e-tron GT. This is the first time that an RS model has been introduced to any electric car by Audi.
Anyway, let's tell you guys some of the most interesting details about the Audi e-Tron GT. We'll also explore why the e-Tron GT is not a Tesla Model S rival and practically a competitor to its distant cousin Porsche Taycan.
Is Audi e-tron GT A Tesla Model S Rival?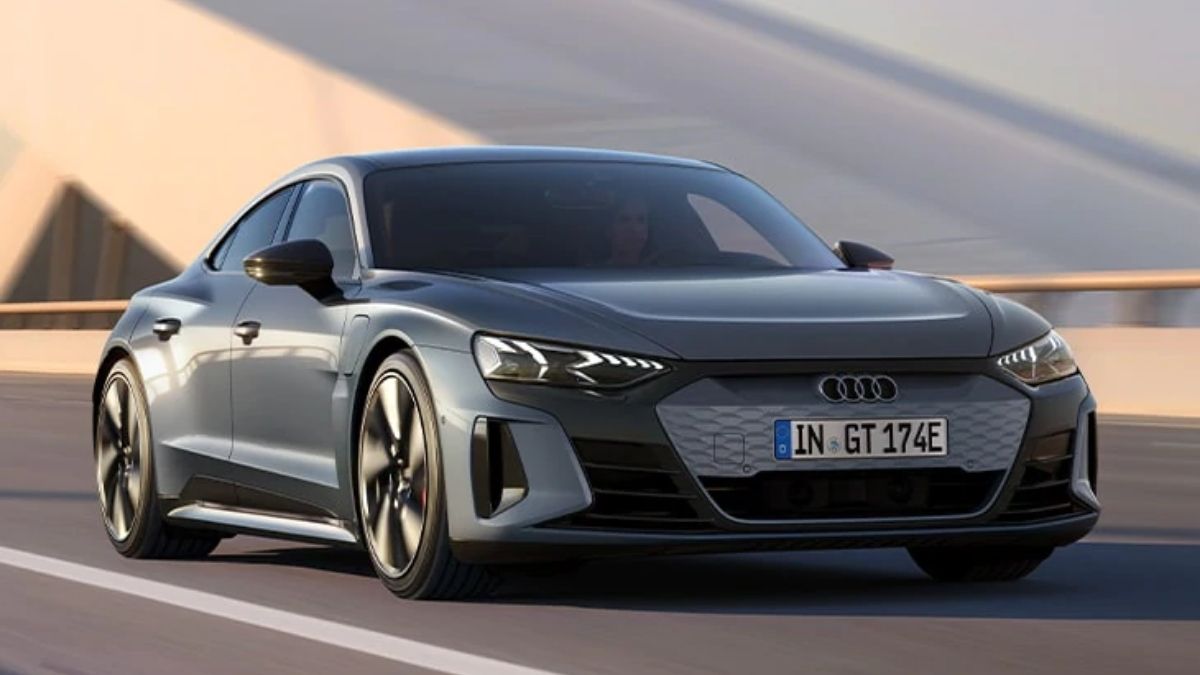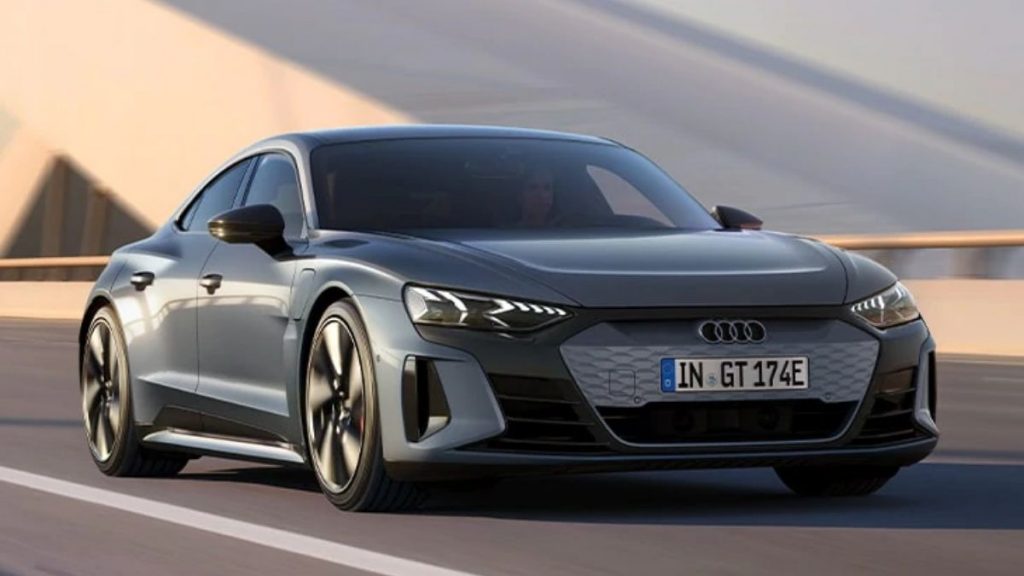 Performance
Audi e-tron GT is equipped with dual motors which together generate 476 BHP. With boost mode, the power output increases up to 530 BHP.
This luxury electric sedan from Audi can sprint from 0 to 60 mph in just 4.1 seconds, which according to Mat Watson from carwow, is 1.3 seconds quicker than Porsche Taycan RWD and 0.1 seconds slower than the AWD variant of Taycan.
The top-spec RS variant of the e-tron GT can produce up to 598 BHP and 646 BHP under boost mode. Since it's more powerful, it can accelerate 0 to 60 mph in 3.3 seconds, which is 0.8 seconds faster than GT.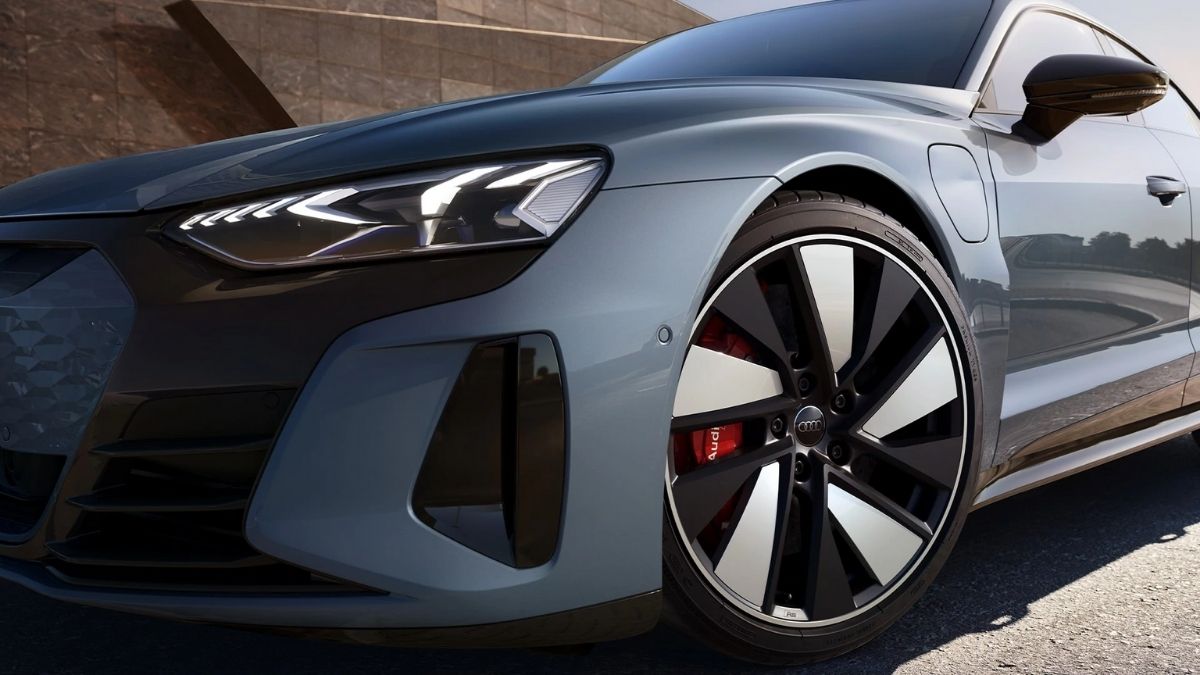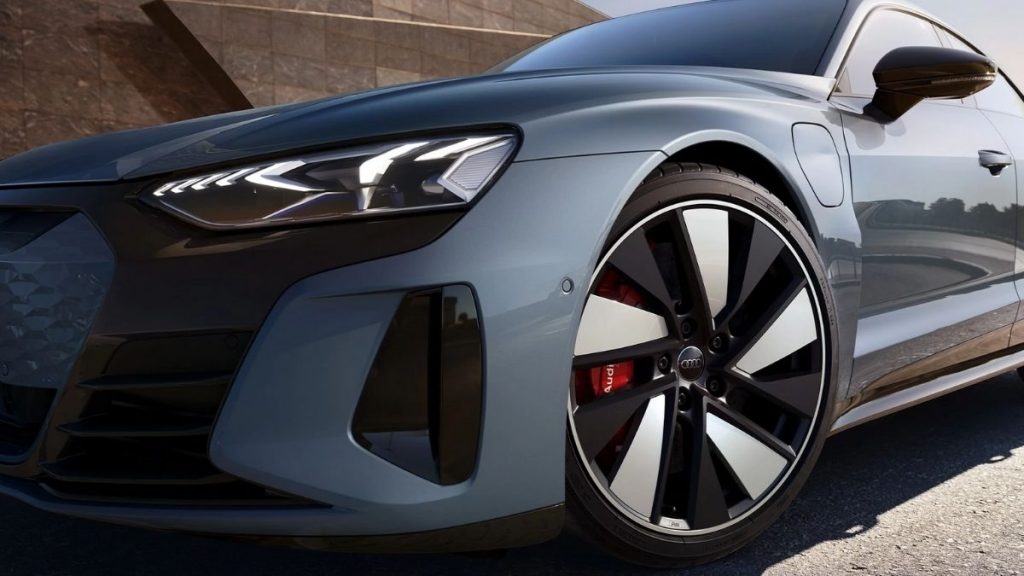 On the other hand, the Tesla Model S base variant can go 0 to 60 mph as quickly as 3.1 seconds. Meanwhile, Model S Plaid can make the same sprint in 1.99 seconds, which is simply incredible.
In terms of acceleration, we can say e-tron GT is no match for Model S. Nevertheless, it seems to be a close competitor to Porsche Taycan.
Anyway, it doesn't mean that the Audi e-tron is not as good as the Model S. We're quite positive that e-tron GT would be a more fun to drive electric car than any of its competitors.
Here's an article demonstrating the performance of SUV Audi e-tron against Tesla Model X. This also justifies the previous assumption we made on the e-tron GT.
What Is The Electric Range Of Audi e-tron GT?
Both the variants of the e-tron GT are equipped with a 93 kWh battery pack and have an electric range of 300 miles.
For charging, the automaker will provide 11 kW chargers as standard. Also, there'll be 270 kW DC fast chargers that will juice up the batteries from 5% to 80% in just 23 minutes.
For reference, the electric range of e-tron is slightly higher than the Porsche Taycan 4S that offers a range of up to 288 miles.
However, Tesla Model S is way above both Taycan and e-tron GT in terms of electric range. The electric range of Tesla Model S varies from 390 miles to 520 miles based on its trims.
Design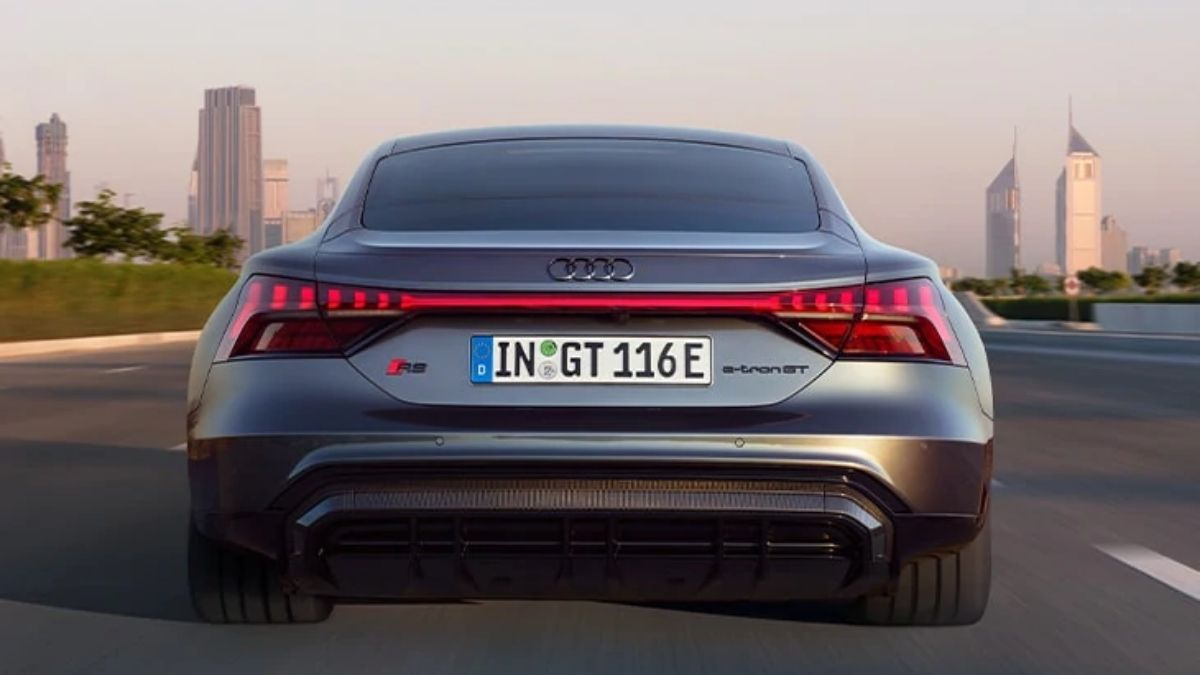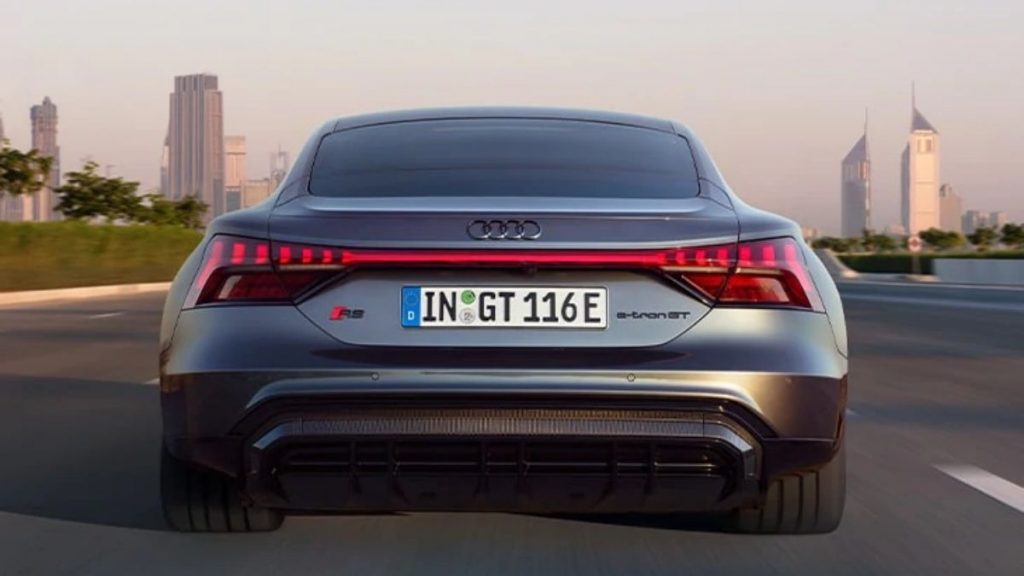 Although Tesla Model S has the lowest drag among production cars, the Audi e-tron looks aggressive and sportier than both the Model S and Taycan.
The rear profile of the Audi e-tron GT is the best we have seen in recent times. The alloy wheels are designed to cut through the air for better aerodynamics. Moreover, the drag coefficient is 0.24 which is quite impressive.
Moving inside the cabin, you get to see a touchscreen on the center console and lots of buttons around it, that you will hardly find in any Tesla. In addition, there is a driver's separate screen for vehicle information.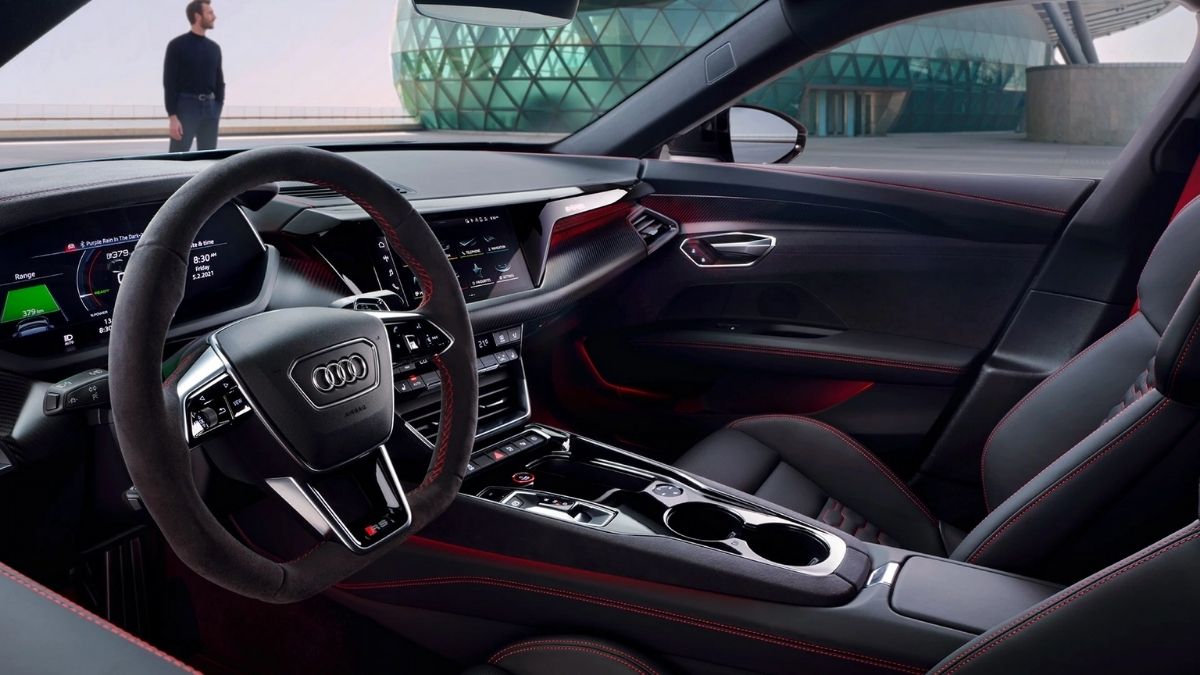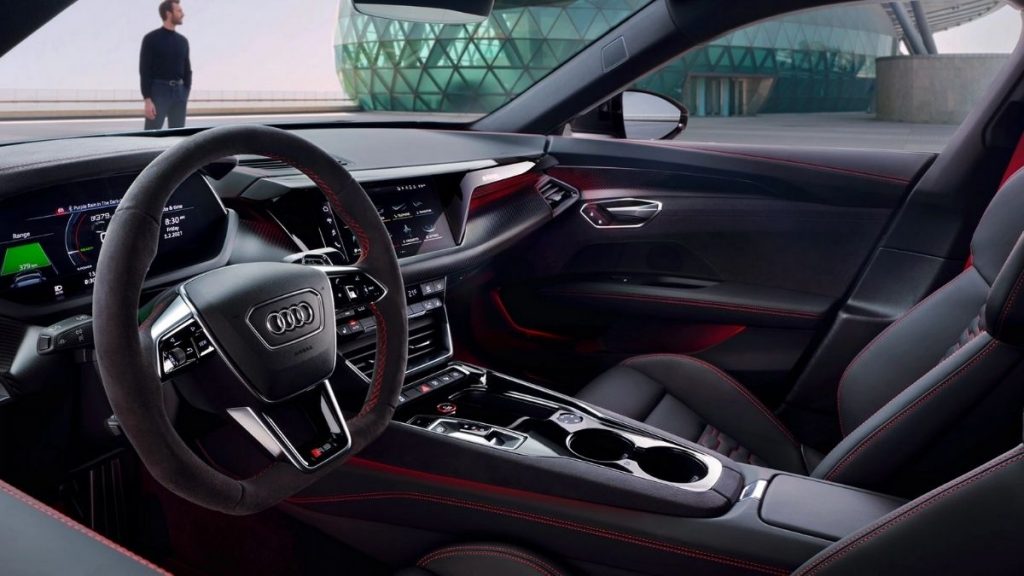 Also aligning with the theme of e-tron GT, there are sporty seats with the free leather package that is provided standard.
Price
In the U.S, the price of e-tron GT will approximately start from $100,945, and for the RS model it'll be $140,945.
On the other hand, the price of Porsche Taycan starts at $79,900 and Taycan 4S starts at $103,800. Whereas, for Model S, the price starts at $78,490 and goes as high as $138,490.
Final Thoughts
Though Audi e-tron GT might not be as good as Tesla Model S in terms of technical specifications, it's worth buying for what it is.
It's not made to be the longest range or the quickest electric car. It's a luxurious and sporty electric car made to provide the best riding experience.
Additionally, there are amenities and features incorporated to make it a performance-oriented, most stylish, and comfortable car.
Go for it if you don't have range anxiety and are looking for a class. Electric sedan e-tron GT is the best alternative you will have for Porsche Taycan.