The early 2000s is when we witnessed the golden era of Desktop computing and the greatest tech transformation. And of course, we cannot forget the legendary Apple and Microsoft rivalry that contributed a significant part to desktop computing to what it is today.
But did you know that a former Microsoft executive emailed Bill Gates and Steve Ballmer and ranted that Microsoft is losing its touch and Apple is charging ahead? To know more about what the email read, stick with us.
When Apple Was Acing Through Other Companies
In 2004, Apple was working on iLife – A software suite for macOS and iOS that consisted of media creation and editing programs like iTunes, iMovie, iPhoto, iDVD, and many more. At that time, they had released this commercial.
After the commercial went online, Microsoft's former executive Jim Allchin emailed Microsoft's co-founder Bill Gates and former CEO Steve Ballmer, and this is what the email read.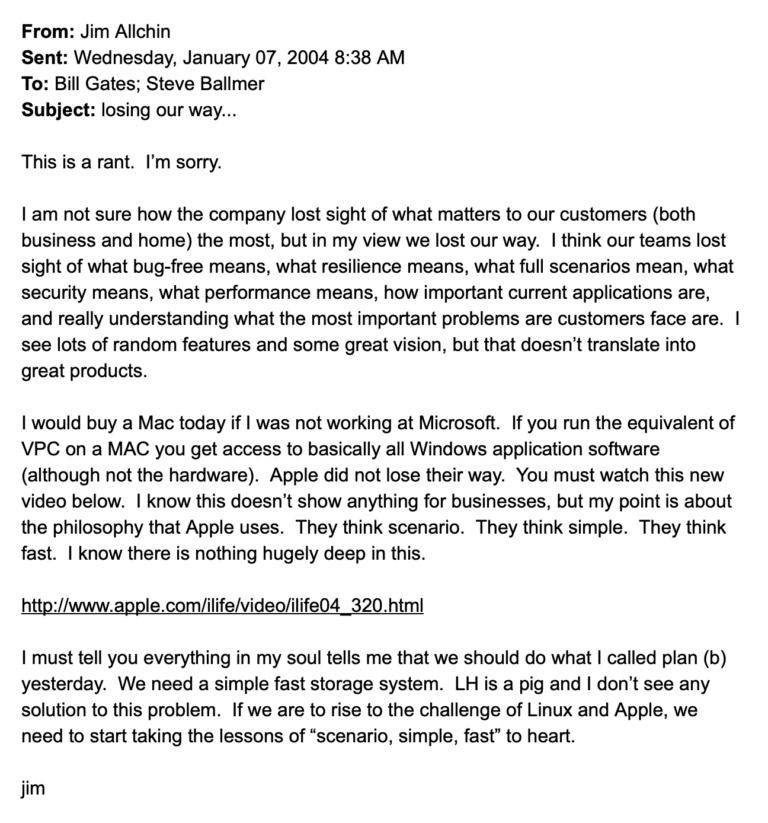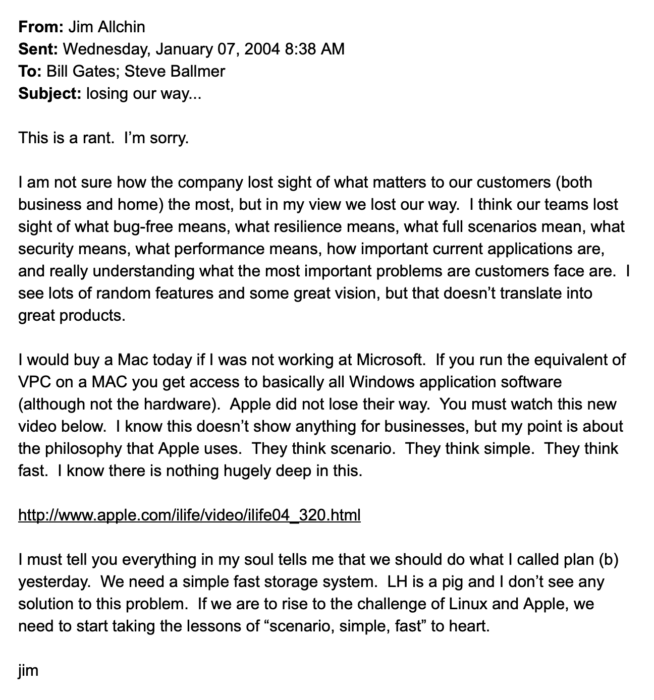 In this email, he mentioned how Microsoft "lost its way." Then he said, "If I were not working at Microsoft, I would buy a Mac today." At that point, Apple was also influencing his vocabulary as, in the end, he mentioned, "They think scenario. They think simple. They think fast."
At the end of the email, he wrote, "LH is a pig, and I don't see any solution to this problem." For those who don't know, LH is an acronym for LongHorn, which is the code for Windows Vista, and oh boy, he was right!
What's funnier is Apple took advantage of this email after it became public. Steve Jobs, as a gem of a marketer he was, decided to show Jim's Mac-related sentence during a launch, and the audience had a great laugh.
The early 2000s era was definitely a golden one where we witnessed incredible minds. These were the people who inspired many startups and revolutionized people's perspectives about tech, and shaped it into an incredible industry.