About a year after the announcement of plans of addition of voice calling plans, WhatsApp is probably rolling out the feature in India. Last night, a Reddit user uploaded images and videos of the voice calling feature being rolled out to the devices. Right now, this feature is reportedly limited to the very few users. WhatsApp announced the plans of voice calling in February of 2014. Later it was said that the company is working to make this feature run seamlessly on slow networks.
According to Reddit user pradnesh07, this feature has appeared on his phone and using Nexus 5 running on android 5.0.
How you can get voice-calling on WhatsApp right now?
According to the user, just updating the WhatsApp won't enable this feature. It's like an invite thing. A person who has got this feature, needs to make a call to another person. He wrote: "Its like an invite thing, where a person with the call feature needs to "call" another person who wants to start using the feature. You need to get the apk from the website and not from the PlayStore."
Also read: Your WhatsApp Web and Mobile Apps are Having Bugs
See the pictures below: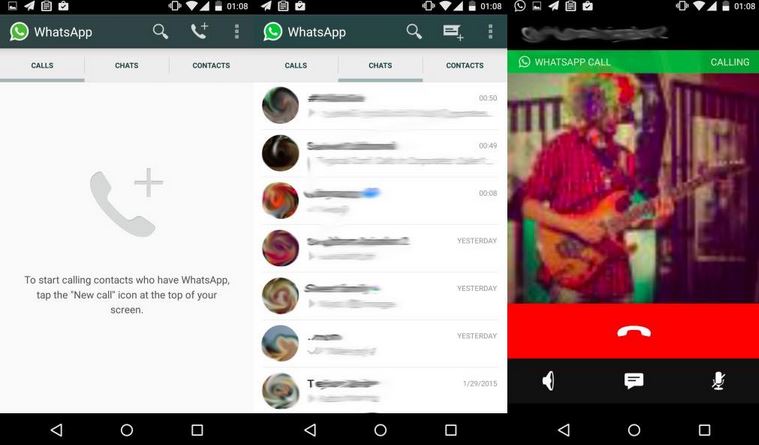 He further writes:
"The guy who sent me the invite confirmed that it works on other phones on other roms and other OS and in other countries. I am not sure how the invite thing works as of yet. I made a quick video of how the call works and looks so that you guys can share. And there is no use asking me for invites right now, I don't know how this invite thing works exactly."
Check out the video below:
Last week the India messaging app Hike rolled out the voice-calling feature. Apps like Viber, Line, Facebook Chat etc are already providing the service.
---
Keep visiting our special how-to guides to learn simple and useful tips and tricks.
---