According to WABetainfo, the latest WhatsApp beta build lets users join a missed call when they see it and unlock their phone with a biometric lock. The features are seen on the version 2.20.203.3.
WhatsApp already supports fingerprint lock and two-factor authentication on Android. With the new biometric lock, it'll unlock using facial recognition as well. Coming to the 'Join missed calls' feature, it'll let you join an ongoing call to which you were invited.
WhatsApp Join Missed Calls Makes It Like Zoom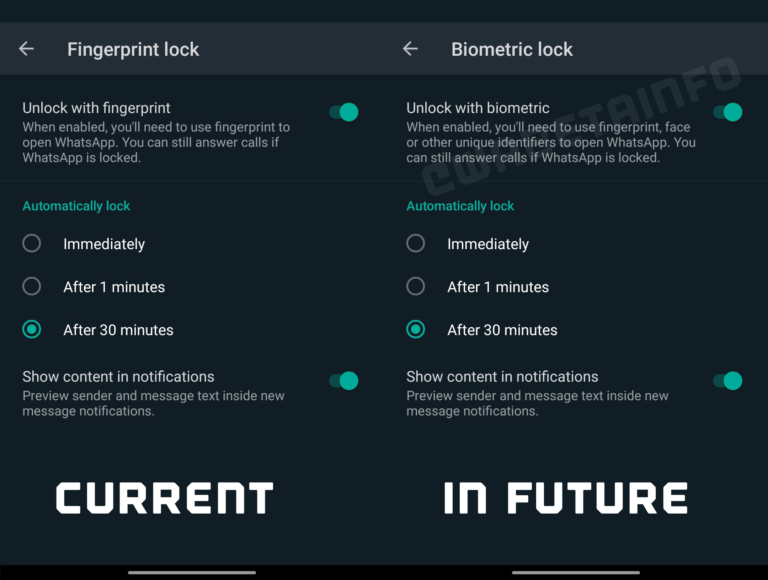 Since the initial days of the lockdown, most of us are familiar with the Zoom app for joining video calls. Now, WhatsApp is also adding a join missed call feature, similar to that of Zoom.
This feature will streamline group calling over WhatsApp. So if someone called you to join a video call, and you weren't able to join in for any reason, WhatsApp will let you know if the call is active the next time you open the app. You can click on the "Join" button to join the call or choose to ignore it.
Coming to Biometric unlock, it's nothing new for iOS users as WhatsApp rolled out Face ID support a long time ago. On Android, there are no dedicated facial recognition sensors on the phones, but the feature is there. However, WhatsApp only considers fingerprint lock for authentication on Android devices.
With the "Fingerprint lock" changed to "biometric lock" in the future build, users will be able to deploy face unlock for WhatsApp. The screenshot says you can use "other unique identifiers" to unlock the app as well — not sure what other identifiers may be.
In another recent beta update, the messenger added an 'Always Mute' option for a group or contact. We expect these new features to further refine the WhatsApp experience. Group calls have become more common since the lockdown, and back in April, WhatsApp increased the number of group call participants to eight.
Considering the end-to-end encryption, WhatsApp is one of the more secure platforms for text as well as calls. It'll be good to see further refinements to the app in the future.