After Facebook Messenger, WhatsApp will also introduce disappearing messages. When enabled, the messages you share in a conversation will automatically get deleted after seven days.
The feature appeared on WhatsApp FAQs, revealing its working and how to toggle it on and off on various platforms; WABetainfo spotted the article. It is expected to roll out for users across different platforms soon so keep an eye out for the next WhatsApp update.
What You Need To Know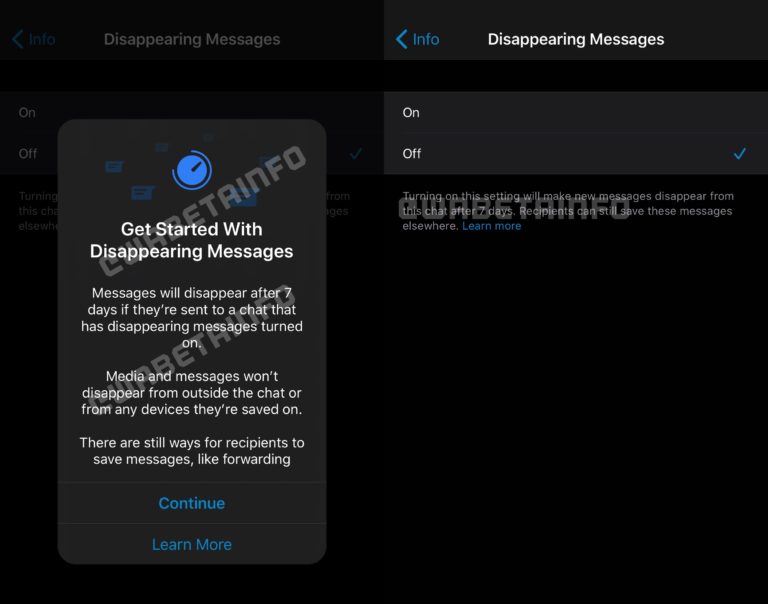 WhatsApp is largely popular because of its strong end-to-end encryption. Messenger has been steadily improving with new features like the Always Mute option for contacts and groups. "Join Missed Calls" and Biometric Lock are two more features that may come in the near future.
There are certain details you need to know before you start using the disappearing messages feature on WhatsApp. The platform's FAQ section tells some important details which are as follows:
If a user doesn't open WhatsApp in the seven day period, the message will disappear. However, preview of the message might still be displayed in notifications until WhatsApp is opened.
When you reply to a message, the initial message is quoted. If you reply to a disappearing message, the quoted text might remain in the chat after seven days.
If a disappearing message is forwarded to a chat with disappearing messages off, the message won't disappear in the forwarded chat.
If a user creates a backup before a message disappears, the disappearing message will be included in the backup. Disappearing messages will be deleted when a user restores a backup.
You should use disappearing messages only with trusted individuals and groups because the recipient can still take screenshots, forward, or copy disappearing messages before they disappear. Also, if you share a photo, video, or document using disappearing messages, it'll get deleted from the chat window; if the receiver has auto-download turned on, it'll be saved to their device.
In a nutshell, WhatsApp's disappearing messages are good if you want to avoid clutter. However, it's not a foolproof solution for sharing secrets over the instant messaging platform.
How To Toggle Disappearing Messages on WhatsApp?
The feature hasn't rolled out yet but its presence on the FAQ section of the platform means it'll be out soon. There are tutorials on how to turn on disappearing messages on WhatsApp.
For Android, iOS, and Web/desktop apps, open a WhatsApp chat, tap on contact name > disappearing messages. Tap on 'Continue' if prompted, select on. You can follow the same procedure to turn it off.
If you're on KaiOS, open a WhatsApp chat, go to Options > View contact > OK. Tap on Disappearing Messages > EDIT. If prompted, click on Next > OK, select On > OK.
Source: WhatsApp FAQs.
Via: WABetainfo