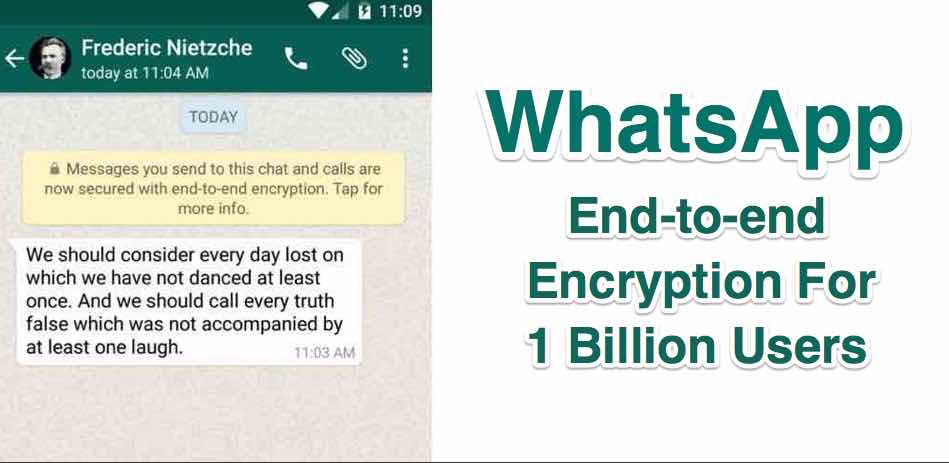 Short Bytes: Instant messaging application WhatsApp has now enabled end-to-end encryption by default for its 1 billion users spread all across the world. This extra layer of security will be added by default and cover all types of communications taking place on WhatsApp.
W
hatsApp, one of the world's biggest online instant messaging services, has enabled end-to-end encryption on every device, for every message. This will enable the users to get the advantage of this improved security feature on all types of chats — voice, text, video, one-to-one, or group.
The Facebook-owned company began rolling out this feature for text messages in November 2014, thanks to a partnership with Open Whisper Systems. As a result of this change, WhatsApp users will notice a note in their conversation telling about this enhanced security feature.
"All of this happens automatically: no need to turn on settings or set up special secret chats to secure your messages," WhatsApp says.
In simpler words, end-to-end encryption means that your messages will be in your hands. Now, WhatsApp won't be storing anything related to your texts on its servers once it delivers them. Talking about the encryption keys, they'll be stored on your device.
What are the advantages of WhatsApp end-to-end encryption?
With this extra layer of security, when you send a message, the only person who can read the message is the person/group chat to whom that message was sent. This protects your conversations from cybercriminals, hackers, governments, and even WhatsApp.
Once the communications with any user are encrypted, the WhatsApp client will notify the chat members and refuse to send anything unencrypted.
This development has taken place at an important point of time when a tussle is going on between governments and technology companies. Governments are making more and more requests to reveal user data for law enforcement purposes.
"While we recognize the important work of law enforcement in keeping people safe, efforts to weaken encryption risk exposing people's information to abuse from cybercriminals, hackers, and rogue states," WhatsApp writes.