WhatsApp has come a long way from being a simple messaging app. But at its core, it remains a messaging app that is constantly improving. A WABetaInfo report says that WhatsApp is getting a new privacy feature to hide your details from the people you choose.
The current version of WhatsApp lets you control your 'Last Seen, Profile photo, About, Groups, and Status.' You can choose to make these details visible for everyone, only your contacts or no one. Now, WhatsApp is introducing another option labeled "My contacts Except" This means you'll be able to select the contacts with whom you don't want to share your details.
However, if you block a specific contact from seeing your details, you won't be able to see theirs either. The update will be rolled out to both iOS and Android in future versions of WhatsApp. WABetaInfo took a screenshot of the update from the iOS beta version.
Nothing to Read Receipts Yet!
Blue ticks to acknowledge you've read a message are good, but we don't always want them around. While the new privacy controls will be a good addition, it'd be nice if WhatsApp could work on more settings for the read receipts. The app could include those in the privacy settings and let people choose whom the chats are where they want the blue ticks.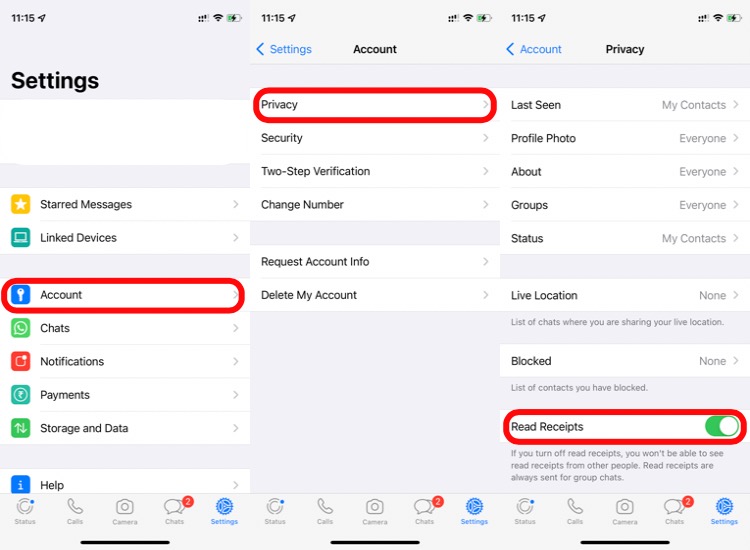 As of now, you can go to WhatsApp Settings > Account > Privacy and turn read receipts on or off for everyone.
WhatsApp is also rumored to be working on its new privacy policy. After it first tried to update in February, it received many flak and users leaving the platform. The latest reports say that WhatsApp is planning to make the new privacy policy optional. In simple terms, this would mean different permissions for people interacting with their WhatsApp Business account. It remains to be seen if any changes will be made to the current policy.