WiFi 7 is the next-gen wireless connectivity standard which will be an upgrade over WiFi 6. According to Qualcomm, WiFi 7 is a speed upgrade that will give two times the internet speed and half the latency compared to WiFi 6.
WiFi 7, also referred to as IEEE 802.11be, is a wireless network that uses 2.4Ghz, 5Ghz, and 6Ghz frequency bands. According to IEEE, the new standard will provide significantly faster internet speeds and broader bandwidth.
WiFi 7 Internet speed
Mediatek has previously said that WiFi 7 will be three times faster than WiFi 6. However, this seems mostly theoretical as it is likely to only reach two times the speed in a real-world scenario.
It will be quite a while till the standard is applicable in our day-to-day gadgets. So, most WiFi 7 specs are theoretical and might not hold up with real-world internet speeds. However, the new standard will have a transmission rate of 30Gbps, a massive upgrade from 9.6 Gbps of WiFi 6E.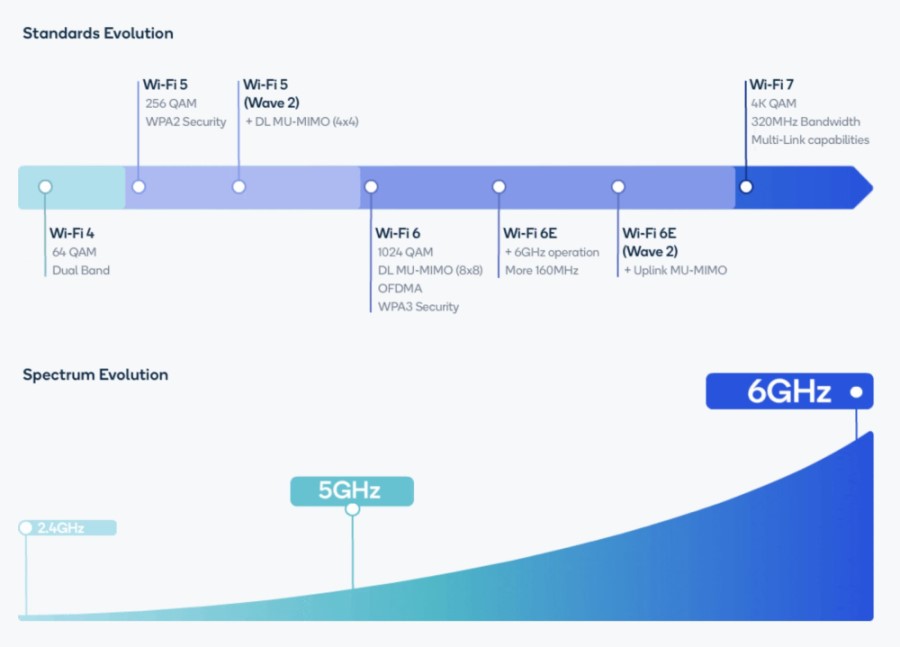 WiFi 7 also uses the 320 MHz single-channel bandwidth, an upgrade from the previous 160 MHz. This expanded bandwidth coupled with 6GHz should allow more devices to connect to the same network without interference.
The expanded bandwidth will be helpful as many people will share the same network and connect their devices simultaneously. Places like offices, cafes and public WiFi zones will cater to more people without sacrificing speed.
Technologies powering WiFi 7
WiFi 7 uses many technologies to improve from its predecessor. The following are some technologies you can expect to see in the newest standard.


Multi-Link Operations (MLO)
MU-MIMO (Multi-User, Multiple-Input, Multiple-Output)
Time-Sensitive Networking (TSN) 
Quadrature Amplitude Modulation (QAM)
Orthogonal Frequency-Division Multiple Access (OFDMA)
The most notable technology will be MU-MIMO, increasing the maximum number of connected client devices from eight to 16. As for the latency, the newest standard uses MLO to keep multiple online connections across multiple bands active simultaneously.
How will it affect us?
The new WiFi 7 standard is made for modern-day internet users and their high data requirements. This will be particularly significant for high bandwidth applications such as video streaming, video conferencing, voice calls, etc.
The new standard will make playing cloud games, wireless virtual reality, and augmented reality much more accessible. People will also be able to stream at 4K or even 8k resolution. However, all of this will only be possible if the base broadband speed in your location is good.
The new standard will be backward compatible and work with most older gear. However, it will be a while before we see any devices with WiFi 7, so don't worry about your WiFi 6 or 6E router being out of date.
If you like this simple explainer, check out our Short Bytes section. We take complex tech topics and break them into short, easy-to-understand articles.
More Simplified Tech Topics!