WhatsApp Business is an alternative texting app from WhatsApp, tailored to meet the needs of small businesses. It helps business owners seamlessly present their products and services to potential customers on the world's most popular texting app.
This version of WhatsApp is different from the standard one as it has certain built-in tools designed for business-oriented communication. It also helps separate a vendor's business-related chats from his chats.
In addition to the standard features of WhatsApp, this version contains various other features that help vendors entertain and manage customers without much trouble. Let's take a look at some of these key features.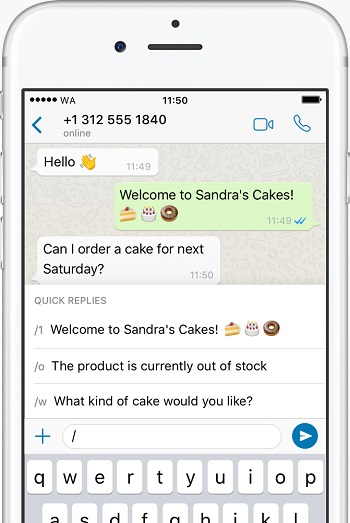 Key Features Of WhatsApp Business
Business Profile
As privacy is crucial for a standard WhatsApp user, visibility is crucial for a WhatsApp Business account. Therefore, the app provides a unique business profile for vendors to display information related to their business. It includes address, email ID, contact number, and business description.
Automated Messages
If you're running a business, it's usually a given that you can't always stay active on WhatsApp Business. To make sure your potential customers get an acknowledgment even when you're not there, you can set up automated messages. Many vendors use this feature to send a quick greeting to new customers and to acknowledge regular customers when they are offline. For instance, "Welcome to XYZ Cafe! We'll respond to your request as soon as we are back online."
Labels
Every vendor needs to communicate with multiple parties to ensure the business runs smoothly. But sometimes, it can be dreadful to find the right chat when you're in a hurry or have a long list of chats to search from. To save you from the hassle, there are labels that you can use to color-code your chats as per your liking. This will help you visually identify the various chats in your business account.
Quick Replies
Many business owners have to repeat the same thing to every new customer. This is a tedious but pivotal part of interacting as a vendor. However, you can resolve this issue using the Quick Reply feature for business accounts. This lets you save repetitive messages to send them later when needed instantly.
Keeping the features above in mind, it becomes clear how useful WhatsApp Business can be for vendors, especially those running a small-scale venture. However, bigger businesses can also leverage the API to match their requirements.
If you like this simple explainer, check out our Short Bytes section. We take complex tech topics and break them into short, easy-to-understand articles.
More Simplified Tech Topics!