The Tesla Model 3 Dyno Mode is a feature that disables all the safety mechanisms in the electric car including traction control, stability control, etc.
Brooks from Drag Times showed us the latest Dyno Mode feature and how to activate it in the Model 3 Performance and the Model S. He also showed us the Dyno Mode in his old Tesla Model S and later on performed a "before" and "after" acceleration comparison on his Model 3.
How To Get The Tesla Model 3 Dyno Mode?
Getting the Tesla Model 3 in Dyno Mode involves the following steps:
1. Hold down the Tesla logo on the center console until it starts blinking.
2. After a few seconds, a window will pop up asking you to enter an access code.
3. In this window, you need to type "dynotest", with no spaces.
4. After typing the word, press the left turn signal ON.
5. Hit the OK button.
Your Model 3 electric car is now in Dyno Mode. On the upper right side of your center screen, a red hazard icon will appear indicating the same.
Dyno Mode in Tesla Model 3 Performance disables automatic emergency braking, traction control, and stability control.
This mode also gives off a warning to not drive the car on public roads because all the safety systems are off.
Brooks also showed us Dyno Mode in his Tesla Model S. The entire process of activating the mode is exactly the same, the only difference is you see a "Dyno Mode" written on the center and driving screen.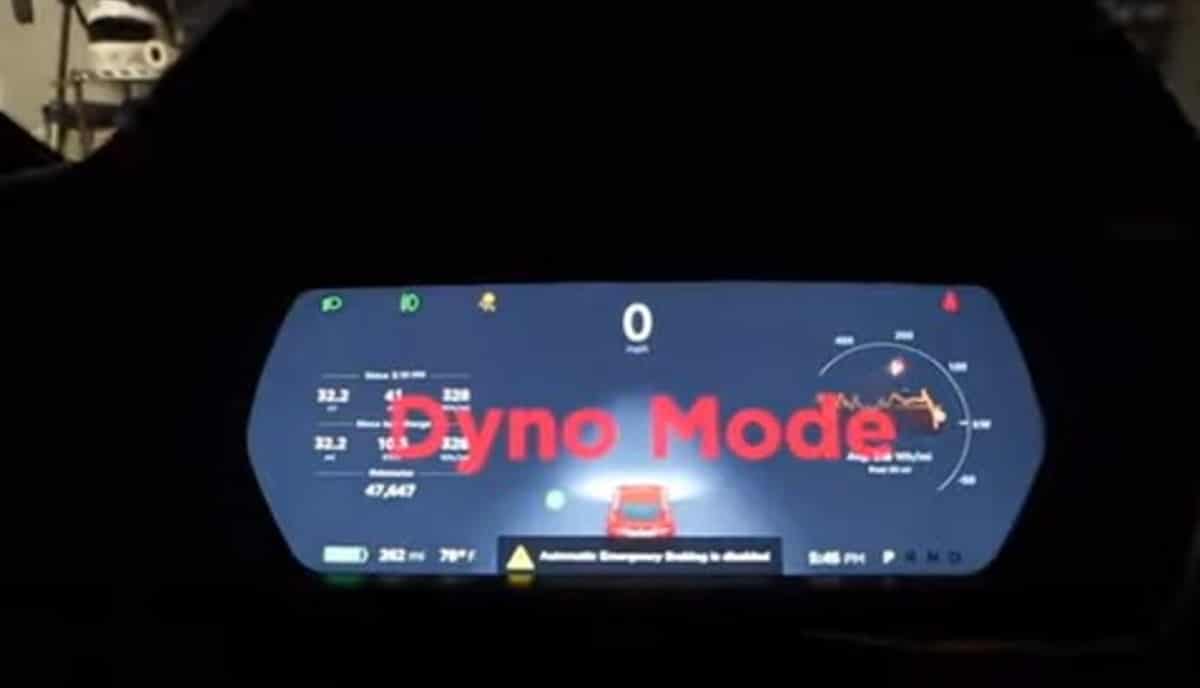 In the Model S, the "Dyno Mode" allowed Brooks to do some crazy drifts and burnouts. In the Tesla Model 3 however, the Dyno Mode didn't make much of a difference.
He first tested a 0-60 mph sprint in his Model 3 without Dyno Mode. Brooks measured the acceleration time using a VBOX, and it showed a timing of 3.10 seconds.
Then he turned on the Dyno Mode and tested his electric car again. In this case, he scored a 0-60 mph timing of 3.110 seconds while spinning the tires too.
It is understandable that the Model 3 would cause a wheel spin as the traction control is now off and the massive torque is now being delivered without any adjustment.
It's important to note the fastest 0-60 mph time of 2.99 seconds, that Brook has ever scored, was without Dyno Mode.
Brooks also recommended a connecter for his Model 3 and Model S that shows all the in-depth information about the electric car using an Android mobile app called "Scan my Tesla."
Bjorn, another EV enthusiast, also makes use of a similar type of connector in his Model 3 to report detailed information about battery cell temperature, charging rate, etc.
Dyno Mode is just another great feature of Tesla, designed for car nerds and enthusiasts. However, it's more effective when performing a Dyno and not so much when doing actual drag racing.