The Internet of things (IoT) is a system of interconnected devices that can transfer data over a network. These devices can be anything that can communicate with each other without requiring human-to-human or human-to-computer interaction.
The Internet of things can be an array of smart devices with sensors that can work by themselves and connect to other devices. For example, think of sensors in your vehicle that tell you about another car that users can also control through an app.
How does IoT work?
IoT devices use their inbuilt systems, such as processors, sensors, and communication hardware, to collect data. These web-enabled smart devices then transfer the data to other devices to provide better services and address specific needs. These devices do all this without any human intervention. However, they can be given additional instructions/parameters by an individual.
Risks of the Internet of Things (IoT)
Interconnectivity between devices is significant, but it brings a lot of security concerns. Hackers, bots, and malware can easily make their way into any not fully secured system with 13 billion IoT devices in circulation, making it hard to secure every one of them.
Hacking these devices is not that hard, considering all a hacker needs is one vulnerability. Using that, he can easily affect the whole network of devices. This has led to many data thefts, DDoS, and malware attacks.
Examples of Internet of Things (IoT)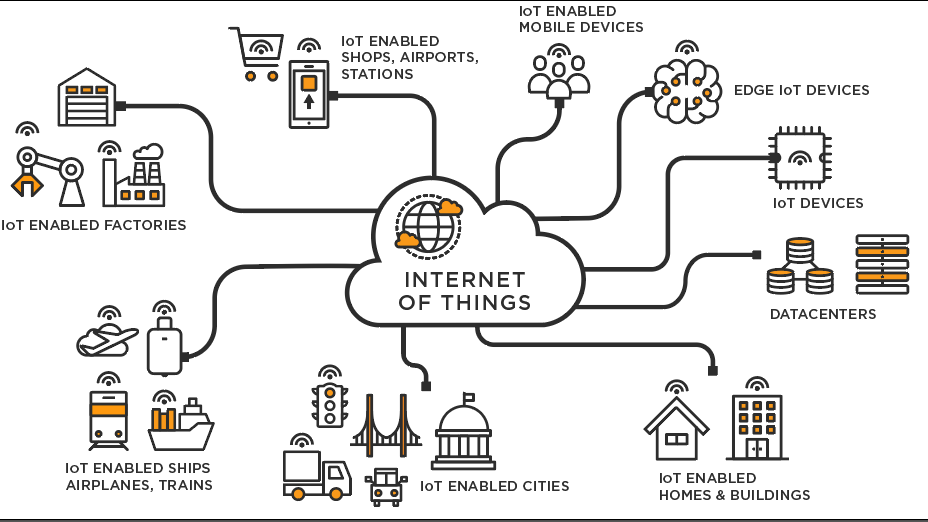 These IoT devices can vary from simple household appliances to complex systems connecting to millions of other devices. The following are some examples of these devices.
Self driving cars
Smart homes
Fitness devices
Heart monitors
Smartwatch
Smart digital supply chains
Automative factories and warehouses
Security systems and cameras
Smart traffic control and parking
Electronic toll collection systems
Smart grid energy management system
Environmental monitoring system
Drones
If you like this simple explainer, check out our Short Bytes section. We take complex tech topics and break them into short, easy-to-understand articles.
More Simplified Tech Topics!