B
efore knowing about Litecoin and its exponential growth, I'd like to tell you about the term "Altcoin." As its name tries to give away (alt + coin), altcoins are the
alt
ernative digital
co
ins that mushroomed on the scene after Bitcoin's success. This was inevitable. A notable feature of all the altcoins is that they try to pose themselves as a better option with more features.
The most popular altcoins are Litecoin, Peercoin, Ripple, Ethereum, Dash, etc. In this article, I'll tell you about Litecoin and its tremendous growth in 2017. But, before moving ahead, don't forget to check out our coverage on different bitcoin alternatives:
What is Litecoin?
With Bitcoin's price stealing the spotlight with record-breaking heights every day, the other cryptocurrencies have found themselves in the shadows. But, that doesn't mean they're struggling. Litecoin, the fourth largest cryptocurrency by market capitalization, has crossed $340 mark for the first time to reach an all-time high; currently, it's trading at ~$309.
Litecoin, often called Bitcoin's younger brother, came into the scene in 2011. Charlie Lee, the founder of Litecoin, is a former Googler. He currently works as the Director of Engineering at Coinbase. This decentralized altcoin uses a blockchain to maintain a public ledger of transactions.
Bitcoin vs Litecoin? What's the difference?
Talking about the major differences between Bitcoin and Litecoin, the transaction speed plays a major role. Altcoin blocks can be generated 4x faster as compared to Bitcoin, so a transaction can be confirmed a lot faster. It was the first altcoin to come up with such major difference in speed. This characteristic also enables Litecoin to handle greater transaction volumes. The total number of Litecoins that can be mined is 84 million; Bitcoin's total number is 21 million.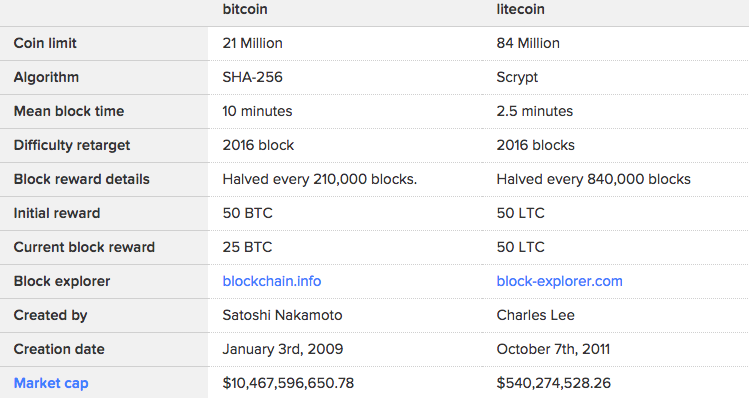 Another Bitcoin vs Litecoin difference is the use of scrypt algorithm. While scrypt makes use of SHA-256 algorithm, the calculations done in scrypt are more serialized and they favor high-speed RAM instead of raw-processing power, Coindesk states.
Due to this change is mining protocol, the miners that use specialized hardware to mine Bitcoin can't use the same hardware to mine Litecoin. To some extent, this has kept big players away from Litecoin, making its mining comparatively easier.
What's the secret of its growth?
Over the past 5 days, Litecoin's price has witnessed 3-4 times growth. This rise of Litecoin and other virtual currencies can be attributed to Bitcoin as well. Just recently, we witnessed the launch of Bitcoin futures on the Chicago Board Options Exchange. Faster transaction speed and a lower fee is a plus point, making it most suitable for adoption in e-commerce and online payment systems.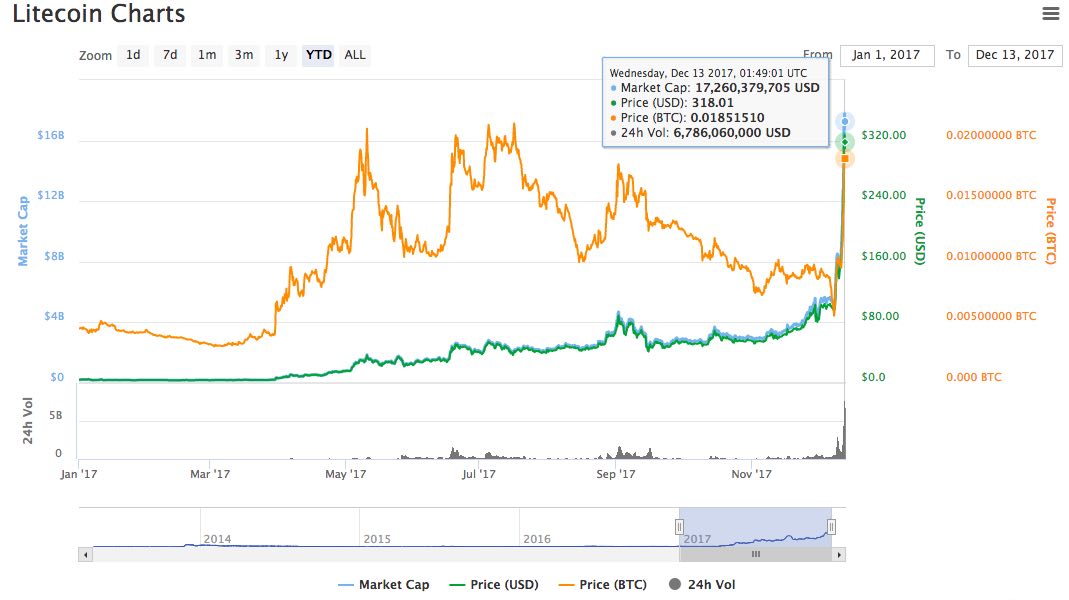 This urge among investors to trade in Litecoin can also be due to the imminent bursting of Bitcoin bubble, which is making them look for other options.
Meanwhile, I'll end this article with the latest tweet from Charlie Lee and recommend you to read the complete thread carefully to make a wise decision:
Ok, sorry to spoil the party, but I need to reign in the excitement a bit…

Buying LTC is extremely risky. I expect us to have a multi-year bear market like the one we just had where LTC dropped 90% in value ($48 to $4). So if you can't handle LTC dropping to $20, don't buy! 😀

— Charlie Lee [LTC⚡] (@SatoshiLite) December 11, 2017
Share your views regarding the current cryptocurrency explosion and become a part of the conversation.