DLNA stands for Digital Living Network Alliance, an industry-standard allowing devices on a local network to communicate. In simpler terms, DLNA certified devices can communicate and share media files on a home network. Likewise, Sony started the Digital Living Network Alliance trade organization back in 2003.
Over the past few years, digital home entertainment has progressed drastically, and DLNA contributed to the same. Certified devices like PCs, laptops, smartphones, media players, smart TVs can communicate with each other on your home network via Wi-Fi or Ethernet.
How DLNA works?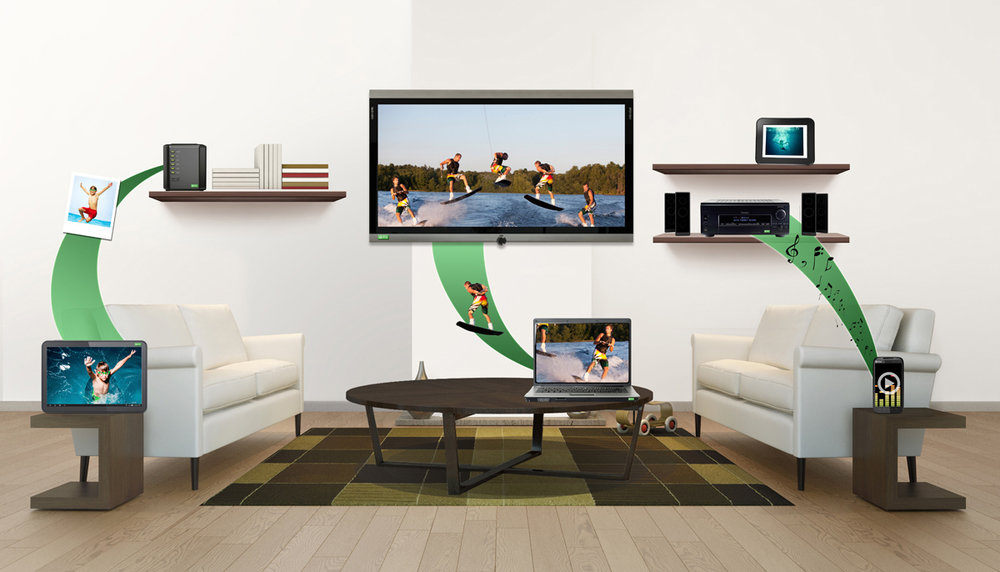 DLNA acts as a bridge between your various devices connected to a network. Similarly, you can watch movies stored on your laptop on the big-screen TV and play music on your smartphone on a speaker. Hence, there are a lot of actions that you can perform using the standard.
DLNA certified devices can:
Find and play movies.
Send, display, or upload photos.
Find, send, and play music.
Send and print photos across compatible devices on the network.
The easiest way to visualize it is to think of it as a home cloud service, from which you can access data without the expense of internet data. Moreover, DLNA works on a local network connection, and all supported devices should be connected to the same network. Also, if you have multiple devices, you should ensure that your network has sufficient bandwidth to accommodate all your media devices.
Furthermore, most media devices in your home probably have a DLNA certification. From PlayStations and home media servers to TVs and printers, most of them have the certification and can communicate. DLNA is all about plug and play, and it uses UPnP to communicate.
Finally, there exist three types of Digital Living Network Alliance categories:
Digital Media Player (DMP): Devices with this certification can find and play media from other devices and computers.
Digital Media Server (DMS): This certification category applies to devices that store a media library. These devices include a computer, a network-attached storage (NAS) drive, or a media server.
Digital Media Renderer (DMR): This category contains devices similar to the Digital Media Player. However, the primary difference is that you can control DMR devices externally and access other content as well. For instance, Smart TVs, or home theater systems are digital media renderers.
If you like this simple explainer, check out our Short Bytes section. We take complex tech topics and break them into short, easy-to-understand articles.
More Simplified Tech Topics!