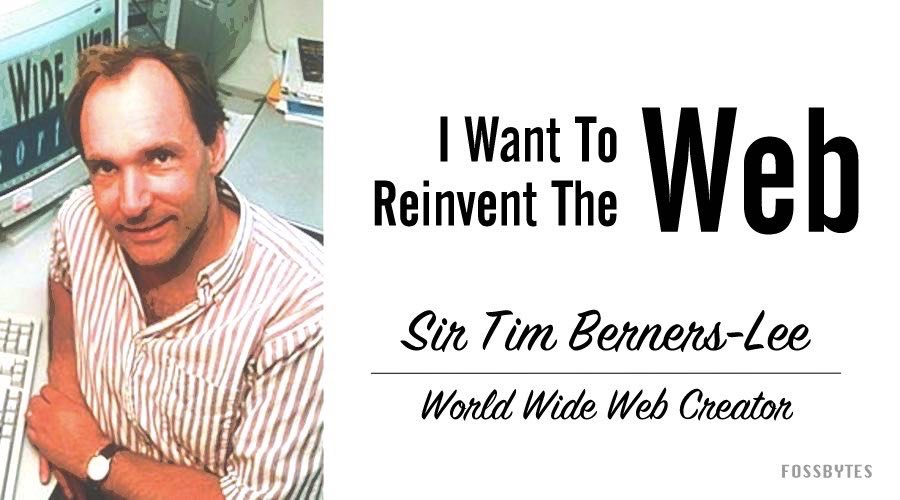 Short Bytes: Disappointed by the current state of the web, the World Wide Web creator Sir Tim Berners-Lee wishes to reinvent the web and make some amends. He feels that due to increased surveillance and barricades, the internet has deviated from its true purpose. "We don't have a technology problem, we have a social problem," Berners-Lee say pointing out the problem. 
Sir Tim Berners-Lee invented the web about 25 years ago. Since then, the internet has helped the humanity in numerous ways. It tries to help everyone in an impartial manner — It helps a little girl complete her homework as well as allows an old man to order his medicines.
However, the same internet has become one of the biggest dangers to any democratic country by becoming the "world's largest surveillance network." This analogy has become a bitter truth and people like Edward Snowden have shown us proofs.
The same emotions were shared by Berners-Lee. He said that today people are restricted from interacting with the internet freely.
"It's been great, but spying, blocking sites, repurposing people's content, taking you to the wrong websites — that completely undermines the spirit of helping people create," he added.
Berners-Lee expressed his views in San Fransisco while discussing a new phase of the web Decentralized Web Summit with other eminent computer scientists.
The internet pioneer also expressed his concerns over the dominance of a handful technology giants. He pointed out the dominance of Google, Facebook, and Twitter in their respective fields.
"We don't have a technology problem, we have a social problem," Berners-Lee added.
The participants also pondered over encryption, as well as the use of direct cryptocurrency-based payments for website subscribers to reduce the dependence on advertisements.
The web is today's most popular means to access information and it's great to see great minds coming together and discussing its future.
Also Read: Who Invented Email? Ray Tomlinson Or Shiva Ayyadurai?
Bonus video:
https://youtu.be/yF5-6AcohQw