Automotive enthusiasts try a lot of stuff to improve the performance of their cars, and Bjorn Nyland is no exception either. He recently did an acceleration test for his modified Tesla Model 3 Performance fitted with Magnesium wheels.
For those who don't know, Bjorn is a veteran EV journalist with a lot of experience.
Bjorn used a set of super-cool looking magnesium wheels to compare their performance with the standard Tesla wheels.
Magnesium is one of the lightest materials that can be used for manufacturing a wheel. Moreover, anything that reduces the weight of the vehicle directly improves its overall performance as well as efficiency.
Bjorn used 19″ standard Tesla wheels and magnesium wheels for his experiment. Here's the weight of both of them without tires:
Magnesium wheels 19″ (Mag 52) – 7.48 Kg
Tesla 19″ – 11.43 kg
You can easily see there is a significant difference in the weight of the two rims. Bjorn said that the low mass of the rims leads to less rotational mass that eventually improves acceleration.
Though it's obvious now, still, let's find out which rim offered better performance.
Tesla Model 3 Acceleration Test
Before starting the test, the YouTuber gave some essential tips on how to achieve the fastest acceleration time. In line with the best practices suggested by experts, he said that you must charge your car batteries to about 95% and heat them in advance. Think of it as revving the engine before a drag race.
When Bjorn started the test, his car was 95% charged, and battery cells had a temperature of around 52-degree celsius.
Finally, Results Are Here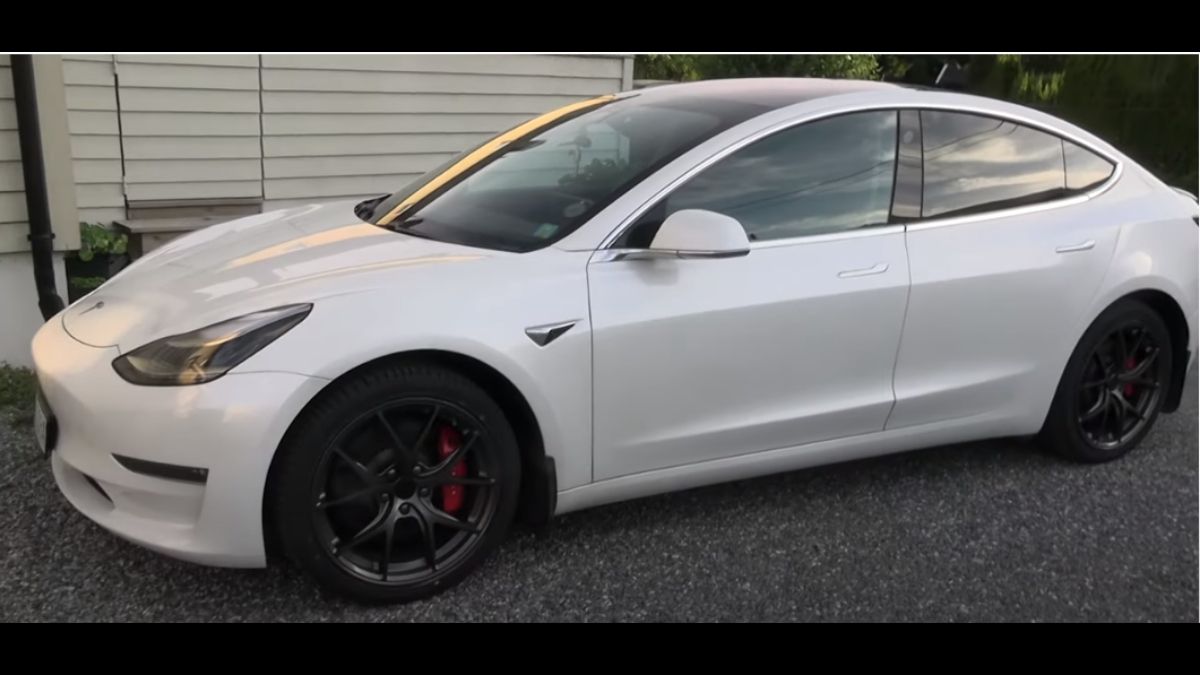 With tires having magnesium rims, it took 3.44 seconds for his Model 3 Performance to reach 100 km/h.
In comparison, Tesla 19″ wheels did 0 to 100 km/h in 3.55 seconds. Additionally, the guy also did one last test with Tesla 20″ rim and a Michelin tire; it achieved the 100 km/h mark in 3.59 seconds.
Bjorn is from Norway, and as per the official website of Tesla Norway the Model 3 Performance can do 0 to 100 km/h in 3.4 seconds. So, one might be thinking of how these magnesium wheels are making any difference.
Well, the guy said the acceleration figure that Tesla represents on the website is with the one-foot Rollout. The Rollout represents the distance a car travels on a drag strip before the timing lights are triggered. According to Racelogic, this movement can affect the final run time by 0.3 seconds.
So, according to Bjorn, if you round that up, then with Tesla 19″ wheels, it would be around 3.4 seconds already. Furthermore, with the magnesium wheels, the timing would be approximately 3.1 seconds.
Additionally, Bjorn said due to the lightweight magnesium wheels; he felt the steering was much lighter and the suspension more responsive.
Usually, the bigger wheels are used for better performance and grip. However, if you use a wheel size more than what is required, it can further reduce the performance as well as efficiency.
Apart from that, these 19″ wheels look pretty awesome. One of the viewers also commented, "Those rims look fire on a model 3," and I totally agree.
What do you guys think about this modified Tesla Model 3?