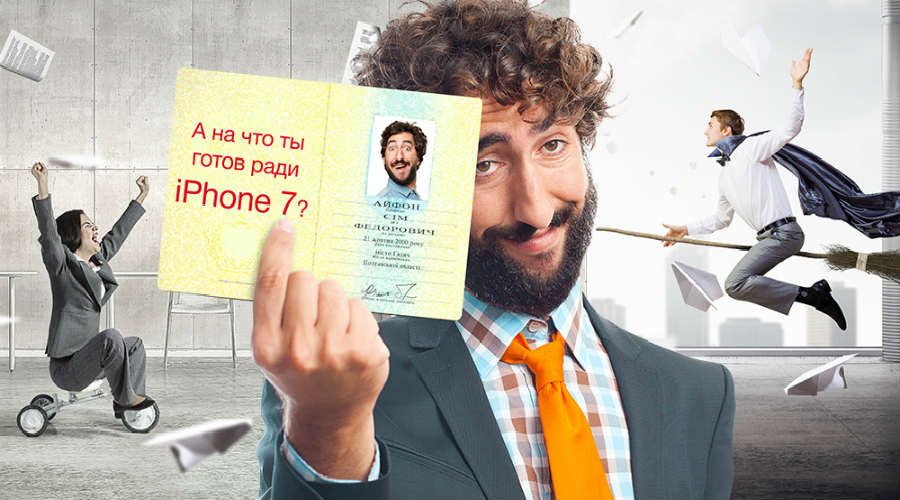 Short Bytes: To all the Apple fans out there in the wild, a Ukraine-based retailer Allo is hosting an iPhone 7 Giveaway. To become eligible for the giveaway, you need to do a simple task and post a selfie after its completion. The first five eligible contestants will get a black iPhone 7 for free.
T
here are iPhones and
Galaxies
blasting around the world. Many people might be reluctant to buy the new Apple iPhone 7. Well, they should be because no one wants an iPhone to blast 
on his face
or
near his ass
.
But what if someone is giving away an iPhone 7 for free? Well, there is a retailer Allo doing so. Don't confuse it with Google Allo. If you are the one interested, you only have to do a little task. And it doesn't involve making random Facebook posts and tweets.
The free iPhone 7 will be given to the first five people who change their name to "Seven iPhone" (it's same as iPhone 7 in Ukrainian language) on their passport and then send Allo a selfie with the same. All the details should be clearly visible. After this, the eligible people have to visit an Allo Store and show their new passport.
The weird offer takes inspiration from the fact that the price of the iPhone seven in Ukraine, where the retailer is based, is around 4 and a half times the official average salary of the people, PhoneArena writes. So, chances are less the people in Ukraine will go for the iPhone 7 purchase.
History suggests that changing name legally won't be a great deal for the die hard Apple Fans. At least, it's better and not gut-wrenching as selling kidneys to buy a new iPhone.
To know more about the offer, visit Allo website. You can use Google Translate if you don't understand the language.
If you have something else to add, tell us in the comments below.
Also Read: After Killing iPhone's 5mm Jack, Apple Plans To Remove USB Ports From Upcoming MacBooks