After a substantial amount of wait, the Volvo XC 40 Electric car has been revealed and it will be priced under $50,000. The first-ever electric car from Volvo will go on sale in 2020. The Swedish automaker plans to step onto the path of sustainability with this new electric SUV. The full name of the new EV is Volvo XC 40 P8 Recharge; it comes with an all-wheel-drive driving system and top of the line safety for which Volvo is known for.
The Volvo XC 40 shares a lot of its equipment with the Polestar 2, a new car from its parent company. Only a few days ago, the official pricing of Polestar 2 was revealed to the public and now Volvo has stepped onto the stage eager to turn electric.
During the event, Volvo's Chief Executive Håkan Samuelsson said: "We bring sustainability, not as an add on but because we think that it's really good for our business."
"With concrete actions more than symbolic pledges, we can bring sustainability," said Samuelsson before revealing the Volvo XC 40 Electric car.
The Volvo brand, owned by Chinese company Geely, also plans to take a number of steps to reduce its carbon footprint in the coming years to help consumers realize the benefits of owning an all-electric vehicle.
Here's everything you need to know about the Volvo XC 40 Electric car and the future plans of the company to save help save our environment.
Volvo XC 40 Electric Car Specs, Price, Features, Launch Date and Competition
| | | |
| --- | --- | --- |
| | Volvo XC 40 Recharge Electric | Tesla Model Y Long Range RWD |
| Price | Under $50,000 | $48,000 |
| Battery Size | 78 kWh | 74 kWh |
| Battery Range | 248 miles or 400 km (WLTP Cycle) | 300 miles or 482 km (EPA Cycle) |
| 0-100 km/h Acceleration Time | 4.9 seconds | 5.5 seconds |
| Fast Charging | 150 KW charging (0-80% in 40 minutes) | 250 KW fast charging (Time N/A) |
| Launch Date | 2020 | 2020 |
The conventional Volvo XC 40 and its electric version share the Compact Modular Platform. Besides the lack of an air grill, both the Volvo XC 40 and its gas-powered version look almost exactly the same from the outside.
From the inside of the electric car, you'll see quite a noticeable difference. For instance, in place of an engine, the XC 40 Recharge Electric has a front trunk or "frunk" the size of a Tesla Model 3.
In the cabin of the EV, you'll find a touch screen console running a full version of the Android operating system. It's different from the Android Auto because you won't have to pair up your phone to access things like Google maps, or your Spotify playlist. You can simply log-in on the touch screen and use Google apps.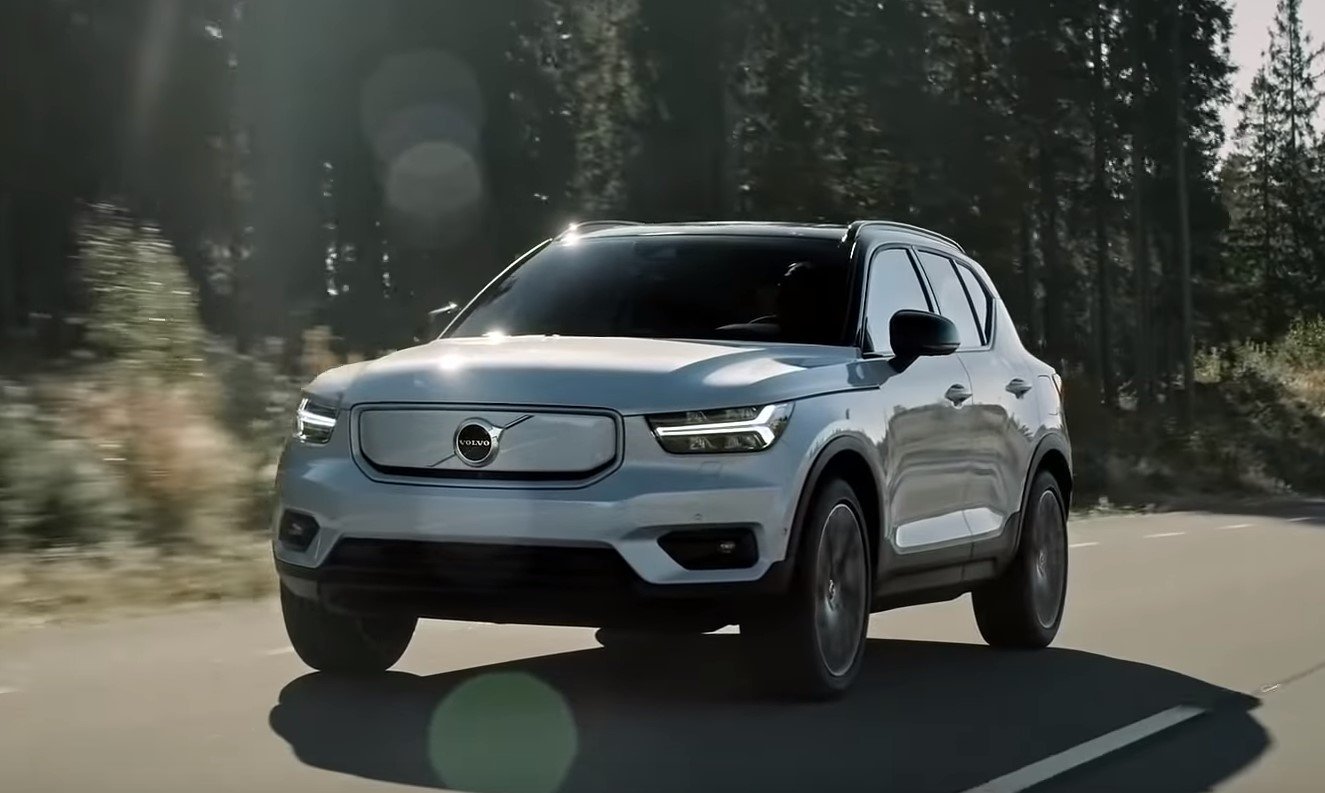 Powering the Volvo XC 40 Recharge are two electric motors paired up with the front and the rear axle. Both of them produce around 150 KW of power each with a combined total of 300 KW or 408 HP. The electric SUV also has plenty of torque, with 660 Nm or 486 ft-lb of grunt, it'd be easy to drive around in stop and go traffic.
The Volvo XC 40 shares a number of its components with the Polestar 2, and the above-mentioned power and torque figures are similar on both EVs. Both electric cars use a similar battery pack of 78 kWh, which is capable of delivering around 400 km or 248 miles on a European WLTP test cycle.
The WLTP test cycles are more accurate than the NEDC cycle but still don't give mileage figures close to real-world driving conditions. Thus the actual battery range would be somewhere around 350 km or 200 miles.
The battery will take around 40 minutes to charge up to 80% via DC fast charging or 7 and a half hours to fully juice up using an at-home charging device. The battery operates at 400 volts and currently, there is no super-fast charging available like the one found on Tesla Model 3.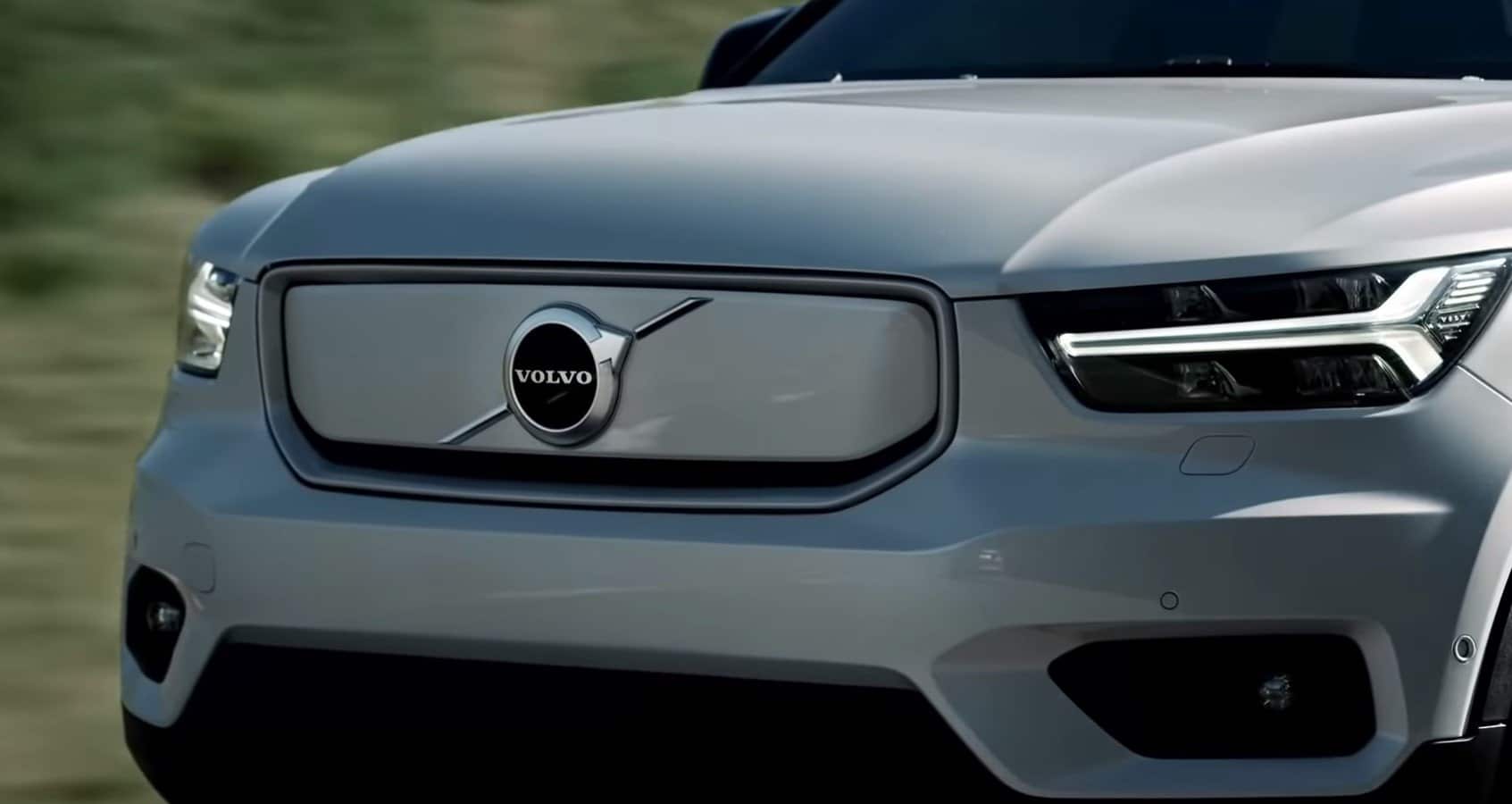 What's really great is that Volvo is offering 1 year of free charging on the purchase of XC 40 electric car. Volvo will track the amount of charging done by the user, probably via the official smartphone app and reimburse them with cash at the end of the year. This will give customers the freedom to charge anywhere they feel like and not just at an official Volvo charging station.
At 2,200 kg or 4,850 pounds, the Volvo XC 40 electric is 500 kg or 1100 pounds heavier than its Internal Combustion Engine (ICE) counterpart. Adding to the weight are the heavy batteries placed underneath the floor, the electric powertrain and a host of autonomous driving tech.
The Volvo XC 40 electric comes with high-speed cameras, ultrasonic sensors and radars to map the surroundings around it and perform several driver-assist tasks. Volvo plans to make the XC 40 Recharge fully autonomous in the near future via Over The Air (OTA) software updates.
Meanwhile, similar to Tesla electric cars, these updates poise to upgrade the overall driving experience.
The Future of Volvo Brand: Safety And Sustainability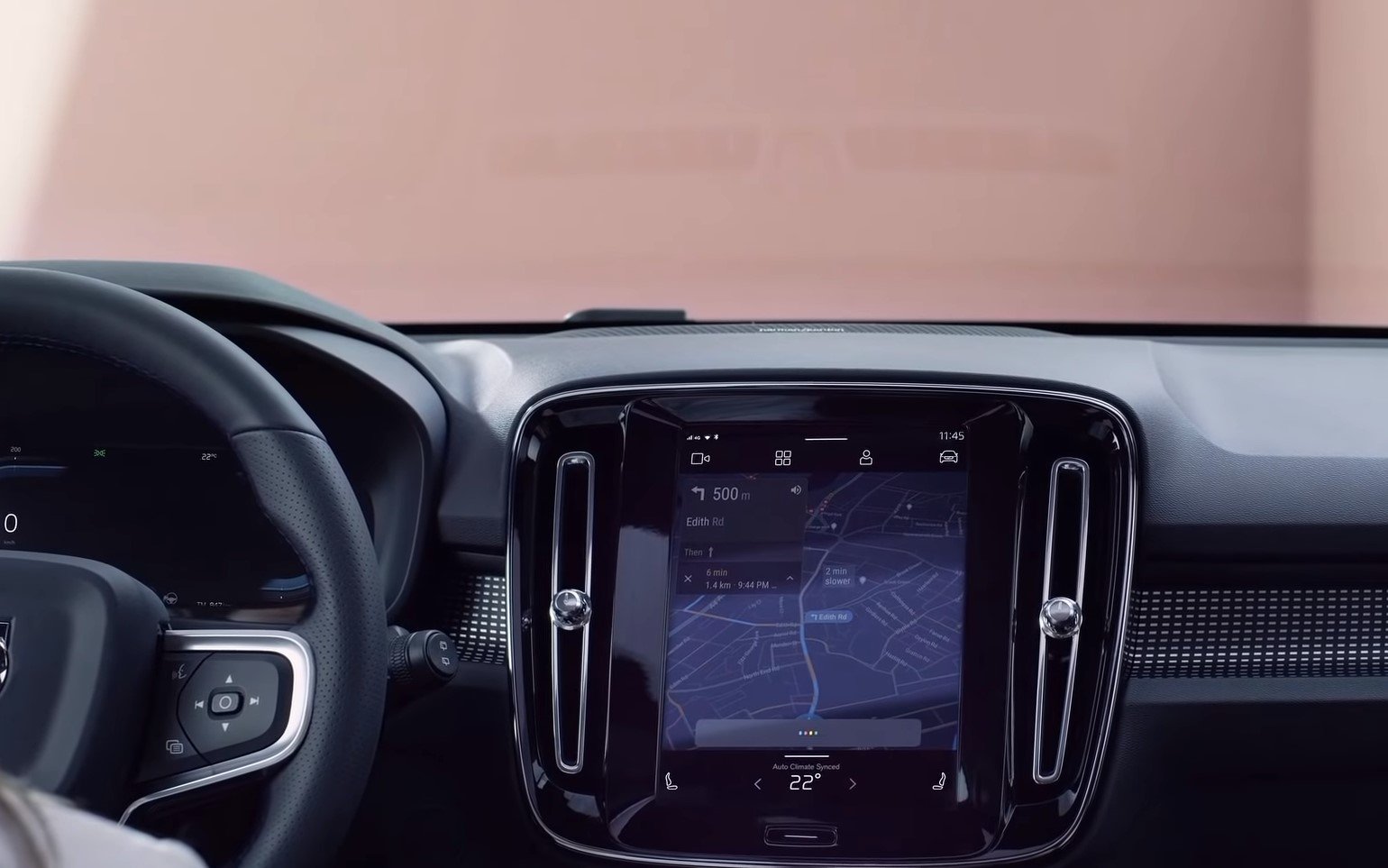 During the press conference, Samuelsson said – "We made safety a part of our brand, we should do exactly the same with sustainability." The statement is reflective of the several steps Volvo plans to take in the near future.
For starters, the Swedish automaker plans to reduce the carbon footprint of all its cars by 40% over its lifetime of usage by 2025. Volvo will launch a new electric vehicle every year starting the next one until its entire fleet is electrified.
By 2040, Volvo plans to become completely carbon neutral by revamping its entire supply chain only to use materials from sustainable and ethical resources. For example, one of its suppliers uses recycled Cobalt to reduce their reliance on the mining supply chain.
To further break free from supply chain disruptions, Volvo will use batteries from two different suppliers, LG Chem and CATL. This will ensure that the company keeps up with the production schedule.
It is not easy to switch to an electric car for a lot of people due to several factors. According to Bjorn Annwal, Volvo's Head of Global Commercial Operations, "What hinders a transition pace are a number of things, it's the affordability of vehicles, its access to charging infrastructure, it's also the time it takes to change consumer behavior and habits."
Annwal believes that Plug-in hybrids can help smooth out the transition to electric vehicles. In these vehicles, the car has an internal combustion engine and an electric battery, thus the user is able to switch on the fly in which mode they wish to drive.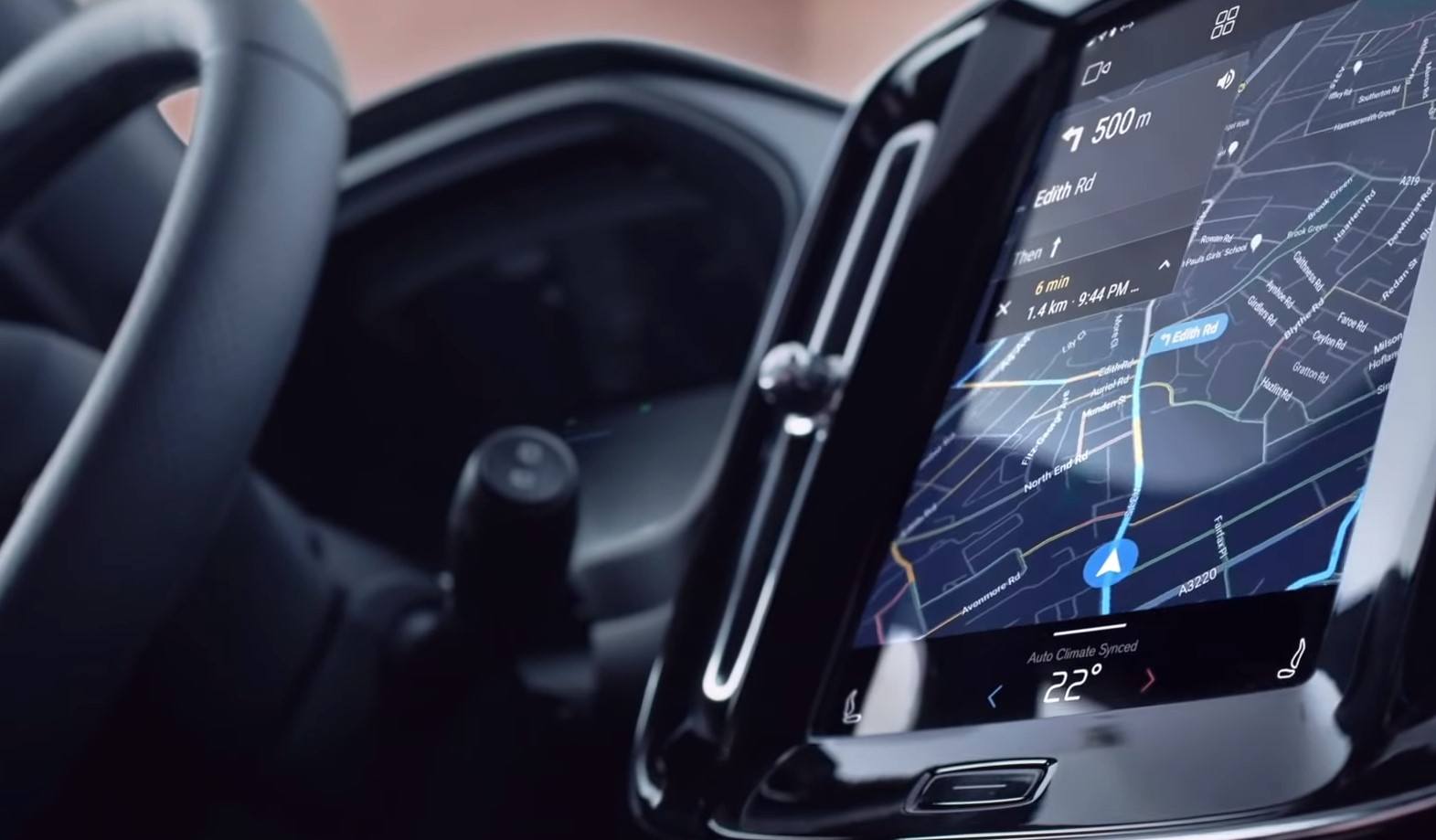 According to Annwal, around 41.4% of the driving of all Volvo plug-in hybrid users takes place in electric mode. He claims that once the customer realizes the ease of driving in electric mode, he would much more easily prefer to buy an electric vehicle next time around.
Volvo will ensure that every ICE model has an electric counterpart. Customers will simply have to ask for a "Cord," a fully electric version or "non-cord," a plug-in hybrid version of the car they wish to buy. Furthermore, each plug-in hybrid will also get one year's worth of free charging.
To be honest, this kind of approach is non-invasive and could help a huge number of people in switching to electric cars.
Volvo also plans to create a new sub-brand for its range of ICE vehicles in collaboration with its Chinese parent company, Geely. According to Samuelsson, this is being done so they can completely focus on developing electric vehicles.
With a price tag of $50,000, Volvo will clash with the Tesla Model Y, and although the latter boasts some higher-level specs, Volvo's legacy in safety and engineering will certainly help the brand in finding the right audience.
According to Volvo, theirs is a "brave plan." The company seeks to reinvent itself with this launch and become a more attractive employer for the people who can solve future challenges.
Volvo XC 40 Recharge and Polestar 2 will go on sale in 2020.