Hyperloop One's parent company Virgin has dropped some concrete details about their plans to bring Hyperloop to regions across the globe. Last year, India bagged 2 out of 10 routes selected for laying futuristic Hyperloop tunnels.
According to the latest announcement, the Mumbai-Pune route could witness the world's first hyperloop test track to facilitate ultra high-speed travel between the two cities. It will be built as a part of the partnership between Virgin Hyperloop One and the Maharashtra state government.
The operational demonstration track is expected to get completed in a time span of three years linking Mumbai, Navi Mumbai International Airport, and central Pune. And the test rides could start as soon as 2021.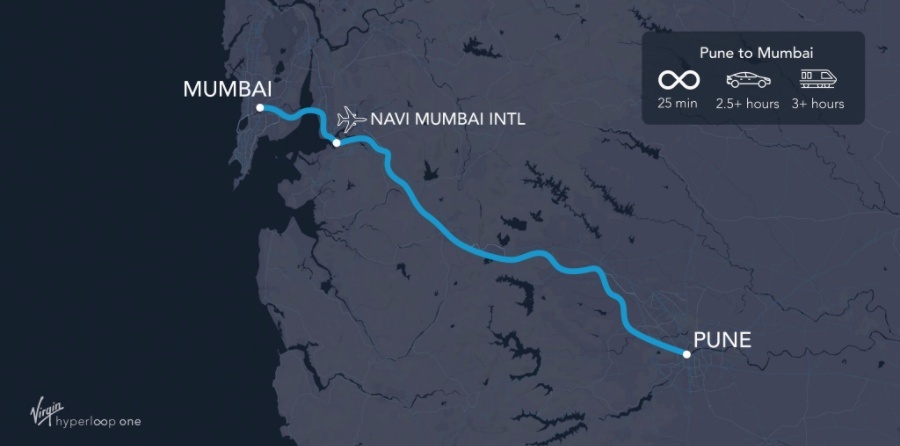 Virgin's Hyperloop pre-feasibility studies have shown that after 30 years of operation the Mumbai Pune route could provide a socio-economic benefit of INR 350,000 crores ($55 billion) and cause a reduction in the emission of greenhouse gasses by up to 150,000 tons.
The project would commence after the government gives a green signal to the feasibility report prepared over the next six months. Once finished, the test track between two points in the next three years, followed by the development of the entire route in five to seven years down the line.
Mumbai-Pune Hyperloop would be able to handle around 150 million passenger trips per year while decongesting the always busy expressway between the cities. It would reduce the travel time between the cities to 25 minutes from close to three hours. A future extension would focus on lowering the cargo transit time between Pune and Mumbai's port. In fact, around 25% of the cargo that passes through Mumbai's Jawaharlal Nehru port has Pune has its origin or destination.