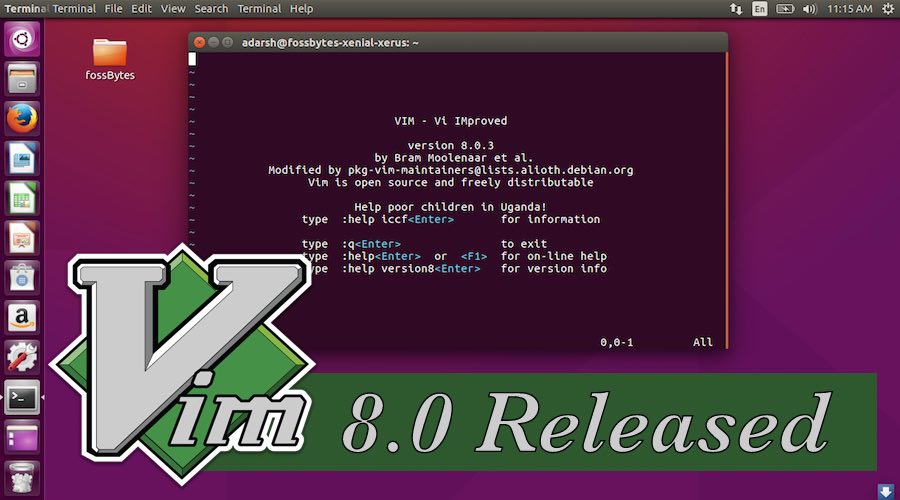 Short Bytes: The recent release of Vim 8.0 marks the first major Vim release in ten years. Among the new features, we can mention the support for asynchronous I/O, GTK+3, jobs, partials, lambdas, packages, etc. A wide support for JSON in Vim 8.0 allows efficient inter-process communication.
V
im text editor is one of the favorite tools of programmers. Now, the Vim experience has been further improved with the
release of Vim 8.0
. It's also the first major release in the past decade. Vim 8.0 brings along multiple bug fixes and new features.
Here's an overview of the interesting new features coming to Vim 8.0.
Vim 8.0 new features
Now Vim has the ability to talk to the other background processes. Thanks to this addition, now servers can do their work and send back the results to Vim.
Vim 8.0 widely supports JSON and it can be used for inter-process communication. It allows one to write a complex plugin in any programming language.
This recent release also supports timers, jobs, partials, lambdas, packages, closures, new style testing, etc.
Now, previously opened windows can only be accessed by their number. As each of them has a unique ID, they can be found easily.
Vim 8.0 comes with the support for GTK+3 GUI. Configure, however, chooses GTK+2 if both are available.
This release also adds the 'renderoption' to allow switching on DirectX support on Windows operating system. It's focused on DirectWrite support for better text rendering.
Another important change comes in the form of use of timestamps by Viminfo to always keep the most recent items.
For the complete list of changes, find the changelog here.
How to install VIM 8.0 on Ubuntu 16.04?
Ubuntu 16.04 users can install Vim 8.0 by using this unofficial PPA. Just run the following commands in your terminal:
sudo add-apt-repository ppa:jonathonf/vim
For downloading Vim 8.0 you can visit this link.
Did you find this article helpful? Don't forget to drop your feedback in the comments section below.
Also Read: Coding A Text Editor In Less Than 1000 Lines Of C Programming Language