Vlogging has picked up a lot in recent years, and with the number of bloggers coming into the mainstream, the demand for easy yet powerful video editing software is rising. While there is a majority of popular video editing software on the market right now, it sometimes becomes a grueling task to choose from the variety of video editing tools available in the market, especially the free ones. Meanwhile, the one we're talking about in this article is VideoProc Vlogger – a free video editing software for every user.
Meanwhile, all video editing software is not created equal and is targeted towards different users. That being said, most video editing tools users demand easy-to-use software, which is also capable of handling arduous tasks. Speaking of easy-to-use software, let's talk in detail about the software -VideoProc Vlogger. Now the name does sound like the software is aimed solely at bloggers, but there's more than meets the eye here.
VideoProc Vlogger: Streamlined video editing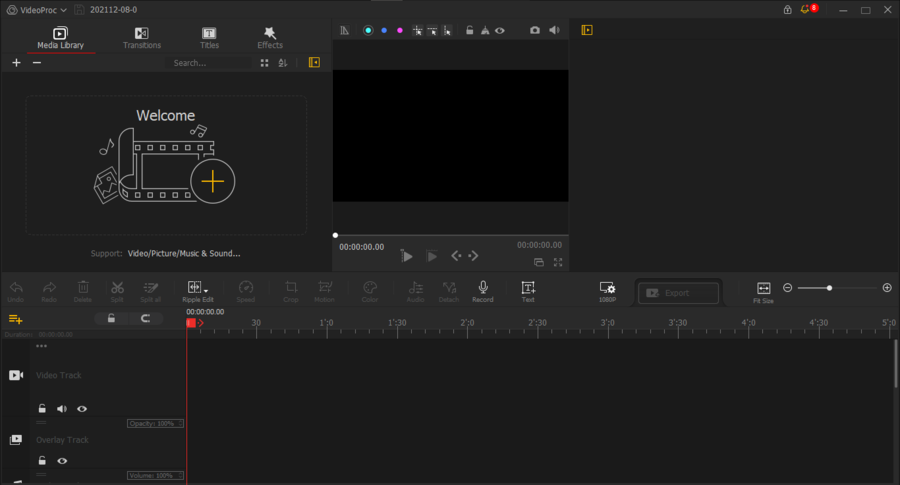 Probably one of the best things about VideoProc Vlogger is that the video editing software is free to use. While there are many free-to-use video editing tools on the market, let's take a look at what makes VideoProc Vlogger different from the other ones available in the market.
First off, VideoProc Vlogger offers a variety of 'creative features,' enabling users to either use built-in effects or go all-in with the editor in themselves. Now, these features are exclusively good for someone who's just getting into video editing; or creating vlogs or any sort of videos. Along with the multiple built-in presets, the software in talk also provides users with an array of essential video editing tools. Moreover, being a free video editing software, VideoProc Vlogger has a variety of advanced editing tools too.
VideoProc Vlogger features
While we're on the topic of what all this video editing software does, let's take a detailed look at the features available in this free video editing tool. In case you're interested, you can check out the free tutorials for VideoProc Vlogger on YouTube channel, like how to green screen in 3 cases, how to create a split screen effect, how to manage, edit multiple audio tracks, how to OVERLAY pictures/videos (Picture in Picture), and more.
Audio editing features
Visualized audiogram
10-band audio equalizer
3 Audio analysis options
12 built-in audio filters
Video editing features
Around 90 pre-loaded color filters
Full-featured colored editing
HSL editing
In our testing, probably the best feature that we found is the "Motion effect for videos and photos," a mode that enables users to mimic camera movements. Even so, the mode is relatively easy to use, further making it easier for beginners to use.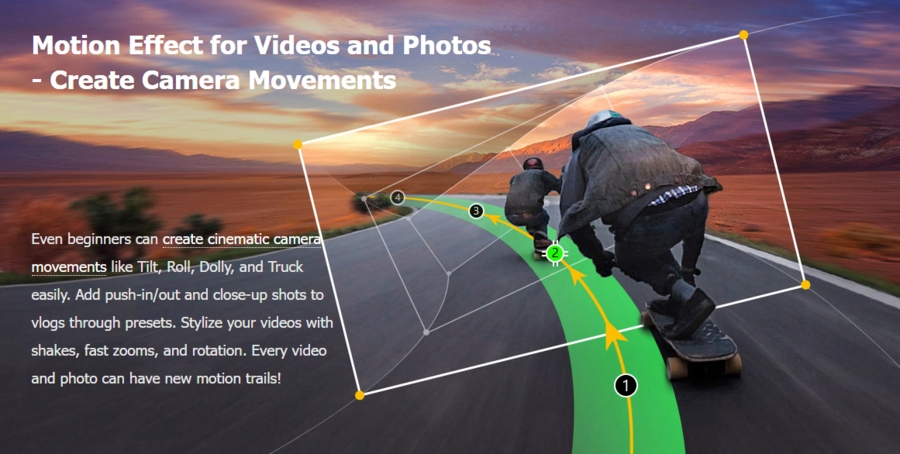 Furthermore, to talk about the output and export quality of the edited videos, VideoProc Vlogger does a pretty neat job as a free video editing tool. The software exports edited videos in 1080p, 2K, and it even exports your files in 4K resolution. Moreover, VideoProc Vlogger supports multiple codec formats, including H264 and HEVC.
While we're aware that there are many video editing software available on the market, some of them are free while some are paid. Moreover, many of them get the job done in no time, thanks to the presets available, making them hassle-free. Meanwhile, we're not here to talk about those other video editing tools today; we're here to shed some light on what VideoProc Vlogger can do. And this software can handle some heavy-duty video editing without the sometimes annoying features and tools.