Converting a 4K video can become your worst nightmare if the video processing software is sloppy and inefficient in handling large files.
An incompetent video converter not only slows the conversion but also takes up a huge amount of RAM, obstructing PC from effectively performing other tasks.
However, VideoProc is one of the handful video conversion software that swiftly processes 4K or large videos without taking a toll on the health of the system.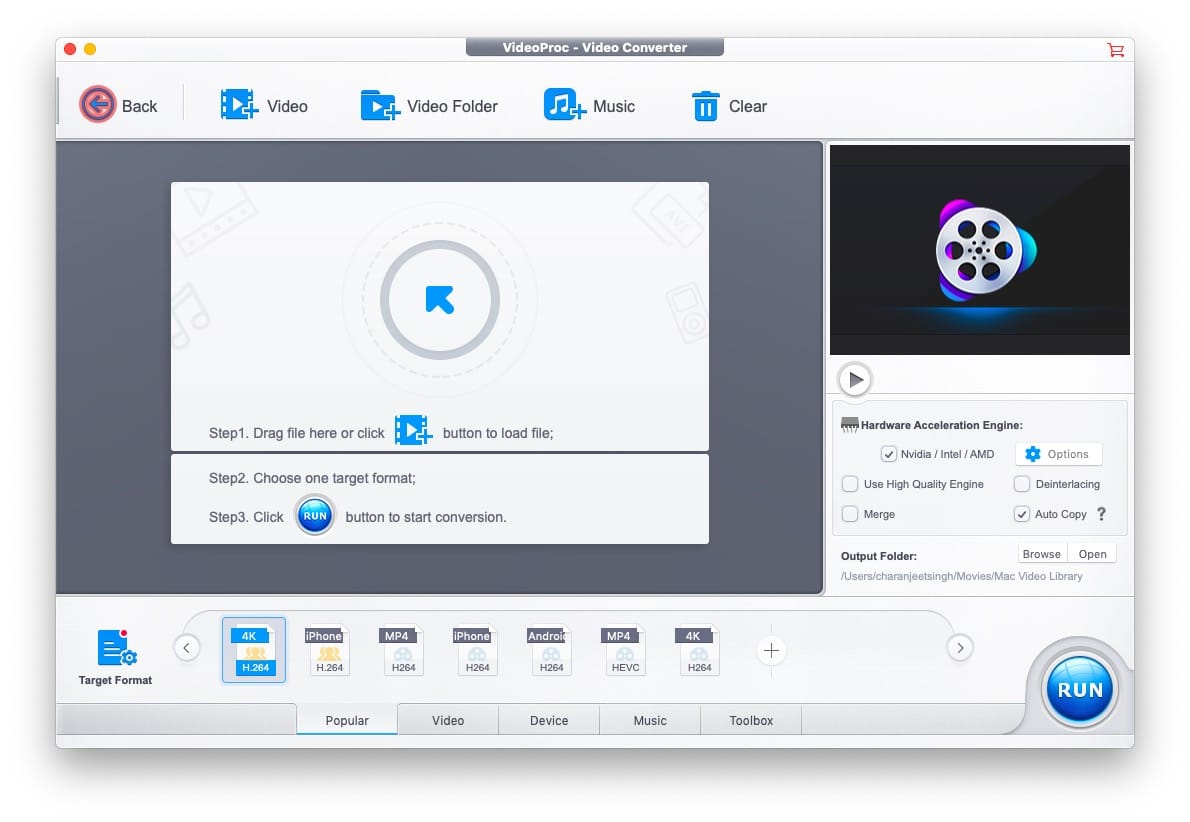 Under the hood, VideoProc uses Level-3 Hardware Acceleration that utilizes GPU in video processing, apart from simply using GPU acceleration in video encoding and decoding.
Hardware acceleration is a technique that enables a program to offload a task to the hardware which specializes in it, such as GPU. Currently, few video processing software use hardware acceleration. But out of them, VideoProc is the one of the only ones to use level three hardware acceleration.
Cutting it short, VideoProc enables faster video processing (encoding and decoding), video conversion, video editing without compromising the video quality and using insane amounts of memory.
How to convert a video using VideoProc?
VideoProc can appear overwhelming at first, given the insane amount of options and customizations that users can approach before converting the video. But you shouldn't worry!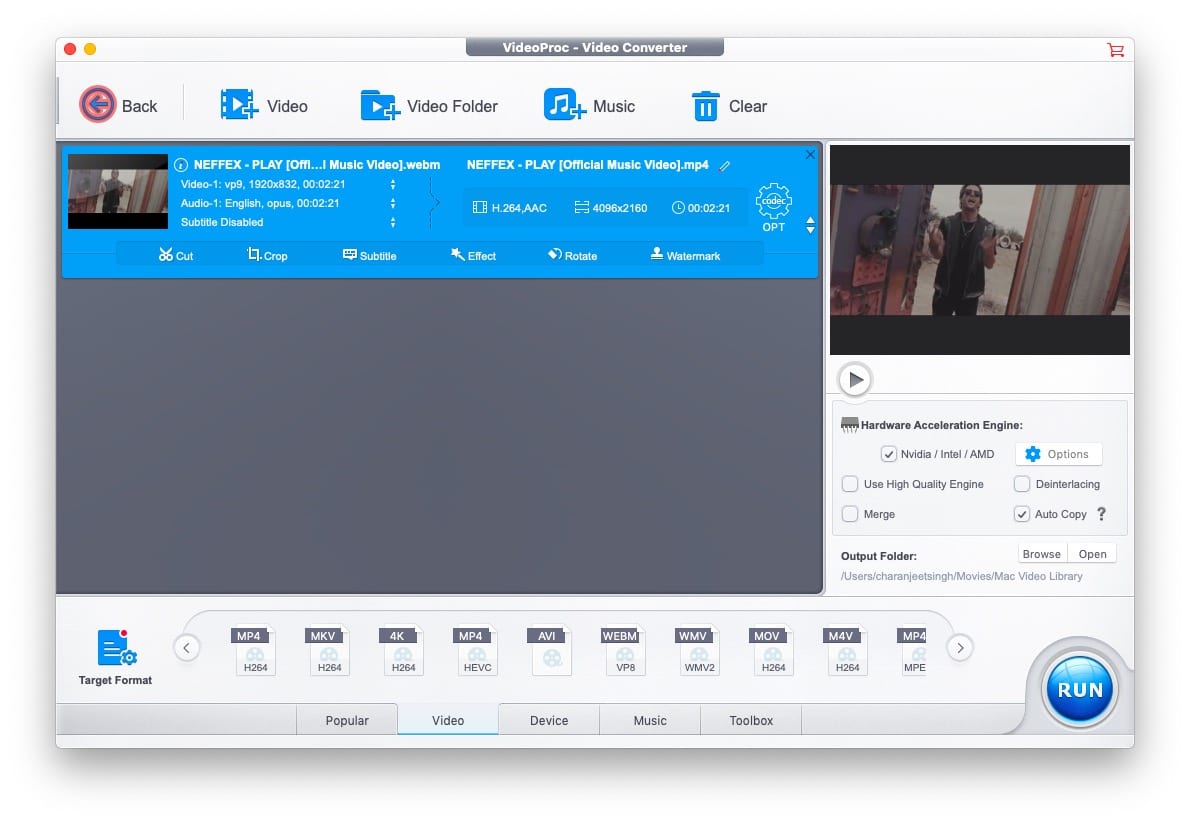 Good for you, VideoProc keeps a few conversion presets ready in the video conversion section. If you feel restricted, you can click on the Target Format and choose from a list of default profiles.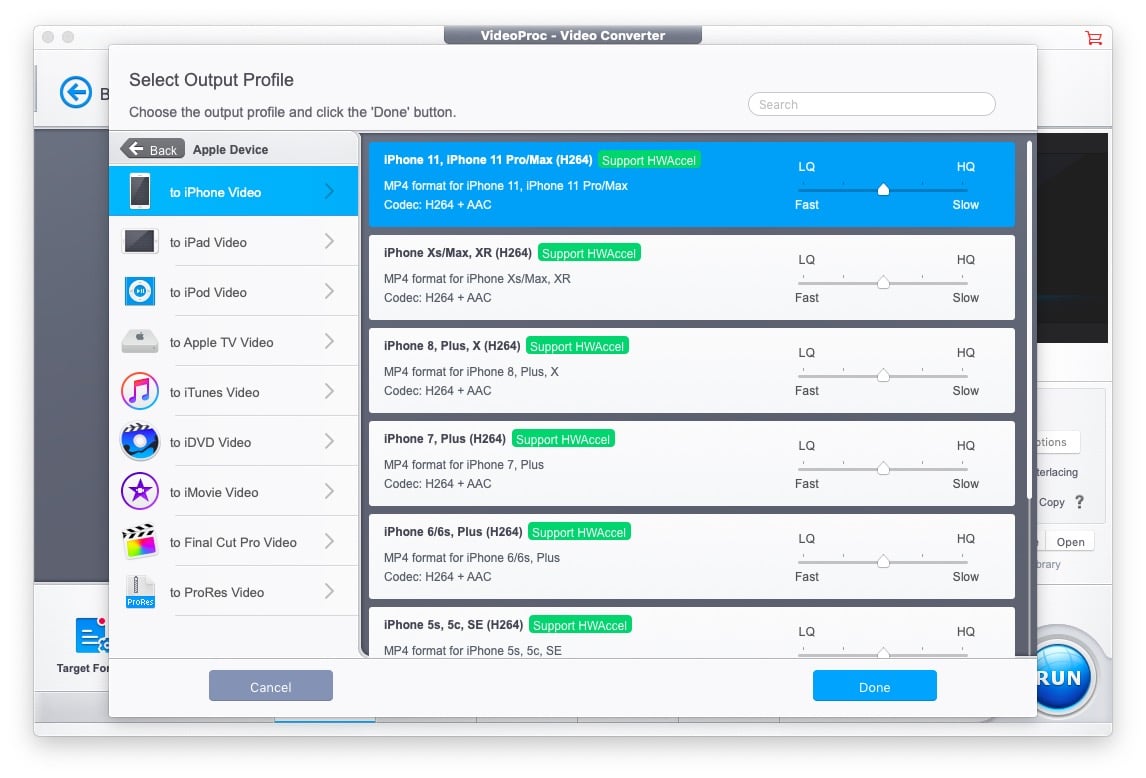 Let's say you need to convert video for iPhone 11 — upload the video ➝ click on Target Format option ➝ Choose Apple Device ➝ Tap on to iPhone video ➝ Now, choose the iPhone 11 tab in the adjacent list of iPhone devices ➝ Click on Done and then click on Run option located at the bottom right.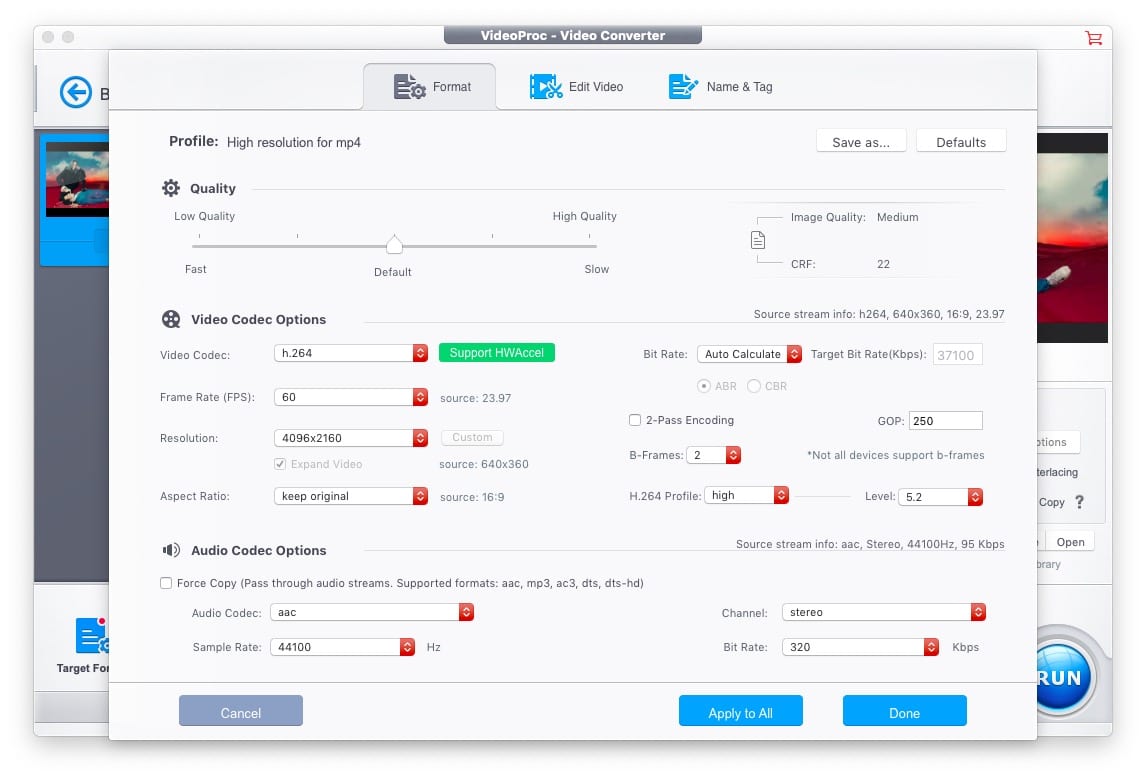 You can also change Video codec options as well as audio codec options, however, note that upgrading the video settings will increase the conversion time. Click on the gear icon located on the video tab to access the added format settings.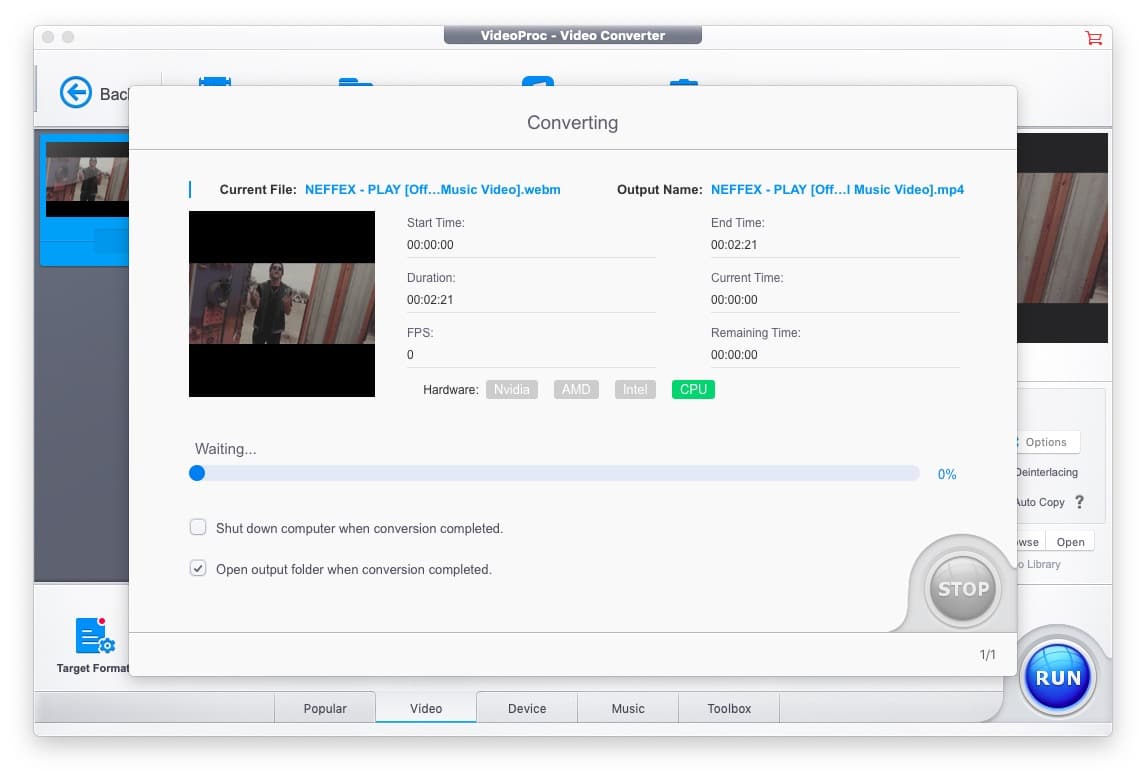 Editing 4K Videos Like a Pro
VideoProc makes editing 4K videos look like a child's play. Thanks to hardware acceleration, you can easily edit the video, add effects, change the color composition without stuttering.
Obviously, lags would ultimately depend upon the system. However, if you have a system even with a lower-end GPU, it's unlikely that you will see issues during video processing.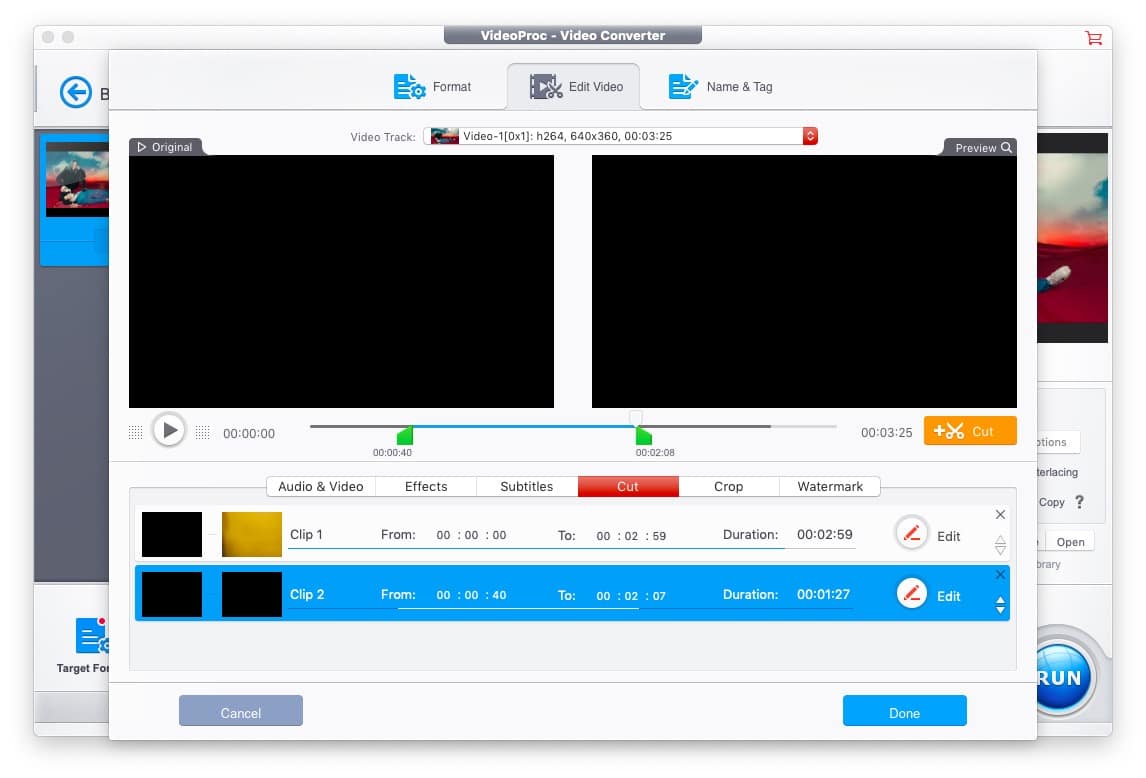 VideoProc features multiple video editing features such as video cut, crop, split, and trim in the Edit Video settings. You can also apply effects to the video and simultaneously change the color composition.
With that being said, VideoProc's highlighting feature is that users can add watermark to the edited videos. Users can add three different texts, apply transparency effect and a few things more.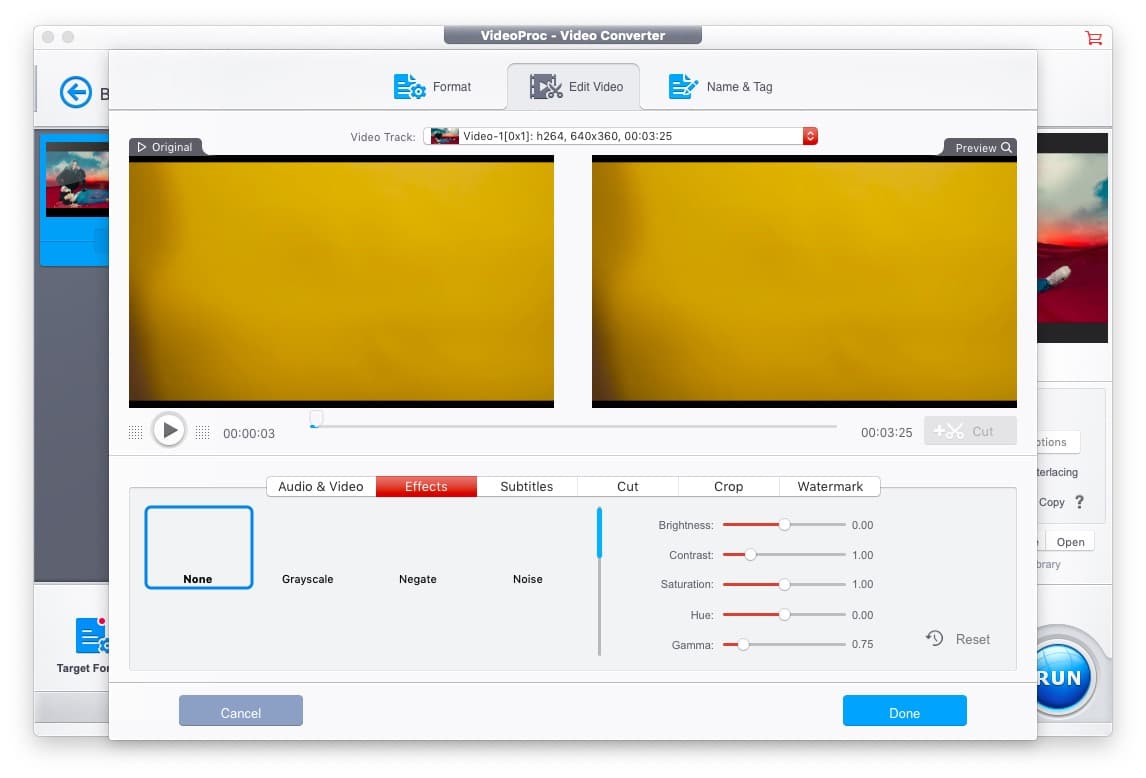 Apart from that, users can add subtitles to the video by importing a subtitle or searching for a subtitle file from the software's dataset.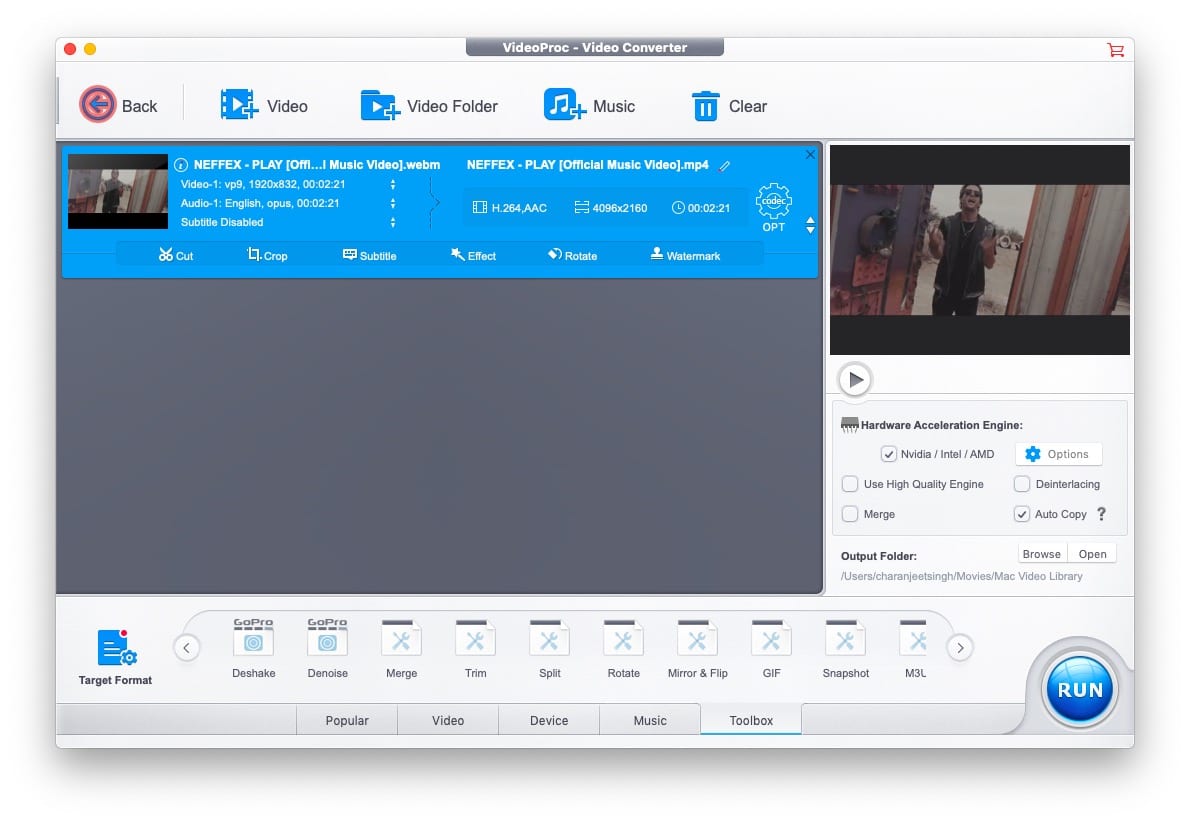 VideoProc also has a Toolbox section featuring multiple handy editing tools such as Deshake, Denoise, Mirror and Flip, Fisheye, etc. There, you will also find a GIF option that enable users to quickly turn their videos into GIFs.
VideoProc tools
VideoProc features don't end just with video processing. The program offers multiple useful video tools such as Video Downloader, DVD Converter, and a Screen Recorder.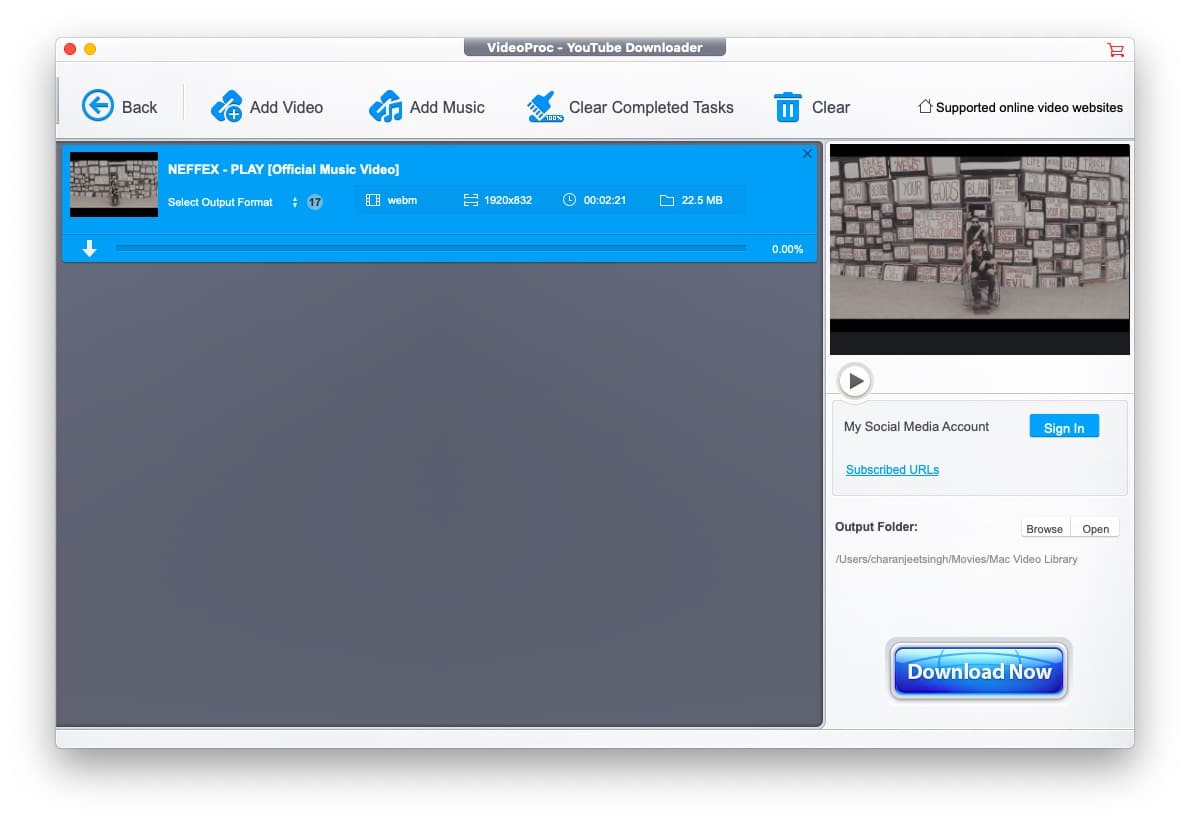 Think of the VideoProc's Downloader as an easy and safe alternative to other YouTube video downloaders. You only need to add the video URL, choose the resolution and download the video. If you want to extract music, you can add the link in the Music section and choose between different audio types before hitting the Download button.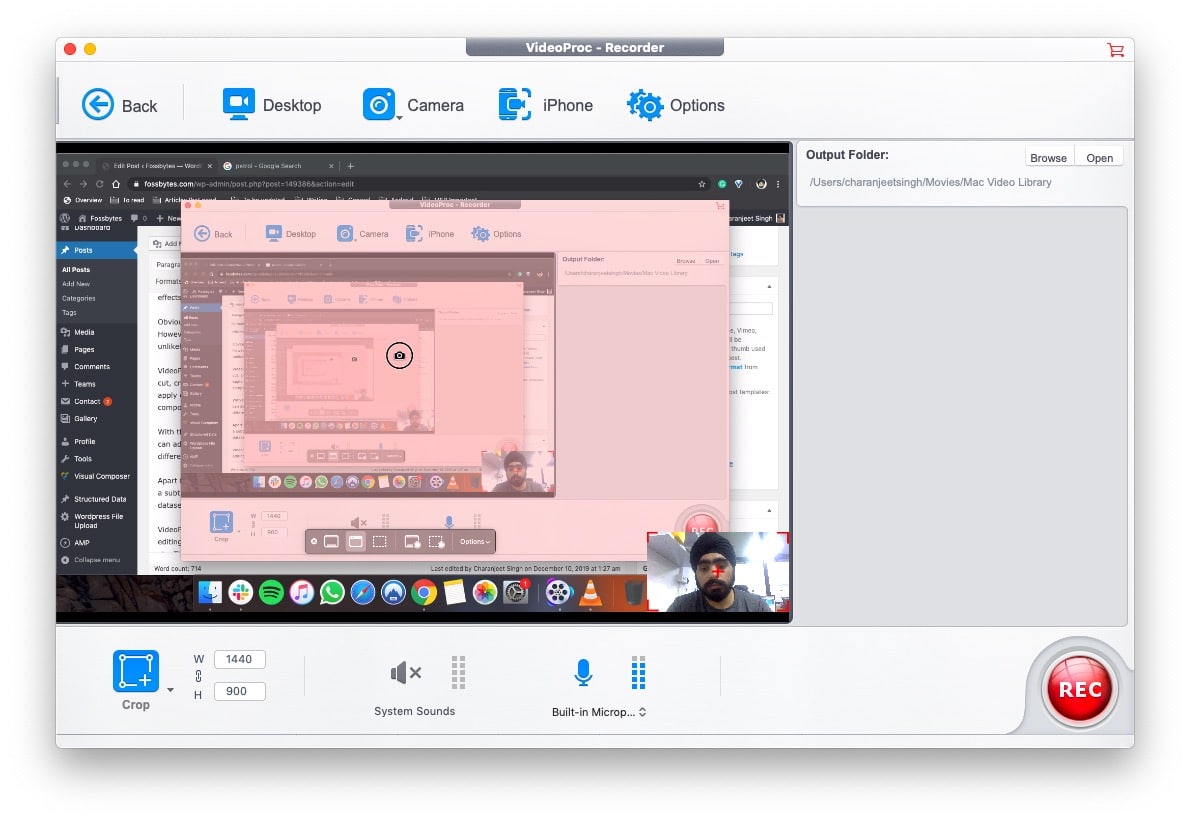 VideoProc also pleases gamers interested in recording gameplay with an in-house screen recorder. Here, you have the option of recording the screen, recording the screen along with the camera and a few more. Moreover, users can choose the quality and the framerate in the recorder settings.
Pricing
VideoProc frequently keeps deals on its website, through which you can buy the VideoProc license at discounted prices. You also get VideoProc 60% discount with coupon code XMAS-EXTRA.
| Pricing | 1 year | Lifetime |
| --- | --- | --- |
| 1 Mac | $59.90 | $78.90 |
| 2-5 Macs | N.A | $119.90 |
VideoProc free version enables users to convert or edit videos with length up to five minutes.
More than a Video Converter
VideoProc's outstanding and overly fast video operations fail nearly all other video processing software in the market. Not to mention, the extra set of video tools such as video downloader and screen recorder is the cherry on the cake.