GoPro and iPhone make video recording extremely easy. It enables you to shoot videos up to 4K resolution, and even 4K HEVC since HERO6 and iPhone 7. On the other hand, such 4K HEVC videos or 720p/960p/1080p/2.7K HD HEVC footage can be intractable. You need powerful software for 4K video processing such as downscaling and upscaling video resolution, transcoding video format, reducing video file size and editing your own masterpieces.
To this end, VideoProc is undoubtedly the best choice. This newly-released tool gives Windows and Mac users the access to process any video, including the GoPro 4K HEVC footage or video shot by iPhone, Android drones, HD cameras, etc. With it, you don't have to be trapped into problems like cutdown video quality, non-support for 4K HEVC footage or computer gets overheated or freezes when running the 4K HEVC videos.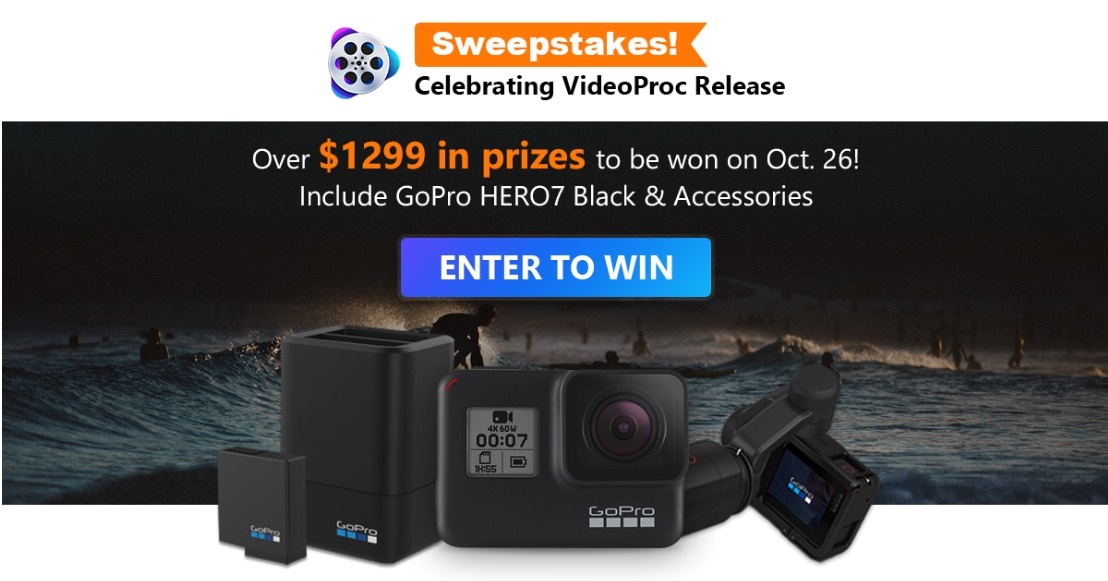 Win GoPro HERO7 and Accessories in VideoProc New Release Celebration
The good news comes that you're fortunate enough to have a chance to win GoPro HERO7, Karma Grip and Dual Battery Charger + Battery in this sweepstake that is held in celebration of the release of VideoProc. A random draw will be conducted on Oct 26, 2018. Meanwhile, a great many trial license keys of VideoProc will be released for free during the celebration campaign. Click here to visit the sweepstake page.
Reduce GoPro, iPhone 4K Video Length by Editing Videos
Generally, automobile race, hiking, cycling will last hours. Then you will get videos with a great length, which not only takes up a lot of storage space especially for 4K UHD footage but also prevents you from watching or sharing to social media.
VideoProc gives you a super fix to reduce 4K video length by editing. You're able to cut out unwanted footage, merge the rest stunning clips together, split a long video into several segments at the same length. All these will help you reduce the length of your 4K GoPro video, getting it into a smaller size with essential shots reserved. Besides, features like cropping, rotating, adding effects, subtitles also make video footage more user-friendly on different screens and platforms.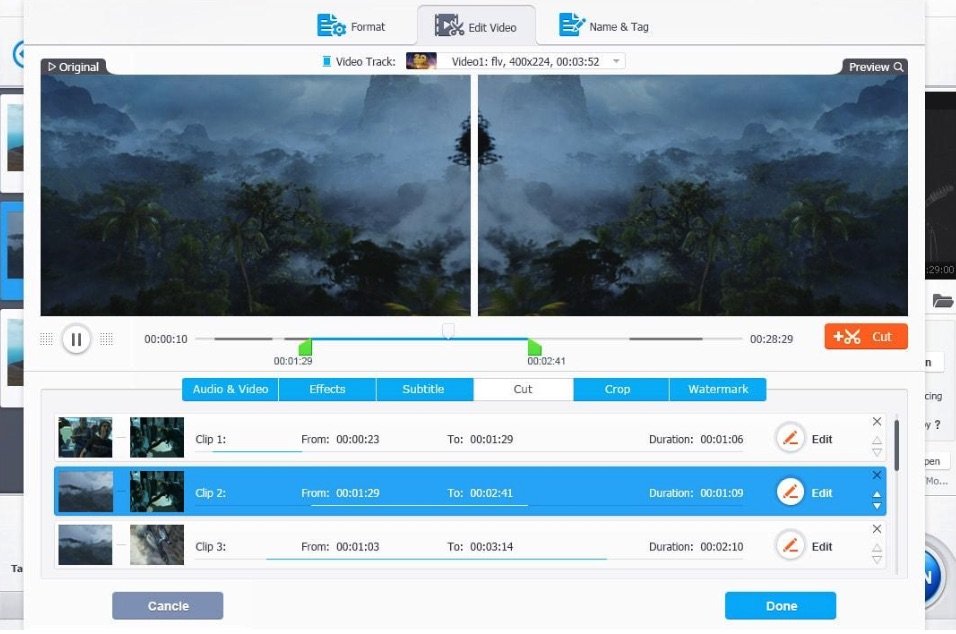 Convert 4K Video from H.264 to HEVC to Reduce File Size by 50% or More
More and more GoPro and iPhone users tend to shoot video in HEVC codec because of its higher compression rate. Unfortunately, there are a great number of users still stick to the old devices without this feature.
Luckily, this issue can be solved easily with VideoProc. It enables you to convert H.264 4K videos to HEVC, lowering the file size by 50% at least with equivalent image quality. On the other hand, if you'd like to watch or share the 4K HEVC videos smoothly, you can also convert GoPro 4K HEVC to H.264 for better compatibility. Learn more about how VideoProc completes this task fast and good. Or if you're willing to encode your videos to common devices or the web-friendly formats, VideoProc also comes in handy to convert videos to MKV, MP4, MOV, AVI and all popular formats.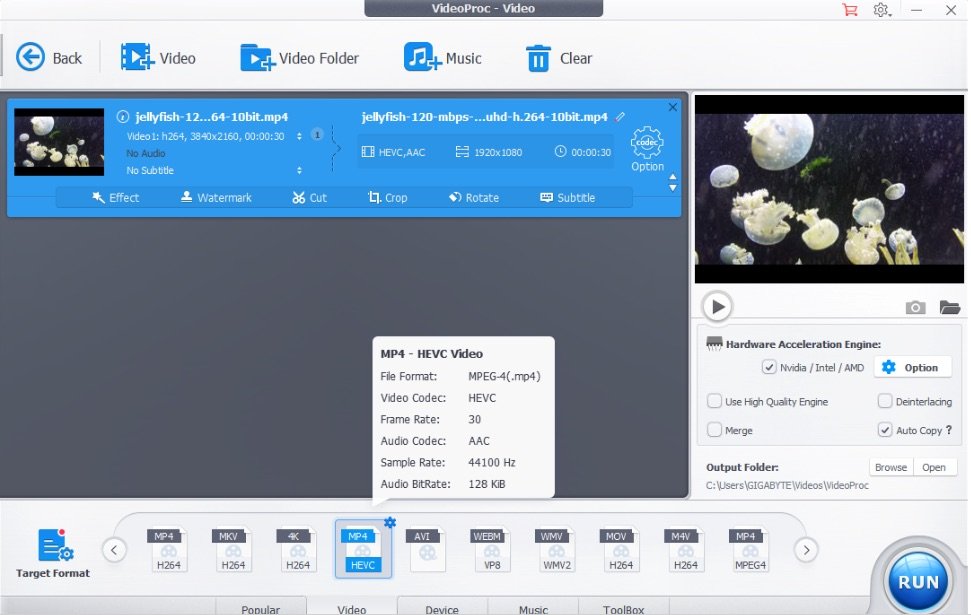 Adjust GoPro iPhone Video Parameters to Shrink Video and Enhance Quality
Whereas besides the above solutions, VideoProc allows compressing a large video by adjusting parameters with a merely pixel-level quality difference. There are various parameters that can be tweaked, for example, downscaling 4K UHD to 1080p or 720p, lowering bit rate, reducing the frame rate from 60FPS to 30fps or 24fps, cropping the frame size, and so on. With all these applied, your footage will be compressed by up to 90% without visually quality loss. Absolutely, the options like GOP, 2-pass encoding, B-frames could even help you enhance the GoPro and iPhone video quality.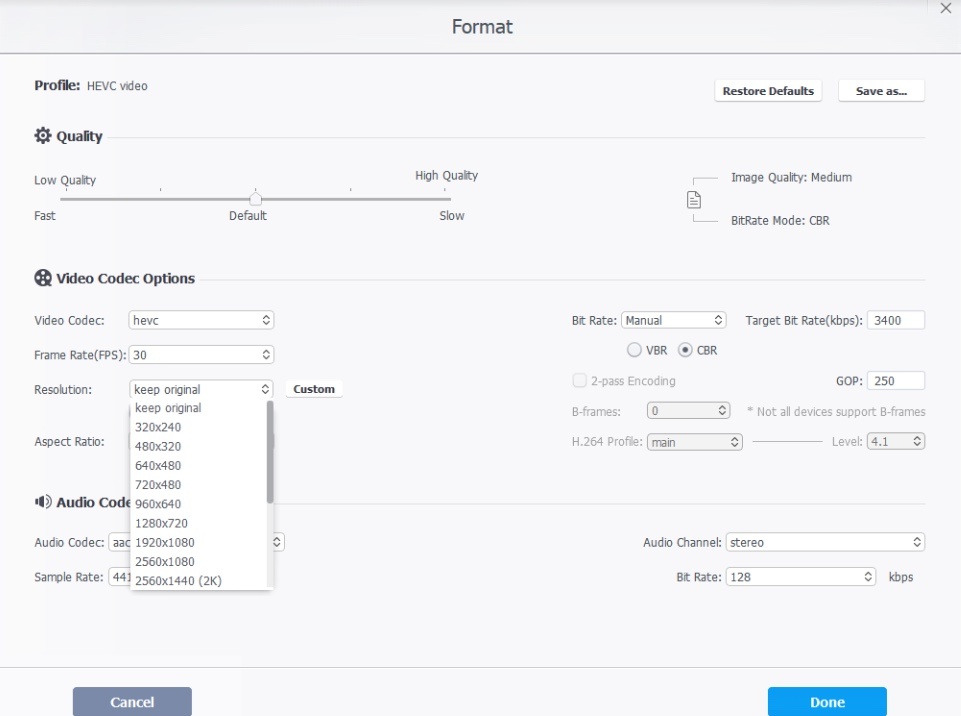 Stabilize Shaky Video and Remove Image Noise
Well, as the handheld devices, it's inevitable that GoPro and iPhone shoot videos with shakiness. Also, background noise also comes a vexed problem when shooting in the outside. Thankfully, VideoProc is designed to address all these issues in post video processing. It empowers you to stabilize shaky videos, remove the background noise, and correct the fisheye distortion easily. And this program will crop the least edges of your footage comparing to 5%-10% loss of edges that happens with other video editors on video stabilization and fisheye distortion.
No.1 Fast 4K Video Processing Speed Powered by GPU Acceleration
VideoProc is also fast, using the unique Level-3 hardware acceleration fully powered by Intel®, AMD®, and NVIDIA® GPUs, together with auto copy feature, which reformats your 4K videos without changing the underlying codec. It could maximally lower the CPU usage to 40%, thus you can process 4K UHD videos from GoPro and iPhone up to 47x real-time faster without compromising quality. Additionally, VideoProc works well on all recent computers and you'll never be bothered with knotty problems for 4K video processing like computer lags, overheats or freezes.
Extra Powerful Features to Benefit Video Enthusiasts
VideoProc is more than a mere video processing tool. With the built-in DVD ripper, video downloader and video recorder, it assists people to get access to all types of videos and mater them as their wish.
Summary
If you love shooting videos but don't have time to learn the complicated trick of video editing and processing, VideoProc could be the tool that suits you well. With easy operations, you can polish your video clips and create stunning videos in any way you like.
This article is sponsored by VideoProc