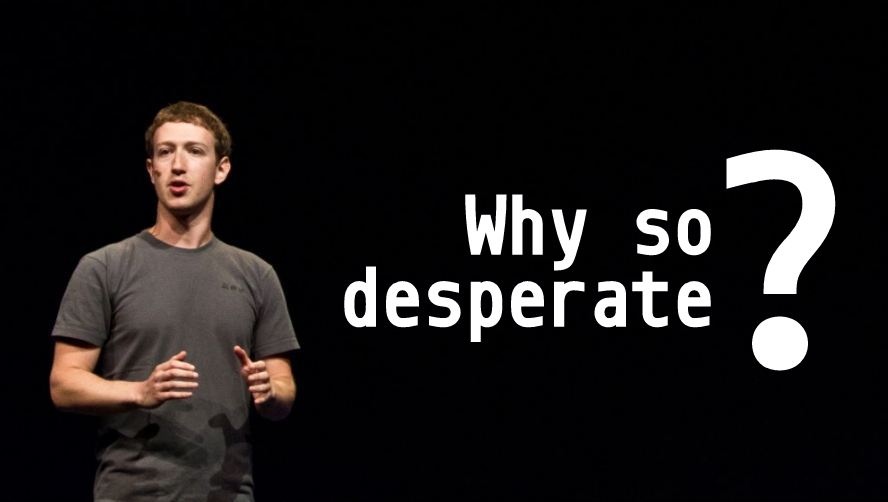 Short Bytes: While Indian users were already appalled by Facebook's trick to make them send a we-love-free-basics email to TRAI, the social network screwed up by showing the same message to the US and the UK users. Well, "accidentally" getting some emails in favor of Free Basics isn't going to make things easier for Facebook.
F
acebook CEO
Mark Zuckerberg
has repeatedly stressed upon the importance of his own fork of the Internet that will have a
positive
economic effect on the developing countries like India. While the true motivations of Mr. Zuckerberg are yet to be revealed, Facebook's Free Basics is causing a widespread outrage in India – and outside.
From past few days, I've been getting Facebook's notifications that tell me about my friends supporting Free Basics and ask me to do the same. Using a line "Act now to save Free Basics in India", Facebook has been asking the Indian Facebook users to support Free Basics and mail the Telecom Regulatory Authority of India. Just yesterday, a fossBytes reader from the US send us a screenshot that confirmed the rumors Facebook has been asking the users outside India to support the initiative.
At fossBytes, we support the fundamental ideas of Net Neutrality and Free Basics doesn't fit well in the story.  After renaming Internet.org and deciding to call it Free Basics, Facebook has launched an email campaign to garner support from the users who don't even know what they are supporting.
If you look at the screenshot of the message, you'll notice that the fields including your name and subject are filled. Facebook desperately wants you to read its sugar coated words, just hit a button, and send a mail to the TRAI.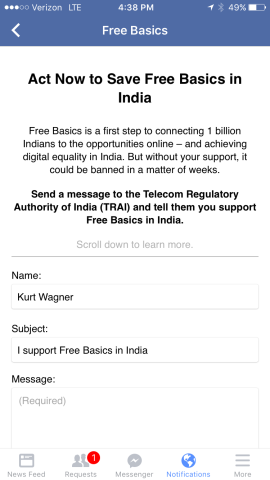 As mentioned earlier, the Facebook users in the US and the UK began seeing the same request from Facebook. The users have labeled this step of Facebook a way to politicize the user base and push its agenda to the people who are not even connected with the issue.
However, Facebook has a different story to tell. In a statement given to Re/code, Facebook calls it an accident:
We accidentally turned on this notification for some people outside India this evening for a short period of time — it's been on for English-speakers in India for several days now
The arguments against the idea of Free Basics are pretty strong. This app doesn't offer the entire Internet for free. Instead, it's offering some particular websites and services (read Facebook's version of Internet).
India is Facebook's second largest user base and one of the biggest markets for its plethora of services. But, the Indian users have complained against Mark Zuckerberg's initiative in large numbers. Just yesterday, TRAI said that it has received about 550,000 negative comments from the public.
Well, "accidentally" getting some emails in favor of Free Basics from the UK and the US users isn't going to make things easier for Facebook.
What are your views regarding this ongoing debate? Do tell us in the comments below.
Also read:No iPhones: Why Is Facebook Forcing Its Employees To Use Android