Update: Hours before the official announcement, the launch of the Valorant India server was leaked. Now that Valorant has finally released Indian servers today in Mumbai, Indian Valorant enthusiasts are pretty excited as they can now play the game with a lower ping.
The original story begins from here…
There is some good news for Valorant players in India, especially those who get a high ping while playing. Reports suggest that the developer Riot Games could launch its dedicated server for India as soon as tomorrow.
According to "ZealousApathy", the India server will go live at the same time as the MENA (Middle-East North Africa) server on Oct 14. The Reddit user, who works at Riot Games, broke the news in response to a question on Valorant's subreddit.
Valorant is a multiplayer FPS game that has grown in popularity in India in recent times. This popularity is partly due to its humble system requirements that give, even low-end PC users, access to the game.
Why Valorant's India Server Is Much-Awaited?
The latest boom in the game's player base in India has significantly increased the server load. To make matters worse, the SEA (South-East Asia) server Indian players use right now is simultaneously flocked by players from other Asian countries as well.
The huge traffic on Valorant's SEA server means poor latency and sudden frame drops due to fluctuating ping. This drop in performance can cause a game-breaking lag in matches and spoil the overall user experience.
However, these server problems could soon become a thing of the past after the new server, located in Mumbai, goes live.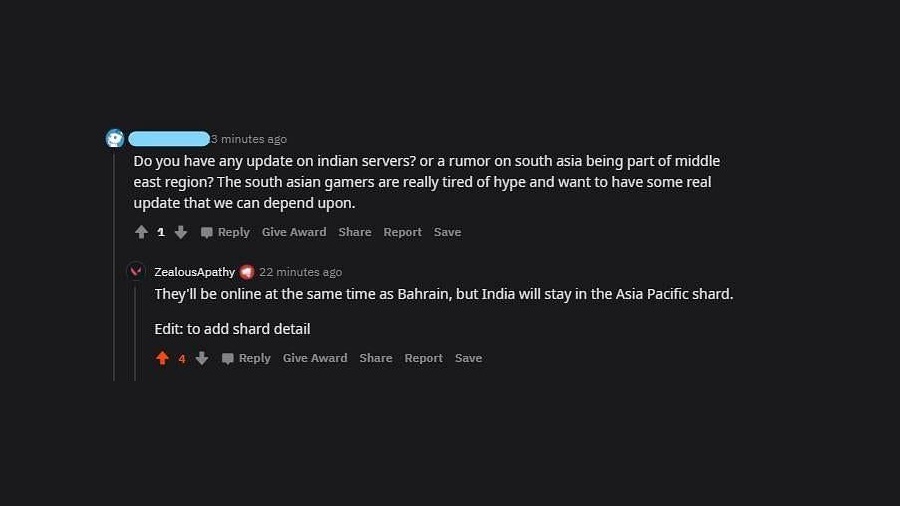 The comment from ZealousApathy stating Mumbai and Bahrain servers will go live at the same time might just be true. This is because another dev on Reddit, earlier this month, revealed the server will release in about two weeks.
ZealousApathy also revealed that India will continue in the Asia Pacific shard. This means that Indian players would still be enter matchmaking with others playing on Asian servers.
Although the new server will certainly improve the online experience for Indian players, it will be interesting to see how it copes with traffic later, as the game attracts more players in the country.