You ought to be living under a rock if you haven't heard or used uTorrent at least once in your life. As reported by TorrentFreak, uTorrent is the most used BitTorrent client in the world.
The last time when TorrentFreak came out with a report discussing the torrent client market share a decade ago, uTorrent still topped the race like today.
According to the latest BitTorrent client market share, uTorrent is in the first position with a massive 68.6% market share as of March 2020. The second spot is bagged by another well-known torrent client known as BitTorrent.
Interestingly, both the clients are now maintained by BitTorrent Inc. and are almost the same in terms of features except their skin. However, the most used Mac client for downloading torrents is Transmission, since uTorrent for Mac has been discontinued.
Here is the list of BitTorrent client market share: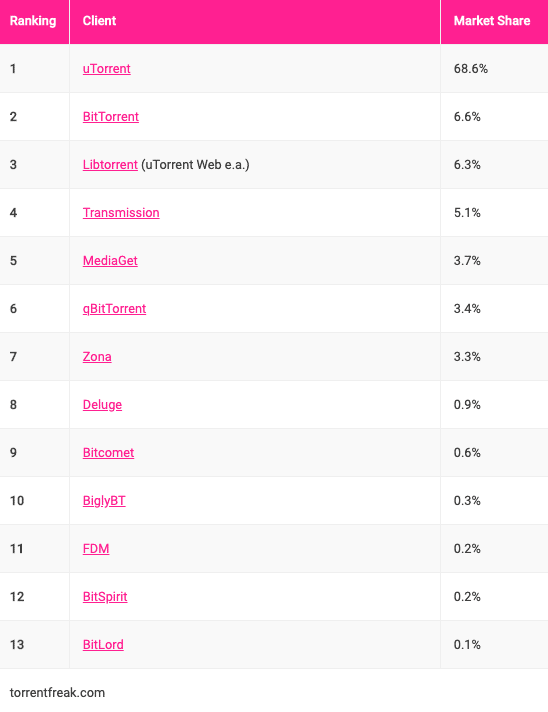 To come up with the numbers, TF partnered with IKnowWhatYouDownload and analyzed over 25 million BitTorrent connections logged in a single day.
As evident, uTorrent is the clear winner, and there are a few reasons why it is so. First and foremost is the legacy of the software, as it was released way back in 2005 and has thus garnered the trust of users all over the world.
Secondly, uTorrent's success could be attributed to its free nature and low storage footprint. Undoubtedly, uTorrent is one of the best free torrent clients you can use to find torrents and magnet links, and the stats support it.
Which BitTorrent client do you use for downloading files via torrent?