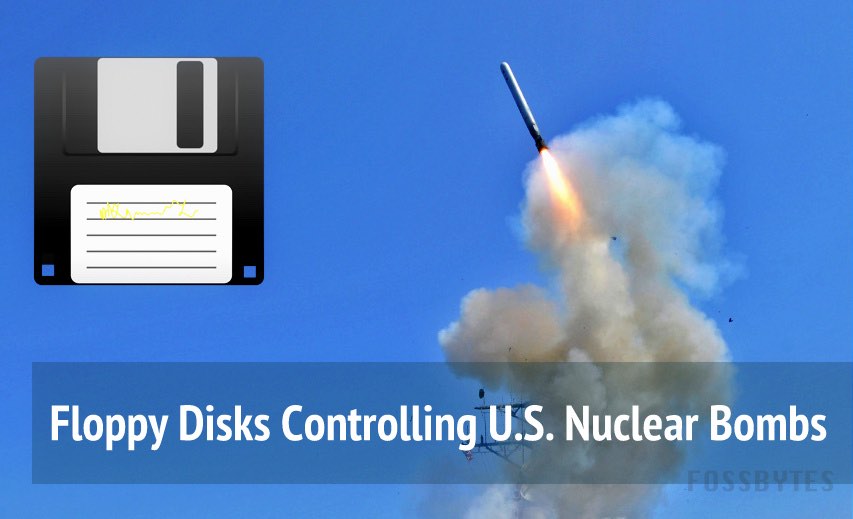 Short Bytes: According to a report of the US Government Accounting Office, many important government institutions are still using more than 50-year-old systems to perform important tasks. While the U.S. Defense Department uses 8-inch floppy disks to handle the function of its nuclear force operations, the Treasury Department calculates tax returns on a 56-year-old IBM mainframe computer.
I
n a recent report, the US Government Accounting Office has shed some light upon the nation's IT infrastructure. While this document reveals many important facts, floppy disks holds a very important place in America's defense.
After several decades, the U.S. Defense Department still uses 8-inch floppy disks that take care of the operation functions of country's nuclear forces. These floppy disks are capable of storing just 80KB of data.
These floppy disks are still used in the department's IBM Series/1 computer that handles the functions of nuclear bombers, tanker support aircraft, and intercontinental ballistic missiles.
Another shocking revelation comes from the Treasury Department that calculates tax returns on an IBM mainframe computer, that's 56-year-old, in assembly code.
About such cases, here's what the report has to say:
Federal legacy IT investments are becoming increasingly obsolete: many use outdated software languages and hardware parts that are unsupported. Agencies reported using several systems that have components that are, in some cases, at least 50 years old.
The similar cases of aging legacy systems have been found by the watchdog in the Department of Veterans Affairs, Department of Justice, and Social Security Administration.
While the Treasury Department has no firm plans to upgrade its systems, Defense has plans to upgrade its technology infrastructure soon.
The report also mentions that the 75 percent portion of $80bn spent on IT goes to keep the existing systems up and running. This portion is increasing each year, leaving less money for buying new computers.
Another point of concern is the lack of programmers who know the programming languages like COBOL and Fortran to take care of these systems and keep them running.
Have something to add? Share your views in the comments section below.

If you are willing to own a floppy disk, a technology that might soon become history, grab it here.